Interested in any of our holidays? - Contact Us Here

Cape Verde & the Canary Islands Cruise
24 November 2016 | 14 Nights
Cruise Information
Departure Port: Santa Cruz de Tenerife
Departure Date: 24 November 2016
Duration: 14 nights
Ship: Braemar
Cruise Code: M1629
Price From: £999pp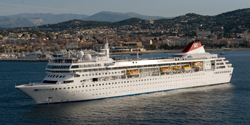 Cruise Line:
 Fred Olsen
FLY CRUISE
Enjoy soothing winter warmth on the beautiful beaches of the Cape Verdes and Canary Islands on this fantastic fly-cruise. Your holiday begins and ends in the beautiful city of Santa Cruz in Tenerife, so you have plenty of time to explore the stunning volcanic landscapes of the El Teide National Park; climb to the 12,000ft snow-capped peak of Spain's highest mountain; visit the mysterious poisonous gardens at the Pyramids of Guimar; and simply relax on the sun-soaked beaches.
In the Cape Verdes, relax amongst the unspoilt paradise landscapes of Praia – the perfect place to forget about the cold weather back home. Explore the volcanic landscapes; shake your hips to the sounds of the traditional Funana beats; or top up your tan on the seemingly endless golden beaches. In Las Palmas, make the most of Gran Canaria's superb climate with a trip to the must-visit Palmitos Park – home to beautiful exotic birds and wonderful dolphins – or head to the stunning sand dunes at nearby Maspalomas to relax in the sunshine. 
Itinerary
November 2016 Thu 24 Late Night Santa Cruz de Tenerife
Santa Cruz de Tenerife
Tenerife's wonderful climate and resorts have been attracting tourism for decades and rightly so. Santa Cruz is built around boulevards and wide avenues that link elegant squares and parks. A tour to the exotic Botanical Gardens or the mystical and intriguing Pyramids of Guimar is a must.
Santa Cruz de Tenerife must do
PYRAMIDS OF GUIMAR & SECRET GARDEN (TOUR EXC)
Feel like you have stepped back in time as you discover the terraced structures, known as the Pyramids of Güímar
Learn more about the mysterious complex that has been astronomically positioned
Enjoy the Secret Garden and marvel at some of the most dangerous plants in the world!
Fri 25 Early AM Late Night San Sebastian, La Gomera
San Sebastian, La Gomera
San Sebastian is the little capital of one of the lesser-known, yet beautiful Canary Islands - La Gomera.
San Sebastian, La Gomera must do
GOMERA LANDSCAPE & JARDIN TECINA (TOUR B)
Experience the distinctive atmosphere and ambience of the magnificent Jardin Tecina Hotel
Explore the natural beauty of the National Park of Garajonay
Take in breathtaking views from some fantastic viewpoints
Sat 26 Early AM Late PM La Estaca, El Hierro
La Estaca, El Hierro
The most southerly of the Canary Islands, El Hierro was once believed to be the end of the world and it remains off the well-trodden tourist path.
Tue 29 Early AM Late PM Praia, Cape Verde
Praia, Cape Verde
Loacted in Cape Verde, the volcanic archipelago of ten islands and five islets is a hidden gem. This destination was a Portuguese territory until independence in 1975, and is as unique and unspoilt as its remote location, 400 miles off the west coast of Senegal, would suggest.
Praia, Cape Verde must do
HISTORICAL PRAIA & CIDADE VELHA (TOUR A)
Discover Cape Verde's capital city
Enjoy free time at the municipal market to test out your bargaining skills
Learn more about the history of Praia at the Archaeology Museum
Explore Cidade Vehla, a town of great historical relevance
Wed 30 Early AM Late PM Mindelo, Cape Verde
Mindelo
The Cape Verdes were previously a Portuguese colony and there are many traces of this colonial heritage in Mindelo.
Mindelo must do
A TASTE OF THE ISLAND (TOUR A)
Discover the arid landscape of the island
Admire the colonial heritage of Mindelo
Barter for a bargain at the Amilcar Cabral plaza
Experience traditional folk music at Praia Grande Beach
December 2016 Sat 03 Early AM Late PM Las Palmas, Gran Canaria
Las Palmas, Gran Canaria
Benefitting from Gran Canaria's gorgeous climate and year-round warmth, Las Palmas is one of the Canary Island's most popular destinations, attracting thousands of sun-seekers every year who visit the island to relax on the abundance of golden-sand beaches and immerse themselves in the diverse range of cultures.
Las Palmas, Gran Canaria must do
PALMITOS PARK (TOUR J)
Visit one of Gran Canaria's most popular attractions
Experience the exciting world of Palmitos Park, with ample free time to discover its many highlights
Observe the park's many fascinating creatures and take the opportunity to enjoy a walk around the botanical gardens
Sun 04 Early AM Late PM Santa Cruz de La Palma
Santa Cruz
Santa Cruz is undoubtedly one of the prettiest towns in the entire archipelago.
Santa Cruz must do
NORTH OF THE ISLAND (TOUR A)
Marvel at La Palma's stunning and varied landscapes
Admire the beautiful flora found on the island
Discover the spectacular and unique laurel forest 
Learn how rum is produced, before enjoying a sample!
Mon 05 Early PM Funchal, Madeira
Funchal, Madeira
Located off the coast of Africa, Funchal has a timeless charm, delightfully enhanced by a benign climate that fills this 'floating garden' with the year-round colours and perfumes of subtropical flowers and fruit.
Tue 06 Late PM Funchal, Madeira
Wed 07 Early PM Santa Cruz de Tenerife
Thu 08 Santa Cruz de Tenerife


Braemar
Braemar's timeless style and elegance will capture your senses. Large windows bathe the ship's interiors in natural light and provide spectacular views; while polished wooden fixtures, shining brass fittings, decadent fabrics and carefully designed decor assume the feel of a traditional country house hotel. Capable of comfortably accommodating up to 929 guests, Braemar has a unique, intimate feel with friendly staff offering a fantastic level of personal service. Catering to your every want and need, they will learn your name and your favourite tipple, how you prefer your steak and perfectly prepare your breakfast every morning.  
On board Braemar you'll find a superb selection of restaurants, bars and lounges offering sumptuous cuisine, a wide range of beers, wines and spirits and fantastic entertainment. Enjoy a delicious buffet-style lunch at the Palms Café and a expertly prepared, five-course a la carte dinner at the Thistle and Grampian Restaurants; refresh at the Marquee poolside bar in the sunshine; or perhaps enjoy cosy drink in the familiar surroundings of Morning Light Pub. Traditional afternoon tea in the Observatory Lounge is not-to-be-missed, and be sure to take in a show in the Neptune Lounge.
One of the focal points on Braemar is a beautifully painted, five-deck high Atrium which leads to the fully-equipped Fitness Centre, Palms Café, Coral Club and the Thistle Restaurant; while the cascading decks at the stern enhance the ship's elegant profile and offer stunning vistas no matter which outside deck you're on.