Interested in any of our holidays? - Contact Us Here

Canary Islands to the Caribbean Cruise
8 December 2016 | 14 Nights
Cruise Information
Departure Port: Santa Cruz de Tenerife
Departure Date: 08 December 2016
Duration: 14 nights
Ship: Braemar
Cruise Code: M1630A
Price From: £999pp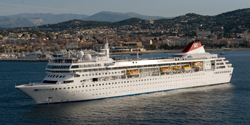 Cruise Line:
 Fred Olsen
WINTER CRUISE
Escape to the winter warmth of the Canaries in December 2016 and embark on a wonderful, sun-kissed Caribbean cruise aboard Braemar, taking in a host of stunning paradise islands just before Christmas.
Meeting the ship in Santa Cruz de Tenerife, you'll have the chance to see soaring Mount Teide, take a trip to the mysterious Pyramids of Guimar, or simply relax on caramel-coloured beaches in the sunshine before setting sail to your first port of call, San Sebastian. Here you can visit the historic Casa de Colon, or take a tour to the gorgeous National Park of Garajonay.
Then, after a relaxing transatlantic crossing, you'll enjoy nearly a week in the Caribbean, sailing from one breathtaking destination to the next. Delve into the diverse culture of dual controlled St. Maarten from Philipsburg, your first Caribbean call; sample authentic Caribbean rum at the famous Pusser's Bar and unwind at Cane Garden Bay in Road Town, Tortola; then discover the historic highlights and incredible beaches of Antigua from St. John's.
A call to the fascinating city of Fort de France, Martinique's largest city, is then followed by a call to Castries, the capital of St. Lucia. Enjoy the island's tropical climate as you explore beautiful botanical gardens and dense rainforest, and be sure to see the soaring Twin Pitons. Finally your winter break in the sun comes to an end in beautiful Barbados, the ideal place to perfect your tan before flying home just in time for Christmas. 
Itinerary
December 2016 Thu 08 Late Night Santa Cruz de Tenerife
Santa Cruz de Tenerife
Tenerife's wonderful climate and resorts have been attracting tourism for decades and rightly so. Santa Cruz is built around boulevards and wide avenues that link elegant squares and parks. A tour to the exotic Botanical Gardens or the mystical and intriguing Pyramids of Guimar is a must.
Santa Cruz de Tenerife must do
PYRAMIDS OF GUIMAR & SECRET GARDEN (TOUR EXC)
Feel like you have stepped back in time as you discover the terraced structures, known as the Pyramids of Güímar
Learn more about the mysterious complex that has been astronomically positioned
Enjoy the Secret Garden and marvel at some of the most dangerous plants in the world!
Wed 09 Early AM Early PM San Sebastian, La Gomera
San Sebastian, La Gomera
San Sebastian is the little capital of one of the lesser-known, yet beautiful Canary Islands - La Gomera.
San Sebastian, La Gomera must do
GOMERA LANDSCAPE & JARDIN TECINA (TOUR B)
Experience the distinctive atmosphere and ambience of the magnificent Jardin Tecina Hotel
Explore the natural beauty of the National Park of Garajonay
Take in breathtaking views from some fantastic viewpoints
Fri 16 Early PM Late Night Philipsburg, St. Maarten
Philipsburg, St. Maarten
Philipsburg is the capital of the Dutch half of St. Maarten, an island amicably shared between Holland and France for centuries. It's a shopper's paradise, with everything from jewellery to electrical goods on sale. Take a water taxi to the nearby sandy beach, studded with colourful clapboard restaurants and outdoor cafés.
Philipsburg, St. Maarten must do
AN ISLAND UNDER TWO FLAGS (TOUR A)
Explore the two distinct worlds of St Maarten which have been entwined with a Caribbean flavour
Admire the picturesque Dutch harbour and the chic side walk cafes of the French capital
Sat 17 Early AM Late PM Road Town, Tortola
Road Town, Tortola
Tortola was a famous pirate haunt of old, and still retains a surreal, beguiling charm. The capital, Road Town, is typically old-world Caribbean and home to the legendary Pussers Bar, the perfect place to try some authentic Caribbean rum. Nearby Cane Garden Bay is a great place to unwind, with its vast expanse of sugar-white sands.
Road Town, Tortola must do
ISLAND SECRETS DISCOVERED (TOUR A)
Discover the natural beauty of Tortola
Admire the stunning vistas as you travel around the island on a open-safari bus
Sun 18 Early AM Late PM St John's, Antigua
St John's, Antigua
The great bay of stunning English Harbour and historic Nelson's Dockyard are two of pretty Antigua's highlights. The colourful street market in St. John's, selling flowers, fruit and handicrafts, is a must-see, along with a stop at one of the 365 stunning beaches – one for each day of the year say the Antiguans.
Mon 19 Early AM Late PM Fort de France, Martinique
Fort de France, Martinique
Martinique's lively, unmistakably French capital.
Mon 19 Late Night Castries, St. Lucia
Castries, St. Lucia
St Lucia is the sort of island that travellers to the Caribbean dream about – a small, lush tropical gem. With glorious soft white beaches, St. Lucia is the perfect place to lay back, relax and soak up the sun. Away from the beaches, there are many National Parks with beautiful fauna and native wildlife to explore. 
Castries, St. Lucia must do
4X4 JEEP SAFARI (TOUR D)
Explore the rustic charm and rugged beauty of St Lucia in a four-wheel drive vehicle
Have your camera at the ready for the beautiful vistas
Enjoy time at leisure to relax on one of the north-east coast's most spectacular beaches
Tue 20 Late Night Castries, St. Lucia
Wed 21 Early AM Bridgetown, Barbados
Bridgetown, Barbados
Barbados has a balmy, tropical climate, making this very British Caribbean island a favourite with well-heeled tourists. Admire the impressive stalactites and stalagmites in Harrison's Cave; sail the gorgeous azure waters in search of sea turtles; or simply relax on one of the many sandy beaches, soaking up the laid-back atmosphere.
Bridgetown, Barbados must do
HARRISON'S CAVE & SCENIC DRIVE (TOUR E)
Discover the subterranean environment of Harrison's Cave
Admire the crystallised limestone and impressive stalactites and stalagmites
Gaze in wonder at the white flow stones and at the beauty of the speleothems which adorn the cave.
Thu 22 Bridgetown, Barbados
Braemar
Braemar's timeless style and elegance will capture your senses. Large windows bathe the ship's interiors in natural light and provide spectacular views; while polished wooden fixtures, shining brass fittings, decadent fabrics and carefully designed decor assume the feel of a traditional country house hotel. Capable of comfortably accommodating up to 929 guests, Braemar has a unique, intimate feel with friendly staff offering a fantastic level of personal service. Catering to your every want and need, they will learn your name and your favourite tipple, how you prefer your steak and perfectly prepare your breakfast every morning.  
On board Braemar you'll find a superb selection of restaurants, bars and lounges offering sumptuous cuisine, a wide range of beers, wines and spirits and fantastic entertainment. Enjoy a delicious buffet-style lunch at the Palms Café and a expertly prepared, five-course a la carte dinner at the Thistle and Grampian Restaurants; refresh at the Marquee poolside bar in the sunshine; or perhaps enjoy cosy drink in the familiar surroundings of Morning Light Pub. Traditional afternoon tea in the Observatory Lounge is not-to-be-missed, and be sure to take in a show in the Neptune Lounge.
One of the focal points on Braemar is a beautifully painted, five-deck high Atrium which leads to the fully-equipped Fitness Centre, Palms Café, Coral Club and the Thistle Restaurant; while the cascading decks at the stern enhance the ship's elegant profile and offer stunning vistas no matter which outside deck you're on.