db Seabank Hotel and Spa Holidays 2019/2020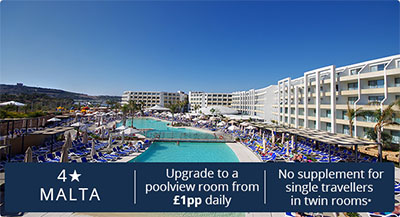 Mellieha, Malta
The newly refurbished Seabank Resort & Spa All Inclusive is superbly situated directly in front of the biggest stretch of sandy beach on the island, and has impressive views of Mellieha Bay
Operator: Mercury Holidays
Set at the edge of one of Malta's most popular sandy beaches, the Seabank Resort and Spa affords fabulous views out over Mellieha Bay. It's a perfect spot from which to settle into the country and begin to enjoy your laidback holiday lifestyle. Mellieha has so much to offer. It's a quiet, pretty part of Malta, but gives easy access to the bigger Bugibba and St Paul's resorts.
Mellieha is also popular because of its large, fine sandy beach and watersports activities. This hotel has undergone extensive renovation to become a fully functioning all-inclusive resort. It's all here waiting for you and the Seabank Resort and Spa is your stepping stone…
Exceptional outlooks are just one of the attractions at the Seabank Resort and Spa in Mellieha
The spectacular four star Seabank Resort and Spa is designed around holidaymakers' needs first and foremost. That is why the rooms are so spacious and light, giving you a truly relaxing space to call your own. Offering an excellent level of accommodation in spacious and modern rooms, the hotel also provides complimentary WI-FI throughout the whole resort.
No matter how much of Malta you get to experience during your stay, you'll always want to make the most of the Seabank Resort and Spa's facilities too. The large freshwater pool, indoor pool and a paddling pool are all on site, and there is an amazing watersports and diving facility just over the road at the Lido.
You can justify any lazy afternoon or evening after a light work-out in the hotel fitness centre, and do make sure you try the spa centre with its Jacuzzi and sauna.
Oh, and just in case you don't get around to leaving the hotel all that much, there's evening entertainment too!
Your stay in Mellieha will leave you feeling relaxed and revived, particularly if you're staying at the Seabank Resort and Spa. With all the benefits of its locations, its facilities and its views, it could just be the most relaxing holiday of your life.
Facilities
Swimming Pool
Restaurant
Bar
Wi-Fi
Spa
Gym
Sunbeds/Sun Terrace
Entertainment
Live Entertainment
Racquet Sports
Watersports
Hair Salon
Diving School
Shopping Arcade
Babysitting
24hr Reception
Laundry Service
In-Room Safe
In-Room Tea/Coffee
Your All-Inclusive package includes
Breakfast, late breakfast, lunch, dinner and afternoon snacks including tea and coffee with cakes. Dine Around option with set menus available for evening meals at a choice of five speciality restaurants which must be booked in advance. Unlimited soft drinks, tea and coffee, wine and beer. Other alcoholic beverages served during bar opening times. (Time & measurement stipulations may apply).
FREE Room Upgrade
Honeymooners- FREE room upgrade (subject to availability) and fruit & wine in room on arrival
Why this hotel
Dine-around in a choice of 4 speciality restaurants for your evening meal
FREE Room Upgrade
Repeat clients to this hotel receive a FREE room upgrade (subject to availability)