Interested in any of our holidays? - Contact Us Here
Cruise Deals 2018/2019
Latest Cruise Holiday Offers
TUI Black Friday Discount Codes
Offer: £100 off per booking on all 2019 cruises
Code: BFCRUISE100
Min Spend: N/A
Booking Dates: 19th - 26th November
Travel Dates: 1st January 2019 - 31th December 2019
More Information/Bookings
Offer: £150 off per bookings on 1st May - 31st July 2019 sailings
Code: BFCRUISE150
Min Spend: N/A
Booking Dates: 23rd November - 26th November 2018
Travel Dates: 1st May - 31st July 2019
More Information/Bookings
Only Specials Caribbean - Get an extra £50 off per booking when you book online !! Deals from £899!
Save up to £1020 per Couple
Free Hotel Stays worth up to £440
Cabin Upgrades from only £29 per person
Use discount code CN50 at checkout when you book online

Best deals:

MIAMI & CARIBBEAN MAGIC
10nts | 22 Nov 18
Carnival Cruises | Carnival Magic
Visit
Miami, Grand Cayman, Mahogany Bay, Belize, Cozumel, Miami
Includes
3nt FREE stay in Miami worth £320
SAVE £50
Use discount code CN50 at checkout when you book online
Upgrades
Oceanview fr £959
Balcony fr £1009
was £1299pp
Now £899
TAMPA & WESTERN CARIBBEAN
10nts | 22 Nov 18
Holland America Line | ms Rotterdam
Visit
Tampa, Key West, Santo Tomas De Castilla, Mahogany Bay, Costa Maya, Tampa
Includes
3nt FREE stay in Tampa worth £240
SAVE £50
Use discount code CN50 at checkout when you book online
Upgrades
Oceanview fr £959
Suite fr £1209
was £1399pp
Now from £899
FORT LAUDERDALE & WESTERN CARIBBEAN
11nts | 5 Dec 18
Holland America Line | ms Oosterdam
Visit
Fort Lauderdale, Half Moon Cay, Montego Bay, Georgetown, Cozumel, Fort Lauderdale
Includes
3nt FREE stay in Fort Lauderdale worth £340
SAVE £50
Use discount code CN50 at checkout when you book online
Upgrades
Oceanview fr £1009
Balcony fr £1099
Was £1299
Now from £949
REGAL EASTERN CARIBBEAN
10nts | 22 Nov 18
Princess Cruises | Regal Princess
Visit
Fort Lauderdale, Princess Cays, St. Thomas, St. Maarten, Fort Lauderdale
Includes
3nt FREE stay in Fort Lauderdale worth £400
SAVE £50
Use discount code CN50 at checkout when you book online
Upgrades
Balcony fr £1129
Suite fr £1239
Was £1299
Now from £969
---
Marella Cruises 2019/2020
All inclusive as standard on all ships as well as low deposits from £50pp. There will also be six new port calls available and 11 new itineraries across the two new seasons.
---

Fred Olsen Baltic Cruises Promotion
Fred Olsen have just launched a new offer to promote their Baltic sailings.
Customers can get FREE Door-to-Door Transfers plus up to £100 per person FREE On Board Spending Money on one of the fantastic cruises included in the promotion.
---
2 for 1 Mini Cruises are back!
Our biggest mini cruise offer 2 for 1 is back! This offer is extremely popular! The offer is available to book up until 5th November and travel dates run up until 28th of December.
Our 2 for 1 Amsterdam mini cruise offer has been extended! Now available to book up until 16th of November on selected departure dates up until 28th December

2 for 1 Amsterdam Mini Cruise
2 night mini cruise to Amsterdam from £45pp for 2
2 night mini cruise to Amsterdam from £30 for 4

Prices include coach transfers from and to the city and the ship
---
Fred Olsen Summer Cruises
We know that, for many of you, a summer holiday is the highlight of the year; an escape from the stress and strain of daily life, or simply the chance to enjoy some spectacular sunshine and scenery in some of the most beautiful and sought-after destinations on earth.
With this is mind, we've created a fantastic summer cruise programme packed with a wide choice of sailings, making the most of our fleet of smaller, more intimate ships to bring an abundance of unforgettable sights and experiences closer to you. There are cruises from 7 local UK ports – departing from May to September 2016 – and a smorgasbord of destinations to choose from, so we're sure you'll find the perfect summer break.
You could discover historic and attraction-packed cities in France and Spain; cruise Germany's incredible Kiel Canal and beautiful Weser and Elbe Rivers; immerse yourself in the outstanding natural beauty of Canada or the Norwegian fjords; soak up the Canaries' soothing sunshine; explore the breathtaking islands of the Adriatic with a call to enchanting Venice thrown in for good measure and much more. There's even an incredible circumnavigation of the home isles, taking in some of Britain and Ireland's most iconic historic sites and scenic delights.
And, as usual, you'll find there's ample room to relax and enjoy your holiday on board, cruising with hundreds – not thousands – of like-minded guests, and enjoy a high level of personal, attentive service from our friendly staff no matter which of these expertly crafted cruises you choose. Plus, with great value fares on offer and almost everything included in the price, you can book with confidence knowing you're getting a fantastic deal.
---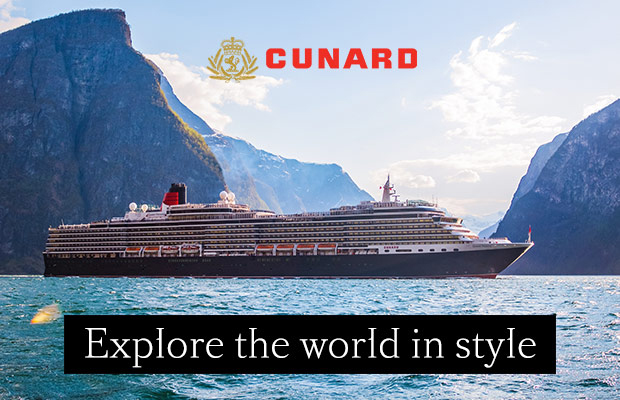 The sparkle of the light on your wine glass; the perfectly seasoned meal you won't forget; the personal greeting from your stateroom steward. Just like you, Cunard know that luxury's all about making time for you to savour new experiences, in impeccable style. That's why you don't have to imagine a cruise with the highest standards of service, iconic journeys and amazing entertainment, you can experience it for yourself aboard Queen Elizabeth, Queen Victoria or Queen Mary 2.
Cunard believe great service is warm and sincere, never stuffy or pretend. Always friendly, yet never over-familiar. There for you when you call, otherwise almost imperceptible. At Cunard, we call it White Star Service because it's a shining example of how best to treat every guest.
The Cunard Fare offers you flexibility, 15% deposit, prioritised choice of dining and stateroom and additional benefits, including complimentary on board spending money.
Whatever you like to dine on, you'll find it on Cunard's menus. Healthy, hearty, light or haute cuisine, everything's delicious and there's an array of places to eat. You can even sample local flavours while you're at sea as Cunard's chefs like to source fresh ingredients, wherever you are in the world.
Grill Suites are the epitome of luxury at sea. With bespoke dining, personalised service (including your own butler in Queens Grill suites) and an exclusive lounge and terrace, everything's designed around you. It's the kind of experience you've been dreaming of.
---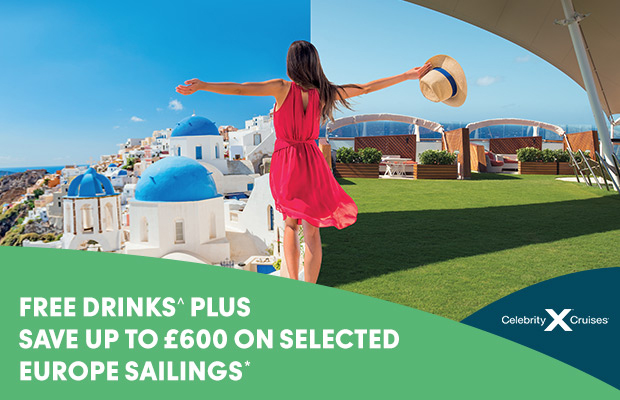 Exploring Europe's wonders or discovering the exotic delights of places like India and Sri Lanka is even more memorable when you're relaxing in award-winning luxury with Celebrity Cruises. Up until 14 November, you'll get a whole lot more when you book an eligible stateroom for select sailings departing November 2018 to April 2020: a free Classic Drinks Package for two people, savings of up to £600 per stateroom and selected flights to Europe from only £99 per person~.
Whether you choose to indulge in Suite Class or decide to stay in one of Celebrity Cruises' luxurious staterooms, there's a stylish option on board for you. An amazing 85% have a balcony, so you can enjoy the sea air as you lounge in your own private space. No matter what accommodation you prefer, you'll sail the high seas in complete modern luxury.
The table is set, your glass has been filled and you're ready to dine. Prepare to discover a universe of flavours from menus crafted by Celebrity Cruises' Michelin-starred chef, and a choice of restaurants as diverse and unforgettable as the places you'll sail to. Want to know the best bit? Many are already included in the price.
Of course, a cruise isn't only about your experience on board. With more than 300 destinations across all seven continents, you really can open up your world with Celebrity Cruises. From kayaking beneath the city walls of Dubrovnik to taking in the view from a zip wire in Alaska, Celebrity Cruises holidays are made by one of a kind adventures.
A ship designed to leave the future behind. Book yourself on to Celebrity Edge, an exciting new class of ship that gives you a whole new view. With an innovative layout and unique spaces such as the incredible Magic Carpet; the world's first cantilevered, floating platform that reaches heights of 13 storeys above sea level, you'll get to enjoy your destination to the full, wherever you're headed.
Celebrity Silhouette
If you're looking forward to a relaxing getaway, somewhere you can indulge in extraordinary fine dining, Celebrity Silhouette's your perfect option. Just picture yourself dining at the al fresco Lawn Club Grill when the ship sails from Southampton between April and October 2019. Plus, over 85% of the staterooms have sweeping balconies for a fantastic ocean view.
Celebrity Edge
Ready for a new way of exploring the world? Celebrity Edge gives you a whole new experience, bringing you closer to the ocean as you play, dine and unwind. Try the incredible Magic Carpet venue on a floating platform, and choose a new Edge Villa to relax in your own private plunge pool. This is cruising but not as you know it.
---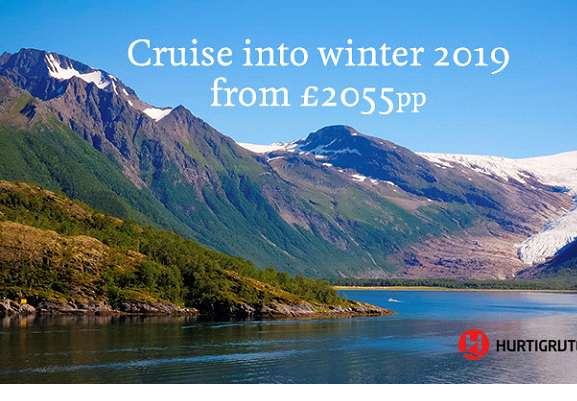 Stay and cruise holidays, tailor-made for you
The nights are drawing in and the air is feeling fresh, so it's got us thinking about winter – next year. We've chosen these stay and cruise offers, travelling in October or December 2019, so that you can experience a once-in-a-lifetime cruise escape at excellent value. Just ask us about Hurtigruten Cruises' Classic Norwegian Voyage, where you can go on an aurora-chasing adventure to search for the Northern Lights...
Classic Norwegian Voyage
11 nights, full board, from £2055pp
Next December, set sail for an exhilarating cruise around Norway's fjord-studded coastline. Search for the dancing Northern Lights; discover traditional joiking (singing) in a local fishing village; and enjoy included shore excursions like gliding through the snow with huskies on a dog-sledding adventure.
Peru and Chile cruise
10 nights, full board FROM £4415pp

Uncover South America's ancient cities, natural wonders and archaeological marvels on this new explorer ship. Highlights include the ruins of Machu Picchu and the Sacsayhuamán Inca fortress. Flights are at a supplement.
Caribbean Sea cruise
Eight nights, full board FROM £3075pp
Go snorkelling on Colombia's 'seahorse island'; try cashew wine in Puerto Limon; and eat barbecued lobster on a tiny jungle-clad isle in Nicaragua, as part of this Miami to Costa Rica cruise. Flights are at a supplement.
---

Princess Cruises 7 night cruises from £499
Still looking to book your 2016 cruise?  You're sure to find your perfect holiday in our latest deals with 7 nights from just £499pp. Sail to Europe from the UK to Scandinavia, the Canary Islands or Norwegian Fjords, or head straight to the sun on a Mediterranean fly-cruise.
If you are thinking of travelling further from home, take advantage of our latest offer and save up to £1000 per couple when you book your flights with Princess. Available on selected worldwide fly-cruises to amazing destinations including alluring Asia, breath-taking Alaska, the dreamy Caribbean and other exotic destinations.
---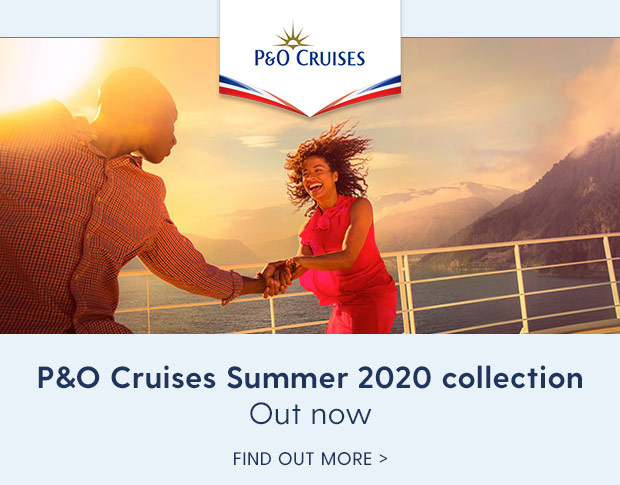 Are you ready to do something different? Summer 2020 could see you kayaking in one of the most peaceful places on Earth, exploring cosmopolitan Bergen surrounded by soaring mountains, and getting to the heart of Viking history in Stavanger, as you cruise the Norwegian fjords aboard P&O Cruises beautiful new ship.

Iona will deliver a season of 7 night Norwegian Fjords cruises, offering spectacular scenic cruising opportunities of five fjords. The programme includes calls to Stavanger, Olden, Geiranger and Bergen, as well as two calls to Ålesund.
Between May and October 2020, Britannia will be operating a dedicated summer season of Western Mediterranean cruises, focusing on the very best the region has to offer. In the peak summer period, delivering three cruises with an itinerary designed towards relaxation, offering beach destinations and places that families can enjoy together.

Other exciting itineraries include Azura's alternating 14-night Mediterranean and Baltic cruises. Ventura delivers relaxation and sunshine on a 12-night Atlantic Island adventure or choose from a 7-night Iberia and 2-night short break cruise with Arcadia operating a 30-night Canada and North America holiday.
P&O Cruise Deals
7 night Med fly-cruise holidays from only £729pp including flights
based on e910a
12 night Canary Islands cruise holidays from £749pp. Low deposit from just £37pp*
*Based on Ventura N008, PF Grade. T&Cs apply.

7 night Norwegian Fjords cruise holidays from £629pp. Low deposit from just £31pp*
*Based on Iona G021, PF Grade. T&Cs apply.

7 night Spain, Portugal & Guernsey cruise holidays from £579pp. Low deposit from just £29pp*
*Based on Ventura N009, PF Grade. T&Cs apply.

7 night Mediterranean fly-cruise holidays from £799pp. Low deposit from just £40pp*
*Based on Oceana E010B, PF Grade. T&Cs apply.

13 night Mediterranean cruise holidays from £849pp. Low deposit from just £42pp*
*Based on Britannia B022, PF Grade. T&Cs apply.

2 night Short Breaks from £199pp*
*Based on Ventura N010, PF Grade. T&Cs apply.

14 night Baltic cruise holidays from £929pp. Low deposit from just £46pp*
*Based on Azura A010, PF Grade. T&Cs apply.
---
Your stay and cruise adventure starts here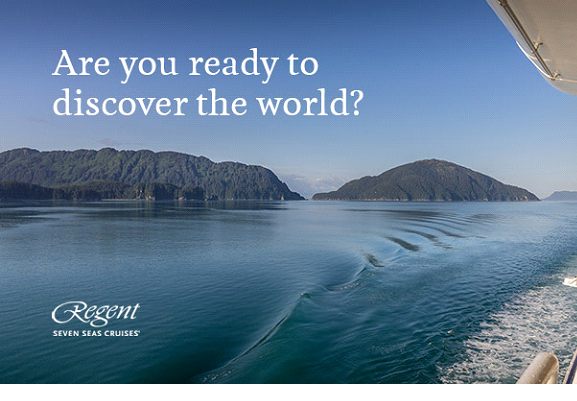 We've paired these epic Canada and South America adventures with a luxury Regent Seven Seas® cruise, where virtually everything is included, from free shore experiences to free-flowing Champagne. We can personalise any of these stay and cruise offers, so if you'd like to add on a beach escape or tour, just let us know.
Top 5 reasons why you should travel with Regent Seven Seas®
1: Virtually everything is included, from unlimited shore experiences to tips, plus 24-hour room service, Wi-Fi, fine dining in speciality restaurants, premium wine and spirits, free-flowing Champagne and a mini-bar restocked daily
2: Its fleet of mid-sized ships is one of the most luxurious in the world, with a boutique feel on board and all-suite accommodation – each with a balcony and ocean views, free mini-bar, in-suite dining and room service
3: Enjoy free unlimited shore excursions with knowledgeable local guides – alongside on-board activities, such as world-renowned guest lecturers, shows created by award-winning directors and food and wine workshops
4: You can dine whenever and wherever you like, with gourmet restaurants included in the price
5: Its personalised service is exceptional, with a staff-to-guest ratio of 2:3
Featured Cruises
Bears, Whales & Alaska in Style
13 nights, selected meals, from £8284pp
This itinerary combines a stay in Canada's beautiful British Columbia with an ultra-luxe Alaska cruise. Free shore experiences include learning the art of crab cracking and a Stephen's Passage whale quest, where you can search for orcas.

What's included?
• Two-night Vancouver city stay at the 5* Fairmont Waterfront
• Scenic floatplane flight in Vancouver
• Bear watching tour and three-night stay at Knight Inlet Lodge
• Seven-night all-inclusive Regent Seven Seas® cruise staying in a Deluxe Veranda Suite
• A choice of up to 44 shore excursions as part of your cruise
Paradise to Peru
21 nights, selected meals, from £7299pp
Your three-week adventure begins in Miami's hip South Beach, before a fascinating cruise around South America. Enjoy free shore excursions such as a walking tour of Colombia's Old Cartagena and Peru's Chan-Chan City of Palaces tour.
What's included?
• Pre-cruise overnight stay in Miami at the 5* W South Beach
• 15-night all-inclusive Regent Seven Seas® cruise staying in a Deluxe Veranda Suite
• Four-night stay in Cuzco and the Sacred Valley in Peru
• Day trip to Machu Picchu, Peru
• A choice of up to 44 shore excursions as part of your cruise
---
Savour the Pacific with Holland America Line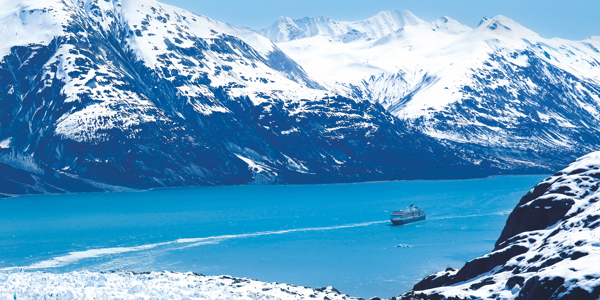 Imagine the excitement of looking over the side of a cruise ship and spotting huge whales breaching or spy-hopping to take a look at their surroundings. Maybe they're returning the gaze of your camera lens, or maybe they're just doing what many do on a cruise along Alaska's coast – enjoying the beautiful scenes of formidable mountains and great glaciers.
If tropical heat is more your thing, imagine immersing yourself in the colourful cultures of Central America and relaxing on the pale sand beach of a private island in the Bahamas. Holland America Line has what it takes to make these dreams come true.
For 145 years, they've been crafting cruise itineraries to favourite destinations (and a few less-travelled ones too). Innovative vessels ensure you can relax in easy elegance throughout, with all the necessities – and plenty of treats – at hand. To complete the package, every Holland America Line sailing includes our VIP door-to-door transfers, onboard spend of up to $150 per cabin and options to fly from an airport near you.
Have a browse of the cruises below, or click here to request a complimentary copy of our 2019 Ocean Cruise brochure for more inspiration.
Featured Cruises
Rockies and Alaska Cruise
Experience charming mountain towns and sophisticated cityscapes, admire the soaring Rockies and look out for whales breaching along the Alaskan coastline.
16 days from £3,299pp
The World's Most Spectacular Rail Journey
The wild Canadian Rockies and Alaskan coast offer an exhilarating journey, with wildlife to spot and delightful towns to explore.
16 days from £4,599pp

Panama Canal Cruise
Cruise along the Pacific coastline of Mexico, navigate through the remarkable Panama Canal and sail across the tropical Caribbean Sea.
18 days from £3,199pp
Includes $100pp onboard credit!

Deluxe Alaskan Voyage
Snow-dusted mountains, monumental glaciers and eagles swooping over Alaskan fjords – this is a journey through some of Canada and Alaska's most mesmerising scenery.
18 days from £4,749pp
---
Norwegian Cruise Line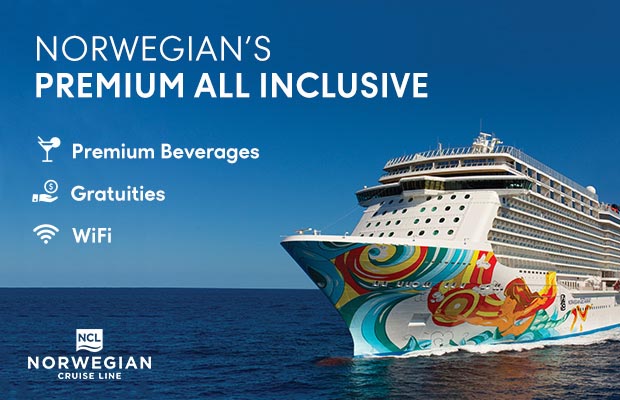 There's nothing quite like the feeling of setting off on an adventure at sea, with all that fresh air, open sky and promise of things to come. With easy budgeting and lots of choice at your fingertips, you can now have even more freedom. It's all thanks to Norwegian Cruise Line's Premium All Inclusive option, where everything from branded drinks to service charges are included in your cruise fare.
Like the idea of eating when and where you like? You'll love Norwegian Cruise Line's 24-hour Freestyle Dining, especially as many of the options are covered by the Premium All Inclusive fare. With up to 27 places to eat on a single ship, from the daily-changing menus of the Main Dining Rooms to authentic speciality restaurants available at a supplement, there's always something new to try or an old favourite to tuck into.
With the freedom of Norwegian Cruise Line, you'll have an amazing family holiday. You'd be surprised with all the exciting things for kids and teens to do. From the complimentary Splash Academy and Entourage programmes to Aqua Parks and rope courses, plus a great choice of flexible family accommodation and all the crowd-pleasing options of Freestyle Dining. It could be your favourite getaway yet.
When the house lights go down, you know you're in for an incredible time. Watch spectacular performances, including fully-staged top Broadway shows, and dance the night away in stylish lounges and cool clubs. Unwind to live music in incredible venues, like Norwegian Epic's recreation of Liverpool's Cavern Club. Your Premium All Inclusive fare really does include some of the best entertainment at sea.
It doesn't have to be a 'special' holiday for you to have a cruise that you'll never forget. Norwegian Cruise Line have spacious staterooms and luxurious suites that are perfect for a romantic getaway, with plenty of other places where you can relax together as well. From great restaurants to chilled-out bars, let the ship set the tone before discovering incredible destinations as a couple.


---
A cruise is more than an at-sea adventure with Kuoni - we can tailor-make a stay and cruise holiday just for you, with overnight stays added to give you more time in the destinations you want to see before or after your cruise. This week, we've included free experiences with our cruise offers; you can learn about the culture and people of Quito in Ecuador or discover ancient Rome on a tall ship cruise...
Discover the traditions, cultures and cuisine of Quito on our free Ecuador tour, as part of this fascinating cruise.
10 nights, selected meals
Explore Boston, watch live jazz in Montreal and join a free guided city tour of Toronto on this autumnal cruise.
13 nights, selected meals
Sail to Sorrento, Amalfi and Rome on one of the world's largest tall ships, and we'll include a free tour of ancient Rome.
11 nights, selected meals
---
Get ready to pack your bags and sail with a last minute cruise deal. With a vast array of exciting sailings, be sure to hurry and have your pick of the best offers available.
All cruises depart within eight weeks, and with a wide range of UK regional departure ports, you could be soaking up the relaxing on board atmosphere sooner than you think. Our last minute cruises provide a great way to experience life on board, and offer the opportunity to explore some amazing world-wide destinations.
If the thought of year-round sunshine, sandy beaches and spectacular natural scenery with just a short flight appeals to you, then a Canary Islands fly cruise could be just the tonic you need.
The islands have much to explore, from the lava fields of Lanzarote, to the exciting city of Dakar in West Africa, meaning that our fly cruises can take you to further destinations faster. The atmosphere on board our cruise ships will ensure you really have the opportunity to relax and with these diverse cruise holiday options, you will be planning your next one before you leave!
On a world cruise, you can sail to exotic, far-flung destinations, explore new cities and meet new people at your own pace. Enjoy a full epic journey, cruising around the world, or choose to join and leave our world cruises at ports along the way, seeing only the parts of the world that you want to explore.
Imagine seeing the Statue of Christ in all its glory as you arrive into Rio de Janeiro, or wake up in cosmopolitan Singapore. Then bathe in the calm blue waters of Phuket, before marvelling at the opulence of Dubai. Experiences that will stay with you forever.
---
Cruise Calendar 2018
Departs on 5th April, 2018 for 17 nights,
aboard Balmoral sailing from Southampton, UK
Hop between sun-kissed Spanish, French and Italian islands on this indulgent Mediterranean cruise aboard Balmoral. The secrets of iconic Ibiza; beautiful Sardinian beaches; Corsica's Napoleon monuments; and the fine architecture of Sicily's chaotic capital: all this and much more besides await your discovery on this stunning 17-night sailing. 
Departs on 6th May, 2018 for 7 nights,
aboard Crown Princess sailing from Southampton
Ports: London (Southampton), England | Guernsey (St. Peter Port), England | Bordeaux (Le Verdon), France | Bilbao, Spain | La Coruna, Spain (for Santiago de Compostela)
Departs on 14th November, 2018 for 14 nights,
aboard Boudicca sailing from Port Louis, Mauritius
Hop between some of the most breathtaking and culturally diverse islands in the Indian Ocean on this incredible exotic cruise aboard Boudicca. Meeting the ship in Port Louis, you'll sample the authentic Mauritian lifestyle before setting sail for almost a fortnight of sunshine, spectacular scenery and wildlife. Discover paradise in the Seychelles, enjoy Fred. Olsen's maiden call into Mayotte, go in search of Madagascar's world-famous fauna and flora, and take in Reunion Island's untouched volcanic landscapes.
Departs on 30th November, 2018 for 14 nights,
aboard Boudicca sailing from Port Louis, Mauritius
Experience the fascinating cultural diversity of Mauritius; soak up the sunshine on the paradise beaches of the Seychelles; discover the largest lagoon in the Indian Ocean during a call into Mayotte; and go in search of the world-famous wildlife of Madagascar. There's also the chance to explore the lush, volcanic landscapes of Reunion Island on this epic, 14-night exotic island hopping voyage aboard Boudicca. 
Departs on 21st October, 2018 for 14 nights,
aboard Royal Princess sailing from Barcelona
Ports: Barcelona, Spain | Valencia, Spain | Cartagena, Spain | Gibraltar, Great Britain | Seville (Cadiz), Spain | Santa Cruz De Tenerife, Spain | Lanzarote (Arrecife), Canary Islands | Ft. Lauderdale, Florida