River Cruise Deals 2019/2020
Latest River Cruise Holiday Offers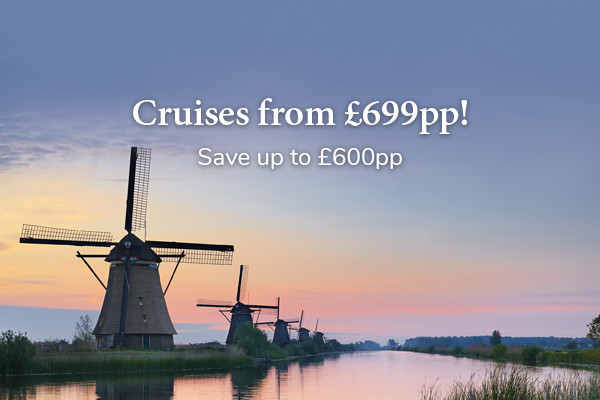 Picture yourself sailing along a scenic stretch of river, enjoying coffee or a glass of wine up on deck in between stops to explore hilltop castles and historic cities. Sound idyllic? Why not get next year's river cruise in the diary today - and save up to £600 per person in the process.

Our 2019 cruises aboard MS Serenade 1 and MS Bellejour (our two exclusive-to-Titan ships) start from as little as £699 per person, with itineraries that cover the Rhine, Danube and Dutch Waterways.
There are dozens of cruises to choose from, but here's a little taster to whet your appetite…
Discover the Netherlands' tulip fields, windmills and canal-crossed capital city.
Save up to £300 per person
No single supplements
Regional flights available
6 days from £699 per person
Glide along the Rhine and Danube on this journey from Amsterdam to Budapest.

Save up to £600 per person
No single supplements
Regional flights available

16 days from £2,399 per person

THE BLUE DANUBE
Combine postcard-worthy scenery with three captivating capitals - Vienna, Bratislava and Budapest.

Save up to £300 per person
No single supplements
Regional flights available

8 days from £1,399 per person

THE BEAUTIFUL DANUBE AND PRAGUE
Bavarian towns, baroque buildings and beautiful vineyards await us on this 9-night itinerary.

Save up to £400 per person
Regional flights available
10 days from £1,799 per person

DUTCH WATERWAYS WITH BRUGES
From Gothic architecture to handmade chocolates, uncover the best of Belgium and the Netherlands.

Save up to £450 per person
No single supplements

8 days from £999 per person

CASTLES OF THE RHINE AND MOSELLE
Explore half-timbered towns and hilltop castles as you travel along the Rhine and Moselle.

Save up to £400 per person
Regional flights available

11 days from £1,699 per person

IN THE FOOTSTEPS OF TURNER
Sail the Rhine's most picturesque stretches accompanied by an expert art historian.

Save up to £200 per person
No single supplements
Regional flights available

8 days from £1,399 per person

Absorb the culture and heritage of the towns and cities that line the Danube.

Save up to £400 per person
Regional flights available
8 days from £1,499 per person
---
8 day Danube Waltz cruise onboard the stylish 4 star Filia Rheni II with highlights such as visits to Vienna, Budapest and Passau.
Save £150
A Celebration of Lisbon and the Douro
Explore the delightful Douro Valley in regal style aboard The Spirit of Chartwell - also known as the 'Royal Barge' - the very ship which carried Her Majesty the Queen during the Diamond Jubilee pageant on the Thames.
Save £200
Offers subject to availability & change
Latest River Cruise Holiday News
We are pleased to announce our brand new 11-night river cruise
A Russian Odyssey Aboard the MS Rossia
Russia, the world's largest country, is a land of superlatives matched by its epic history, monumental architecture, incredible culture and sweeping landscapes of immense beauty. Perhaps the best way to cover the breadth of its myriad gems and feel the might of empires past is on a relaxing river cruise, where every turn reveals a fascinating new view.
This river cruise will start in Moscow before travelling along some of Russia's iconic waterways. Cruise the mighty Volga, Europe's longest river taking in the beautiful scenery and delightful villages and towns including Uglich, Yaroslavl and Kizhi before finishing your cruise in enchanting St Petersburg.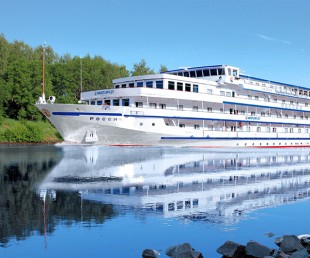 Built to navigate the waterways of Russia, your traditional river cruise ship comprises of four generously sized decks with plenty of space for relaxing, dining and enjoying the views.

You will enjoy all meals on board from dinner on your first day of arrival through to breakfast on your day of departure featuring a mix of international and locally inspired dishes.

All cabins and suites are well-appointed, tastefully furnished and amongst the largest cruising on Russia's rivers and you can choose from 5 cabin types.
12 days from £1,999pp
Introducing Titan's own River Cruise Ship - MS Serenade 1
We have exciting news! We are delighted to announce that Titan will be chartering their very own river cruise ship for 2018, the MS Serenade 1. This will be a brand new venture for Titan, and after many years of working with some of the world's leading cruise lines, they like to think they know exactly what makes a fantastic cruise, and are excited to be able to offer a selection of wonderful European river cruise holidays  aboard this stylish, 4-star ship.
As well as the carefully planned itineraries themselves; the included excursions, dining arrangements, onboard facilities and even the decor have all been thought through with the painstaking attention to detail you'd expect from Titan. A significant refurbishment programme planned for this winter will further enhance the already impressive ambiance on board. And of course, as this will be an exclusive charter, all of your fellow guests will be Titan travellers!
We hope that you will be as thrilled as we are when you step aboard the Serenade 1, which makes its maiden Titan voyage in March 2018!
Welcome aboard your luxury river cruiser


Your floating boutique hotel is thoughtfully designed with effortlessly elegant spaces for relaxing and admiring the ever-changing scenery. Head up to the spacious sun deck, have a drink in the panoramic observation lounge, or take in spectacular views from the privacy of your beautifully appointed suite.
You could drift off to sleep in Vienna and awake in Bratislava. Or spend the morning cruising through the dramatic Rhine Gorge, and the afternoon exploring the wine town of Rüdesheim. The atmosphere on board is always convivial and relaxed, perfect for reflecting on the day's events with newfound friends.
Experience firsthand the intuitive service for which we're known, as your every need is taken care of by our charming crew. Nothing is too much trouble for our cruise directors and tour managers, who are with you throughout the journey.
So much is included:

Spacious suites or cabins
Our modern river cruisers are equipped with spacious suites and cabins, many of which feature full-length glass doors and a French balcony. There is also complimentary tea and coffee in your room.

Inspired itineraries
Shore excursions and guided tours with local experts are included, balanced with free time for independent discovery. There will also be opportunities to immerse yourself in local culture.

Exceptional dining
Dining on board is pure pleasure. From hearty breakfasts and buffet lunches to fine four-course dinners, all meals are freshly prepared with great care and served with a smile.

World-class amenities
Between sightseeing and feasting, why not make the most of our ships' excellent amenities? Most feature a sauna, steam room, pool, fitness suite and hair salon or treatment room. Free Wi-Fi is also available on board (connection speeds may vary).

• Return flights from a choice of regional airports or travel by Eurostar (a supplement may apply)
• All port charges, taxes and overseas transfers
• ABTA, ATOL and IATA protection