Cruise Deals 2022/2023
Oh, the places you'll go!
There's something magical about stepping on board a cruise ship.
There's a sense of anticipation in the air – excitement about the voyage ahead and the places you'll be visiting over the coming days or weeks.
Our ocean cruises can take you all over the world. Sun-soaked Mediterranean shores. Fjord-carved coastlines. Idyllic islands. Cities rich with history and culture. We like to give you as much choice as possible, so we feature dozens of different itineraries. We also work with a number of different cruise lines, allowing you to pick the one that suits you best. Fred. Olsen and Cruise & Maritime are great for no-fly cruises, for example, while both Azamara and Regent Seven Sea Cruises offer more than a touch of luxury.
Whichever cruise you decide on, a couple of things will always come as standard when you book with us. You'll receive our door-to-door transfers, taking you from home to the airport or port (and back again). And you'll be protected by our Price Promise – if we drop the price of your cruise after you've booked, you'll automatically be refunded the difference.
Latest Cruise Holiday Offers
Sun-soaked Mediterranean shores or fjord-carved coastlines
Where will your next ocean cruise take you? Our ocean cruises can take you all over the world and there's dozens of different itineraries to choose from (including 48 new cruises for 2019 and 2020). Sip locally-grown wine and wander a web of ancient backstreets in Croatia. Gaze up in wonder as your ship navigates the immense Norwegian fjords. Or really push the boat out and discover rare wildlife and untamed beauty in Madagascar.
No matter which cruise catches your eye, a few things will always come as standard. Our Price Promise covers all holidays, and guarantees that those booking early will never pay more than last-minute bookers. Our VIP door-to-door travel service ensures hassle-free journeys to and from the port (for our selection of no-fly cruises) or airport – and at no extra fee.

---
Fred Olsen Summer Cruises
We know that, for many of you, a summer holiday is the highlight of the year; an escape from the stress and strain of daily life, or simply the chance to enjoy some spectacular sunshine and scenery in some of the most beautiful and sought-after destinations on earth.
With this is mind, we've created a fantastic summer cruise programme packed with a wide choice of sailings, making the most of our fleet of smaller, more intimate ships to bring an abundance of unforgettable sights and experiences closer to you. There are cruises from 7 local UK ports – departing from May to September 2016 – and a smorgasbord of destinations to choose from, so we're sure you'll find the perfect summer break.
You could discover historic and attraction-packed cities in France and Spain; cruise Germany's incredible Kiel Canal and beautiful Weser and Elbe Rivers; immerse yourself in the outstanding natural beauty of Canada or the Norwegian fjords; soak up the Canaries' soothing sunshine; explore the breathtaking islands of the Adriatic with a call to enchanting Venice thrown in for good measure and much more. There's even an incredible circumnavigation of the home isles, taking in some of Britain and Ireland's most iconic historic sites and scenic delights.
And, as usual, you'll find there's ample room to relax and enjoy your holiday on board, cruising with hundreds – not thousands – of like-minded guests, and enjoy a high level of personal, attentive service from our friendly staff no matter which of these expertly crafted cruises you choose. Plus, with great value fares on offer and almost everything included in the price, you can book with confidence knowing you're getting a fantastic deal.


Voyages of discovery
Make it a cruise to remember with Fred. Olsen
If you want a warm welcome, a friendly atmosphere and a home-from-home feel, Fred. Olsen probably is the cruise line for you. The ships' smaller size means you'll be sharing your experience with hundreds - not thousands - of others (and you can expect impeccable service from crew members who'll remember your name and your favourite tipple).
The itineraries can take you all over the world – the historic cities of the Baltic, the dramatic fjords of Norway or Greenland, sun-drenched Mediterranean islands, even the exotic shores of the Far East. Many are no-fly cruises, too, sailing from the likes of Dover, Southampton and Liverpool. With our VIP door-to-door travel service, you'll be taken from home right to the cruise drop-off area – the perfect, hassle-free start to your holiday.
Simply Fred.
Have you already had enough of the cold, stormy weather this fall? Why not let Fred. Olsen carry you to one of those longed-for sunny oases.
You could watch birds flying high over the wonderfully rugged coastline of Scotland in the height of summer. Become entranced by the rush of waterfalls streaming over the edge of Norway's fantastic fjords; and enjoy the beautiful bays of Sweden's scenic waterways, with barely a man-made monument in sight.
If you can't wait til then, why not aim south, where beautiful destinations like the Azores bathe in warm sun through much of the year; or enjoy a unique cruise & stay holiday in Asia, where blossoms scent the air in January.
Fred. Olsen's smaller ships offer a more intimate cruise, taking you closer to the action; yet are large enough to still offer plenty of elbow room, with a choice of restaurants, bars and spaces to relax with a book or with friends.
---
Your stay and cruise adventure starts here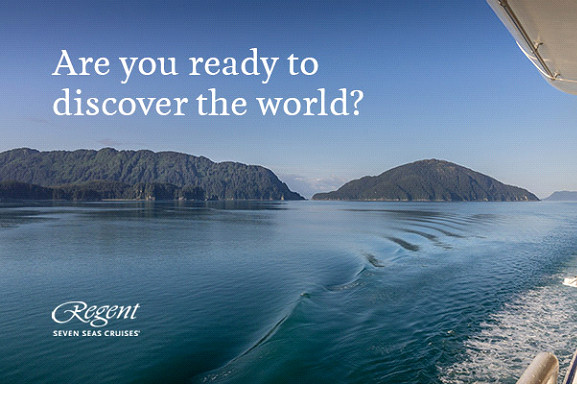 Picture this: eating and drinking to your heart's content, taking shore excursions galore and ending each day in a spacious suite. Yet, when you leave the ship, there's nothing to pay. Too good to be true? Not with Regent Seven Seas Cruises. This is luxury cruising at its very best – and that doesn't stop at the things money can buy. Regent gets five stars for service, cuisine and ambience, too.
What's more, when you select your pick of our Regent Seven Seas sailings, you'll also still benefit from our award-winning VIP door-to-door transfer service and the option to fly from your most local airport, just as always. So whether you're dreaming of leisurely days cruising through the Mediterranean, or you're in for the long haul on a real Asian adventure, we'll take care of every single step.
We've paired these epic Canada and South America adventures with a luxury Regent Seven Seas® cruise, where virtually everything is included, from free shore experiences to free-flowing Champagne. We can personalise any of these stay and cruise offers, so if you'd like to add on a beach escape or tour, just let us know.
Top 5 reasons why you should travel with Regent Seven Seas®
1: Virtually everything is included, from unlimited shore experiences to tips, plus 24-hour room service, Wi-Fi, fine dining in speciality restaurants, premium wine and spirits, free-flowing Champagne and a mini-bar restocked daily
2: Its fleet of mid-sized ships is one of the most luxurious in the world, with a boutique feel on board and all-suite accommodation – each with a balcony and ocean views, free mini-bar, in-suite dining and room service
3: Enjoy free unlimited shore excursions with knowledgeable local guides – alongside on-board activities, such as world-renowned guest lecturers, shows created by award-winning directors and food and wine workshops
4: You can dine whenever and wherever you like, with gourmet restaurants included in the price
5: Its personalised service is exceptional, with a staff-to-guest ratio of 2:3
Luxury cruises on Regent Seven Seas Explorer®
Lavish luxuries are just the beginning
If you're dreaming of a luxury cruise next year, we think we've got just the ticket. Sail into the sunset aboard Regent Seven Seas Explorer® and you'll experience luxury cruising at its very best.

Feeling inspired? We've got two cruises to choose from aboard the very same ship, with savings of up to £1,800 per person. One's a European adventure, departing from Southampton, which takes you to French villages and Spanish ports over two weeks. The other takes you to the Far East, where you'll explore China's Great Wall and Terracotta Warriors before sailing on to Taiwan and Japan.
The VIP treatment isn't just while you're on board, either. You'll have door-to-door transfers in the UK to take you from your front door to the airport (or port) in style.
---
Savour the Pacific with Holland America Line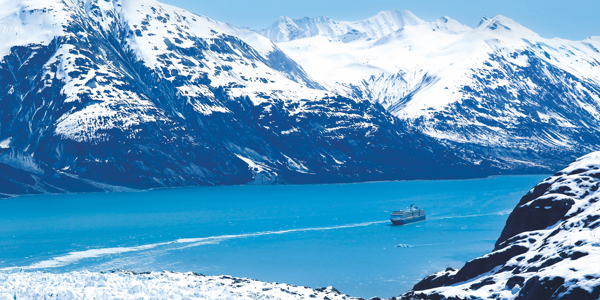 Imagine the excitement of looking over the side of a cruise ship and spotting huge whales breaching or spy-hopping to take a look at their surroundings. Maybe they're returning the gaze of your camera lens, or maybe they're just doing what many do on a cruise along Alaska's coast – enjoying the beautiful scenes of formidable mountains and great glaciers.
If tropical heat is more your thing, imagine immersing yourself in the colourful cultures of Central America and relaxing on the pale sand beach of a private island in the Bahamas. Holland America Line has what it takes to make these dreams come true.
For 145 years, they've been crafting cruise itineraries to favourite destinations (and a few less-travelled ones too). Innovative vessels ensure you can relax in easy elegance throughout, with all the necessities – and plenty of treats – at hand. To complete the package, every Holland America Line sailing includes our VIP door-to-door transfers, onboard spend of up to $150 per cabin and options to fly from an airport near you.

Scenic sailings
Alaska is breathtakingly beautiful - and one of the best ways to see it is with the experts, Holland America Line.
Cruises along the 49th state's coastline take you past sheltered fjords, forested islands, snow-capped peaks and mighty glaciers. You'll stop off at quaint, colourful fishing towns, national parks and gold rush settlements, and look out for whales, dolphins, seals and bald eagles as you go.
Our Alaskan cruises are all on board Holland America Line's luxurious perfectly-sized ships (and all include an exclusive cocktail party just for us). We combine each cruise with time in Vancouver and the Canadian Rockies, with some tours travelling between the two on the iconic Rocky Mountaineer railway.
Photo-worthy scenery
The Alaskan coastline is dramatic, rugged and simply spectacular.
Cruises in this part of the world reveal snow-dusted mountains, pale-blue glaciers, calm fjords, and forested slopes sweeping down to the Pacific waves. Look down and you might see whales, seals and dolphins in the water; look up and you could spy a majestic bald eagle soaring above the scenery.
Introducing the newly refurbished Koningsdam
Raising the bar of 21st century elegance
Cruises in Alaska reveal snow-dusted mountains, pale-blue glaciers, calm fjords, and forested slopes sweeping down to the Pacific waves. But it's not always just about where you go and what you see, it's about how you get there.
Holland America Line's newly refurbished Koningsdam raises the bar of 21st-century elegance at sea. Sophisticated décor and state-of-the-art enhancements are just the beginning on this ship.
From intimate French dining at Rudi's Sel de Mer to a casual bite at New York Pizza & Deli, you'll have the choice of eight restaurants every evening. Fancy a post-dinner concert? Opt for classical strings of rock 'n' roll between The Main Stage, Music Walk and Rock Room.
Finish the evening with a night cap (or two) at the Grand Dutch Café, before retiring to your stateroom (70% of which enjoy a spacious verandah). And then do it all again tomorrow.
We combine cruises with our award-winning VIP door-to-door travel service (and, in some cases, our award-winning tours) to create unforgettable holidays that are hassle-free from the moment you leave home.

---

Azamara Club Cruises
Seek out your next slice of luxury at sea with Azamara Cruises
When you know, you know. So why wait? Secure your perfect Azamara cabin and preferred departure date before it's too late. We have a limited selection remaining, so beat the post-Christmas rush and combine the delights of luxury cruising with incredible ports of call. Mediterranean, Adriatic, Far East – need we say more?
With Azamara, you'll slip into the holiday spirit with deluxe facilities, fine cuisine and indulgent spas. This is luxury cruising at its best. What's more, you'll bookend your holiday with our VIP door-to-door travel service too, so you'll enjoy an exceptional experience from start to finish.
Where will you go next?
Azamara cruises are all about immersing yourself in each destination.
This luxurious, boutique-style cruise line puts a huge focus on the places you visit, with longer stays in each port of call to allow you to fully experience the sights and sounds. On board, the small size of the ships makes for a friendly, intimate atmosphere where staff will remember your name (and your drinks order).
For a true taste of a different culture, we still have a few cabins available on 'Discover Japan', an 18-day itinerary setting sail in September. Expect temples, tea houses, castles, hot springs – and much more besides. Or hold off a few more months and combine a South African sailing with a three-night safari in Pilanesberg National Park (departs 1 December 2020).
There are voyages closer to home, too. Experience the delights of Italy and Croatia, or perhaps explore more of the Iberian Peninsula on a cruise around Spain and Portugal.
And when you choose Azamara with Titan your voyage comes complete with our VIP door-to-door transfer service, US$300 per stateroom on board credit, all of your gratuities covered, unlimited spirits, beers, wines, bottled water, soft drinks, speciality coffees and teas, and a complimentary speciality restaurant dining package that covers you for three meals during your sailing.
---
Sun-soaked winter cruises
Icy mornings, dark evenings and a long wait until the first flourish of spring.

The post-Christmas blues are not a trifling matter. Why not avoid it all together and treat yourself to a winter warmer in the sun?
This winter, you could find your island idyll with two weeks testing the waters (and the rum) on the Caribbean's most picturesque islands. Or, closer to home, soak up the convenience of a no-fly cruise from Southampton to Iberian cities, Balearic Islands and beyond on a Mediterranean cruise in the early spring sunshine.
Whatever you choose, book your cruise today for as little as £1,799 per person, including our award-winning VIP door-to-door transfers.
---
Get ready to pack your bags and sail with a last minute cruise deal. With a vast array of exciting sailings, be sure to hurry and have your pick of the best offers available.
All cruises depart within eight weeks, and with a wide range of UK regional departure ports, you could be soaking up the relaxing on board atmosphere sooner than you think. Our last minute cruises provide a great way to experience life on board, and offer the opportunity to explore some amazing world-wide destinations.
If the thought of year-round sunshine, sandy beaches and spectacular natural scenery with just a short flight appeals to you, then a Canary Islands fly cruise could be just the tonic you need.
The islands have much to explore, from the lava fields of Lanzarote, to the exciting city of Dakar in West Africa, meaning that our fly cruises can take you to further destinations faster. The atmosphere on board our cruise ships will ensure you really have the opportunity to relax and with these diverse cruise holiday options, you will be planning your next one before you leave!
On a world cruise, you can sail to exotic, far-flung destinations, explore new cities and meet new people at your own pace. Enjoy a full epic journey, cruising around the world, or choose to join and leave our world cruises at ports along the way, seeing only the parts of the world that you want to explore.
Imagine seeing the Statue of Christ in all its glory as you arrive into Rio de Janeiro, or wake up in cosmopolitan Singapore. Then bathe in the calm blue waters of Phuket, before marvelling at the opulence of Dubai. Experiences that will stay with you forever.