Cruise Deals 2019/2020
Oh, the places you'll go!
There's something magical about stepping on board a cruise ship.
There's a sense of anticipation in the air – excitement about the voyage ahead and the places you'll be visiting over the coming days or weeks.
Our ocean cruises can take you all over the world. Sun-soaked Mediterranean shores. Fjord-carved coastlines. Idyllic islands. Cities rich with history and culture. We like to give you as much choice as possible, so we feature dozens of different itineraries. We also work with a number of different cruise lines, allowing you to pick the one that suits you best. Fred. Olsen and Cruise & Maritime are great for no-fly cruises, for example, while both Azamara and Regent Seven Sea Cruises offer more than a touch of luxury.
Whichever cruise you decide on, a couple of things will always come as standard when you book with us. You'll receive our door-to-door transfers, taking you from home to the airport or port (and back again). And you'll be protected by our Price Promise – if we drop the price of your cruise after you've booked, you'll automatically be refunded the difference.
Latest Cruise Holiday Offers
Summer Special – For Two Weeks Only!
Celebrate the summer with free onboard credit on a wide range of selected sailings across 2019 – 2020. This offer applies across all stateroom categories for two weeks only when you book by 14th July 2019, in combination with our amazing value rates.

Whether you opt to catch a rare glimpse of the pink dolphins that live within the rivers of the Yriapu Rainforest or cruise through the icy-blue labyrinths of the Antarctic Sound, our limited-time sale on voyages gives you the freedom to explore all the colours of South America and beyond at an unrivalled value.




7nts Arabian Sunsets & Souks + 2nts Dubai stay – Costa Mediterranea - £679pp (based on London Gatwick)

1nt Venice stay & 7nts Eastern Mediterranean Delights – MSC Lirica - £639pp (based on London Gatwick)
Marella Cruises Voucher Codes

Offer: SAVE UP TO £700 PER COUPLE ON MEDITERRANEAN GEMS ITENRARY
Departure Dates: 28th August 2019
T&Cs: SAVE UP TO £700 PER COUPLE ON THE MEDITERRANEAN GEMS ITINERARY. The £700 per couple saving refers to the total savings made on the Mediterranean Gems 7nt sailing departing on 28th August 2019 based on 2 adults sharing the cheapest available cabin type on an All Inclusive basis. The offer applies to 7 night holidays booked on tui.co.uk/cruise and does not apply to cabin only. Savings are from the latest edition of the relevant brochure. Additional supplements may apply.
Offer: Offer: SAVE £150 OFF PER BOOKING ON Winter 2019 and Summer 2020 SAILINGS*
Code: SAVE150
Min Spend: N/A
Booking Dates: Wednesday 1st May - TBC
Travel Dates: 1st November 2019 - 30th April 2020
T&Cs: £150 off per booking: Offer valid on all Marella sailings from 1st November 2019 – 31st October 2020. No minimum spend applies. Use discount code SAVE150 on the booking page of our website or tell your holiday travel advisor if booking in a TUI holiday store. For bookings made via your local travel agent, save £150 off per booking using discount code SAVE150. Offer is not valid on cabin only bookings. Offer must be selected at time of booking and applies to new bookings only, is subject to availability and may be withdrawn without prior notice. The code is not combinable with any other offer. Please see www.tui.co.uk/cruise or the relevant brochure for full booking terms and conditions that apply. Some of the flights and flight-inclusive holidays are financially protected by the ATOL scheme. But ATOL protection does not apply to all holiday and travel services. Our website and/or brochure will provide you with information on the protection that applies in the case of each holiday and travel service offered before you make your booking. If you do not receive an ATOL Certificate then the booking will not be ATOL protected. If you do receive an ATOL Certificate but all the parts of your trip are not listed on it, those parts will not be ATOL protected. Please see our booking conditions for information, or for more information about financial protection and the ATOL Certificate go to: www.caa.co.uk. Marella Cruises is a trading name of TUI UK Limited, a member of TUI Group. Registered Office: Wigmore House, Wigmore Lane, Luton, LU2 9TN. Registered in England No: 2830117. ATOL No: 2524. ABTA No: V5126.
Marella Cruises 2019/2020
All inclusive as standard on all ships as well as low deposits from £50pp. There will also be six new port calls available and 11 new itineraries across the two new seasons.
BOOK YOUR SUMMER 2020 CRUISE NOW

Sail all inclusive as standard.
Book early with Low deposits from £75pp. You won't have to pay your second instalment for another 12 weeks.
Two new port calls, Visby, Sweden and Nordfjord, Norway. We will be returning to Istanbul, Turkey.
8 new itineraries, six of which will be on Marella Explorer 2 offering a selection of adults only 7 and 14 nights.
---
Sun-soaked Mediterranean shores or fjord-carved coastlines
Where will your next ocean cruise take you? Our ocean cruises can take you all over the world and there's dozens of different itineraries to choose from (including 48 new cruises for 2019 and 2020). Sip locally-grown wine and wander a web of ancient backstreets in Croatia. Gaze up in wonder as your ship navigates the immense Norwegian fjords. Or really push the boat out and discover rare wildlife and untamed beauty in Madagascar.
No matter which cruise catches your eye, a few things will always come as standard. Our Price Promise covers all holidays, and guarantees that those booking early will never pay more than last-minute bookers. Our VIP door-to-door travel service ensures hassle-free journeys to and from the port (for our selection of no-fly cruises) or airport – and at no extra fee.


Scottish Islands & Lochs in Five

This short cruise introduces the diverse landscapes and picture-perfect towns of Scotland. Cruise the glassy waters of Loch Lomond, discover Tobermory's rainbow of houses and spot wildlife in Sound of
6 days from £929pp
Stare skywards at lofty skyscrapers one day and relax under the palms on a sandy beach the next as you discover the highlights of Singapore, Hong Kong, Thailand, Cambodia and Vietnam.
20 days from £3,299pp
Experience South Africa's rugged coastline and vast national parks on a luxury cruise and safari lodge stay. Meet the locals, sample tribal cuisine and seek out the Big Five.
16 days from £3,599pp
Jagged map lines sketching north to the Arctic Circle describe Norway's astonishing coast. And as we cruise along it, dramatic peaks, mirror-like fjords and friendly towns lie around every corner.
13 days from £1,949pp
Relax in the lap of luxury aboard Regent's Seven Seas Explorer. Cruise to French countryside, Spanish ports and the best of the Channel Islands.
13 days from £8,199pp
---

Fred Olsen Cruise Sale
Fred Olsen Cruise Lines is offering guests attractive savings on 46 Ocean and River sailings from June to September 2019, in its new 'Summer Sale', on all new bookings made from 3rdApril to 3rd July 2019 inclusive. Guests can save up £300 per person on Ocean cruises, and up to £400 per person on Brabant River cruises. And what is more, guests booking their Fred. Olsen 'Summer Sale' getaway can also take advantage of up to Euros 200 per room free on-shore spending money on selected Ocean sailings, without having to worry about fluctuating exchange rates, giving them added peace of mind.
---
Fred Olsen Summer Cruises
We know that, for many of you, a summer holiday is the highlight of the year; an escape from the stress and strain of daily life, or simply the chance to enjoy some spectacular sunshine and scenery in some of the most beautiful and sought-after destinations on earth.
With this is mind, we've created a fantastic summer cruise programme packed with a wide choice of sailings, making the most of our fleet of smaller, more intimate ships to bring an abundance of unforgettable sights and experiences closer to you. There are cruises from 7 local UK ports – departing from May to September 2016 – and a smorgasbord of destinations to choose from, so we're sure you'll find the perfect summer break.
You could discover historic and attraction-packed cities in France and Spain; cruise Germany's incredible Kiel Canal and beautiful Weser and Elbe Rivers; immerse yourself in the outstanding natural beauty of Canada or the Norwegian fjords; soak up the Canaries' soothing sunshine; explore the breathtaking islands of the Adriatic with a call to enchanting Venice thrown in for good measure and much more. There's even an incredible circumnavigation of the home isles, taking in some of Britain and Ireland's most iconic historic sites and scenic delights.
And, as usual, you'll find there's ample room to relax and enjoy your holiday on board, cruising with hundreds – not thousands – of like-minded guests, and enjoy a high level of personal, attentive service from our friendly staff no matter which of these expertly crafted cruises you choose. Plus, with great value fares on offer and almost everything included in the price, you can book with confidence knowing you're getting a fantastic deal.
Save Up To £600pp on Winter 2018/19 Caribbean Cruises.
The Caribbean is a melting pot of cultural influences, and each island carries its own individual charm. Many visitors dream of white sandy beaches fringed with palms, crystal-clear waters, historic waterways and bustling towns, but rainforests, dormant volcanoes, colourful reefs, creole cuisine and toe-tapping music also dwell here.
Voyages of discovery
Make it a cruise to remember with Fred. Olsen
If you want a warm welcome, a friendly atmosphere and a home-from-home feel, Fred. Olsen probably is the cruise line for you. The ships' smaller size means you'll be sharing your experience with hundreds - not thousands - of others (and you can expect impeccable service from crew members who'll remember your name and your favourite tipple).
The itineraries can take you all over the world – the historic cities of the Baltic, the dramatic fjords of Norway or Greenland, sun-drenched Mediterranean islands, even the exotic shores of the Far East. Many are no-fly cruises, too, sailing from the likes of Dover, Southampton and Liverpool. With our VIP door-to-door travel service, you'll be taken from home right to the cruise drop-off area – the perfect, hassle-free start to your holiday.
A few of our favourite Fred. Olsen cruises departing this year
Autumn in the Baltic
Departing from Newcastle on Balmoral
6 October 2019
13 days from £1,949 per person

Reykjavik and the Fjords of Greenland
Departing from Dover on Boudicca
7 August 2019
17 days from £3,199 per person

The Best of Rouen and Bordeaux by River
Departing from Dover on Boudicca
6 Setpember 2019
10 days from £1,649 per person

Baltic Highlights Cruise
Departing from Southampton on Braemar
31 July 2019
15 days from £2,649 per person

Scandinavian Islands with Stockholm
Departing from Dover on Boudicca
15 September 2019
12 days from £1,999 per person

Norway's Fjords, Mountains & Glaciers
Departing from Dover on Boudicca
31 July 2019
8 days from £1,449 per person
---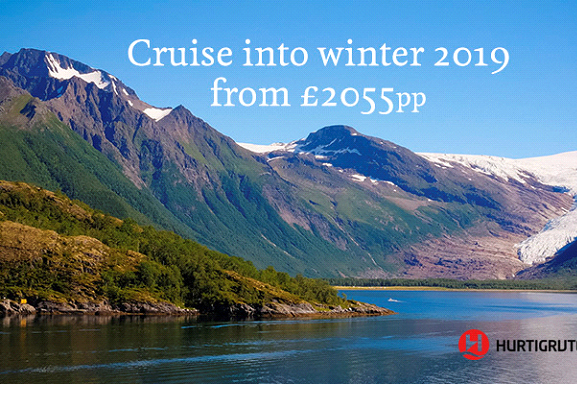 Stay and cruise holidays, tailor-made for you
The nights are drawing in and the air is feeling fresh, so it's got us thinking about winter – next year. We've chosen these stay and cruise offers, travelling in October or December 2019, so that you can experience a once-in-a-lifetime cruise escape at excellent value. Just ask us about Hurtigruten Cruises' Classic Norwegian Voyage, where you can go on an aurora-chasing adventure to search for the Northern Lights...
Classic Norwegian Voyage
11 nights, full board, from £2055pp
Next December, set sail for an exhilarating cruise around Norway's fjord-studded coastline. Search for the dancing Northern Lights; discover traditional joiking (singing) in a local fishing village; and enjoy included shore excursions like gliding through the snow with huskies on a dog-sledding adventure.
Peru and Chile cruise
10 nights, full board FROM £4415pp

Uncover South America's ancient cities, natural wonders and archaeological marvels on this new explorer ship. Highlights include the ruins of Machu Picchu and the Sacsayhuamán Inca fortress. Flights are at a supplement.
Caribbean Sea cruise
Eight nights, full board FROM £3075pp
Go snorkelling on Colombia's 'seahorse island'; try cashew wine in Puerto Limon; and eat barbecued lobster on a tiny jungle-clad isle in Nicaragua, as part of this Miami to Costa Rica cruise. Flights are at a supplement.
---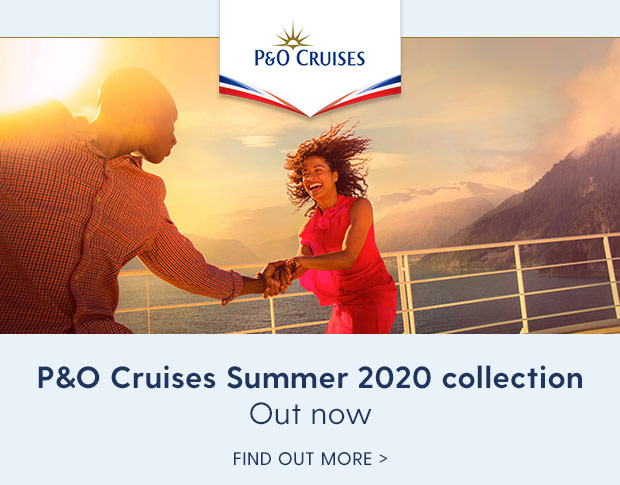 Are you ready to do something different? Summer 2020 could see you kayaking in one of the most peaceful places on Earth, exploring cosmopolitan Bergen surrounded by soaring mountains, and getting to the heart of Viking history in Stavanger, as you cruise the Norwegian fjords aboard P&O Cruises beautiful new ship.

Iona will deliver a season of 7 night Norwegian Fjords cruises, offering spectacular scenic cruising opportunities of five fjords. The programme includes calls to Stavanger, Olden, Geiranger and Bergen, as well as two calls to Ålesund.
Between May and October 2020, Britannia will be operating a dedicated summer season of Western Mediterranean cruises, focusing on the very best the region has to offer. In the peak summer period, delivering three cruises with an itinerary designed towards relaxation, offering beach destinations and places that families can enjoy together.

Other exciting itineraries include Azura's alternating 14-night Mediterranean and Baltic cruises. Ventura delivers relaxation and sunshine on a 12-night Atlantic Island adventure or choose from a 7-night Iberia and 2-night short break cruise with Arcadia operating a 30-night Canada and North America holiday.
P&O Cruise Deals
7 night Med fly-cruise holidays from only £729pp including flights
based on e910a
12 night Canary Islands cruise holidays from £749pp. Low deposit from just £37pp*
*Based on Ventura N008, PF Grade. T&Cs apply.

7 night Norwegian Fjords cruise holidays from £629pp. Low deposit from just £31pp*
*Based on Iona G021, PF Grade. T&Cs apply.

7 night Spain, Portugal & Guernsey cruise holidays from £579pp. Low deposit from just £29pp*
*Based on Ventura N009, PF Grade. T&Cs apply.

7 night Mediterranean fly-cruise holidays from £799pp. Low deposit from just £40pp*
*Based on Oceana E010B, PF Grade. T&Cs apply.

13 night Mediterranean cruise holidays from £849pp. Low deposit from just £42pp*
*Based on Britannia B022, PF Grade. T&Cs apply.

2 night Short Breaks from £199pp*
*Based on Ventura N010, PF Grade. T&Cs apply.

14 night Baltic cruise holidays from £929pp. Low deposit from just £46pp*
*Based on Azura A010, PF Grade. T&Cs apply.
---
Your stay and cruise adventure starts here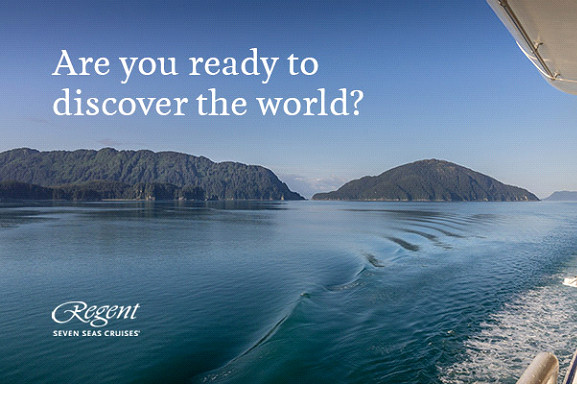 Picture this: eating and drinking to your heart's content, taking shore excursions galore and ending each day in a spacious suite. Yet, when you leave the ship, there's nothing to pay. Too good to be true? Not with Regent Seven Seas Cruises. This is luxury cruising at its very best – and that doesn't stop at the things money can buy. Regent gets five stars for service, cuisine and ambience, too.
What's more, when you select your pick of our Regent Seven Seas sailings, you'll also still benefit from our award-winning VIP door-to-door transfer service and the option to fly from your most local airport, just as always. So whether you're dreaming of leisurely days cruising through the Mediterranean, or you're in for the long haul on a real Asian adventure, we'll take care of every single step.
We've paired these epic Canada and South America adventures with a luxury Regent Seven Seas® cruise, where virtually everything is included, from free shore experiences to free-flowing Champagne. We can personalise any of these stay and cruise offers, so if you'd like to add on a beach escape or tour, just let us know.
Top 5 reasons why you should travel with Regent Seven Seas®
1: Virtually everything is included, from unlimited shore experiences to tips, plus 24-hour room service, Wi-Fi, fine dining in speciality restaurants, premium wine and spirits, free-flowing Champagne and a mini-bar restocked daily
2: Its fleet of mid-sized ships is one of the most luxurious in the world, with a boutique feel on board and all-suite accommodation – each with a balcony and ocean views, free mini-bar, in-suite dining and room service
3: Enjoy free unlimited shore excursions with knowledgeable local guides – alongside on-board activities, such as world-renowned guest lecturers, shows created by award-winning directors and food and wine workshops
4: You can dine whenever and wherever you like, with gourmet restaurants included in the price
5: Its personalised service is exceptional, with a staff-to-guest ratio of 2:3
Featured Cruises
Bears, Whales & Alaska in Style
13 nights, selected meals, from £8284pp
This itinerary combines a stay in Canada's beautiful British Columbia with an ultra-luxe Alaska cruise. Free shore experiences include learning the art of crab cracking and a Stephen's Passage whale quest, where you can search for orcas.

What's included?
• Two-night Vancouver city stay at the 5* Fairmont Waterfront
• Scenic floatplane flight in Vancouver
• Bear watching tour and three-night stay at Knight Inlet Lodge
• Seven-night all-inclusive Regent Seven Seas® cruise staying in a Deluxe Veranda Suite
• A choice of up to 44 shore excursions as part of your cruise
Paradise to Peru
21 nights, selected meals, from £7299pp
Your three-week adventure begins in Miami's hip South Beach, before a fascinating cruise around South America. Enjoy free shore excursions such as a walking tour of Colombia's Old Cartagena and Peru's Chan-Chan City of Palaces tour.
What's included?
• Pre-cruise overnight stay in Miami at the 5* W South Beach
• 15-night all-inclusive Regent Seven Seas® cruise staying in a Deluxe Veranda Suite
• Four-night stay in Cuzco and the Sacred Valley in Peru
• Day trip to Machu Picchu, Peru
• A choice of up to 44 shore excursions as part of your cruise

We've got two cruise and tour holidays that could be just what you're looking for.
One's a Mediterranean adventure that combines an 8-night cruise with time in Venice and a journey on the renowned Venice Simplon-Orient-Express. The other takes you to the Far East, where you'll sail to Taiwan, Japan and Shanghai, before disembarking to discover China's Great Wall and Terracotta Warriors.

You'll be sailing with Regent Seven Seas, one of the most luxurious cruise lines in the world. You'll stay in a spacious suite, enjoy as many free shore excursions as you can fit in, and dine on gourmet cuisine throughout your voyage. The VIP treatment isn't just while you're away, either. You'll have door-to-door transfers in the UK to take you from your front door to the airport (or train station) in style.
Orient Express, Venice and a Deluxe Mediterranean Cruise
Following an unforgettable trip on the Orient Express, your cruise will take in Croatia, Montenegro and Greece.
12 days from £7,999 per person
Sailing on Seven Seas Voyag

China and Japan Deluxe Explorer
Explore Hong Kong, Shanghai, Beijing and Xi'an, and cruise around the fascinating islands of Japan and Taiwan.
21 days from £7,499 per person
Sailing on Seven Seas Voyager
A luxurious no-fly cruise with Regent Seven Seas Cruises© – brand new for 2020.
Cruise with Regent Seven Seas Cruises© and you can expect impeccable service and an all-inclusive setup that's second to none. Shore excursions are complimentary in every port of call. Wi-Fi is free throughout the ship. And gourmet dining, fine wines and course-by-course room service are all included. Travel with Titan and we'll wrap a few extras in too – VIP transfers to and from the port and $300 onboard credit per suite.
If you can tear yourself away from your suite, you'll have the chance to explore pretty Honfleur (captured on canvas by Claude Monet) and St Peter Port, the charm-filled capital of Guernsey. Sailing south, you can sample fine Bordeaux wines in an 18th-century chateau, get a culture fix at Bilbao's Guggenheim Museum, and soak up the Spanish sun in Gijon and La Coruña. Your final port of call is fortified Saint-Malo – gateway to magical Mont St Michel.
---
Savour the Pacific with Holland America Line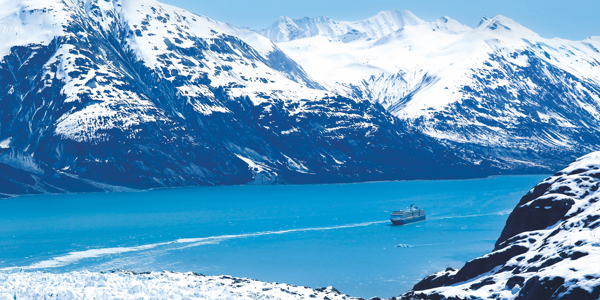 Imagine the excitement of looking over the side of a cruise ship and spotting huge whales breaching or spy-hopping to take a look at their surroundings. Maybe they're returning the gaze of your camera lens, or maybe they're just doing what many do on a cruise along Alaska's coast – enjoying the beautiful scenes of formidable mountains and great glaciers.
If tropical heat is more your thing, imagine immersing yourself in the colourful cultures of Central America and relaxing on the pale sand beach of a private island in the Bahamas. Holland America Line has what it takes to make these dreams come true.
For 145 years, they've been crafting cruise itineraries to favourite destinations (and a few less-travelled ones too). Innovative vessels ensure you can relax in easy elegance throughout, with all the necessities – and plenty of treats – at hand. To complete the package, every Holland America Line sailing includes our VIP door-to-door transfers, onboard spend of up to $150 per cabin and options to fly from an airport near you.

Scenic sailings
Alaska is breathtakingly beautiful - and one of the best ways to see it is with the experts, Holland America Line.
Cruises along the 49th state's coastline take you past sheltered fjords, forested islands, snow-capped peaks and mighty glaciers. You'll stop off at quaint, colourful fishing towns, national parks and gold rush settlements, and look out for whales, dolphins, seals and bald eagles as you go.
Our Alaskan cruises are all on board Holland America Line's luxurious perfectly-sized ships (and all include an exclusive cocktail party just for us). We combine each cruise with time in Vancouver and the Canadian Rockies, with some tours travelling between the two on the iconic Rocky Mountaineer railway.
Photo-worthy scenery
The Alaskan coastline is dramatic, rugged and simply spectacular.
Cruises in this part of the world reveal snow-dusted mountains, pale-blue glaciers, calm fjords, and forested slopes sweeping down to the Pacific waves. Look down and you might see whales, seals and dolphins in the water; look up and you could spy a majestic bald eagle soaring above the scenery.
If you're itching to explore the 'Last Frontier' for yourself, scroll down for a few of our favourite Alaskan cruise itineraries
Featured Cruises
Rockies and Alaska Cruise
Experience charming mountain towns and sophisticated cityscapes, admire the soaring Rockies and look out for whales breaching along the Alaskan coastline.
16 days from £3,299pp
The World's Most Spectacular Rail Journey
The wild Canadian Rockies and Alaskan coast offer an exhilarating journey, with wildlife to spot and delightful towns to explore.
16 days from £4,599pp

Panama Canal Cruise
Cruise along the Pacific coastline of Mexico, navigate through the remarkable Panama Canal and sail across the tropical Caribbean Sea.
18 days from £3,199pp
Includes $100pp onboard credit!

Deluxe Alaskan Voyage
Snow-dusted mountains, monumental glaciers and eagles swooping over Alaskan fjords – this is a journey through some of Canada and Alaska's most mesmerising scenery.
18 days from £4,749pp

Rockies and Alaska Grand Discovery
Explore Jasper and Banff, step onto an ancient glacier in the Rockies, and cruise through the famously scenic Inside Passage.
18 days from £2,999pp

---

Azamara Club Cruises
Seek out your next slice of luxury at sea with Azamara Cruises
When you know, you know. So why wait? Secure your perfect Azamara cabin and preferred departure date before it's too late. We have a limited selection remaining, so beat the post-Christmas rush and combine the delights of luxury cruising with incredible ports of call. Mediterranean, Adriatic, Far East – need we say more?
With Azamara, you'll slip into the holiday spirit with deluxe facilities, fine cuisine and indulgent spas. This is luxury cruising at its best. What's more, you'll bookend your holiday with our VIP door-to-door travel service too, so you'll enjoy an exceptional experience from start to finish.
Feaured Cruises
A Taste of Iberia
After three nights in Lisbon, you'll set sail for some of Spain's most captivating cities: Seville, Palma, Valencia and Barcelona.

Italian Lakes and an Adriatic Voyage
Soak up the spectacular scenery of Slovenia, Croatia and Montenegro, and enjoy three nights in lovely Lake Garda.

Italian Lakes and a Dalmatian Coast Voyage
After a short stay on Lake Garda, uncover the history of Venice, Pula, Korcula and Dubrovnik, and hop between Greek isles.

Discover Japan
Spend two days in Tokyo, then cast off for a cruise around the country, stopping to explore castles, temples and shrines.


---
Norwegian Cruise Line Deals
If you're looking for the very best NCL deals on the market, then you've come to the right place! This week we've included special offers with discounts of up to £1000 per couple, free hotel stay's worth up to £600 per couple, and free drinks cabin upgrades on selected sailings!

Feel Free with Norwegian
No timetables. No stipulations. With Norwegian Cruise Line you are free to holiday the way you want to. Boasting award winning entertainment, delicious wide-ranging dining options, and fantastic on-board activities (like go-karting at sea!), you'll love your NCL experience.
Adriatic Adventure
9nt Cruise & Stay
Civitavecchia | Dubrovnik | Kotor | Messina | Naples | Livorno | Civitavecchia
— 13th Dec '19 —
— NCL Spirit: 7nt Full Board —
— 2nt free Rome Stay worth £120 —
— A/I Drinks Upgrade fr. only £249pp —
— Save £700 per couple —
Western Med Epic
9nt Cruise & Stay
Barcelona | Naples | Civitavecchia | Livorno | Cannes | Palma | Barcelona
— May to Oct '19 —
— NCL Epic: 7nt Full Board —
— 2nt free Barcelona Stay worth £160 —
— A/I Drinks Upgrade fr. only £169pp —
— Save £440 per couple —
Canary Isles
12nt Cruise & Stay
Barcelona | Casablanca | Lanzarote | Gran Canaria | Tenerife | Funchal | Malaga | Alicante | Barcelona
— 16th March '19 —
— NCL Spirit: 11nt Full Board —
— 1nt free Barcelona Stay worth £100 —
— A/I Drinks Upgrade fr. only £499pp —
— Save £700 per couple —
Greek Isles & Venice
8nt Cruise & Stay
Venice | Kotor | Corfu | Santorini | Mykonos | Argostoli | Dubrovnik | Venice
— Jun to Nov'19 —
— NCL Star: 7nt Full Board —
— 1nt free Venice Stay worth £90 —
— A/I Drinks Upgrade fr. only £249pp —
— Save £600 per couple —
Western Med
8nt Cruise & Stay
Barcelona | Naples | Civitavecchia | Livorno | Cannes | Palma | Barcelona
— May '20 to Nov '20 —
— NCL Epic: 7nt Full Board —
— 1nt free Barcelona Stay worth £90 —
— A/I Drinks Upgrade fr. only £119pp —
— Save £500 per couple —
Caribbean & Orlando
10nt Cruise & Stay
Port Canaveral | Tortola | St Thomas | Great Stirrup Cay | Port Canaveral
— Nov'19 to Mar'20 —
— NCL Breakaway: 7nt Full Board —
— 3nt free Orlando Stay worth £150 —
— A/I Drinks Upgrade fr. only £249pp —
— Save £700 per couple —
Caribbean Getaway
10nt Cruise & Stay
Miami | Roatan | Harvest Caye | Costa Maya | Cozumel | Miami
— 21st March '19 —
— NCL Getaway: 7nt Full Board —
— 3nt free Miami Stay worth £300 —
— A/I Drinks Upgrade fr. only £169pp —
— Save £700 per couple —
American Adventure
10nt Cruise & Stay
New York | Portland | Bar Harbor | Saint John | Halifax | New York
— 12th Sept '19 —
— NCL Escape: 7nt Full Board —
— 3nt free New York Stay worth £600 —
— A/I Drinks Upgrade fr. only £219pp —
— Save £740 per couple —
---
A cruise is more than an at-sea adventure with Kuoni - we can tailor-make a stay and cruise holiday just for you, with overnight stays added to give you more time in the destinations you want to see before or after your cruise. This week, we've included free experiences with our cruise offers; you can learn about the culture and people of Quito in Ecuador or discover ancient Rome on a tall ship cruise...
Discover the traditions, cultures and cuisine of Quito on our free Ecuador tour, as part of this fascinating cruise.
10 nights, selected meals
Explore Boston, watch live jazz in Montreal and join a free guided city tour of Toronto on this autumnal cruise.
13 nights, selected meals
Sail to Sorrento, Amalfi and Rome on one of the world's largest tall ships, and we'll include a free tour of ancient Rome.
11 nights, selected meals
---
Sun-soaked winter cruises
Icy mornings, dark evenings and a long wait until the first flourish of spring.

The post-Christmas blues are not a trifling matter. Why not avoid it all together and treat yourself to a winter warmer in the sun?
This winter, you could find your island idyll with two weeks testing the waters (and the rum) on the Caribbean's most picturesque islands. Or, closer to home, soak up the convenience of a no-fly cruise from Southampton to Iberian cities, Balearic Islands and beyond on a Mediterranean cruise in the early spring sunshine.
Whatever you choose, book your cruise today for as little as £1,799 per person, including our award-winning VIP door-to-door transfers.
Featured Cruises
Exploring Cape Verde & the Canaries
Sail southwards to the sun this spring. Enjoy Spain's Galician coast and a host of sun-kissed friendly islands on this 19-day cruise.
19 days from £2,449pp
Departing 14 Mar 2019 on Black Watch from Southampton

Barbados and the Islands of the Caribbean
After three nights in Barbados, set sail for an island-hopping adventure where you can visit vanilla plantations and meet colourful underwater life.
18 days from £3,199pp
Departing 12 Feb 2019 from Gatwick, cruise on Braemar

Mediterranean Island Charm
Enjoy a medley of charming towns, sleepy villages and historic cities as we stop off at idyllic islands like Ibiza and Sardinia.
18 days from £2,599pp
Departing 02 Apr 2019 from Southampton on Balmoral


Carnival in the Canary Islands
Dazzling costumes, salsa rhythms, sizzling street food…the Carnaval de Tenerife is second only to Rio in size and scale (and flamboyance).
15 days from £1,799pp
Departing 28 Feb 2019 from Southampton on Black Watch


Amalfi, Tuscany & the Italian Riviera
Sail past Amalfi Coast's picturesque cliff-clinging towns before heading north where the colourful harbour towns of the Italian Riviera await.
23 days from £3,249pp
Departing 25 Apr 2019 from Dover on Boudicca

---
Get ready to pack your bags and sail with a last minute cruise deal. With a vast array of exciting sailings, be sure to hurry and have your pick of the best offers available.
All cruises depart within eight weeks, and with a wide range of UK regional departure ports, you could be soaking up the relaxing on board atmosphere sooner than you think. Our last minute cruises provide a great way to experience life on board, and offer the opportunity to explore some amazing world-wide destinations.
If the thought of year-round sunshine, sandy beaches and spectacular natural scenery with just a short flight appeals to you, then a Canary Islands fly cruise could be just the tonic you need.
The islands have much to explore, from the lava fields of Lanzarote, to the exciting city of Dakar in West Africa, meaning that our fly cruises can take you to further destinations faster. The atmosphere on board our cruise ships will ensure you really have the opportunity to relax and with these diverse cruise holiday options, you will be planning your next one before you leave!
On a world cruise, you can sail to exotic, far-flung destinations, explore new cities and meet new people at your own pace. Enjoy a full epic journey, cruising around the world, or choose to join and leave our world cruises at ports along the way, seeing only the parts of the world that you want to explore.
Imagine seeing the Statue of Christ in all its glory as you arrive into Rio de Janeiro, or wake up in cosmopolitan Singapore. Then bathe in the calm blue waters of Phuket, before marvelling at the opulence of Dubai. Experiences that will stay with you forever.