Costa Blanca Holidays 2020/2021

Meaning the 'white coast', Costa Blanca offers spectacular beaches and a warm welcome that, over the years, has made it a firm favourite with British holidaymakers. Boasting soaring skyscrapers, the main resort, Benidorm, is reminiscent of Manhattan and is just as vibrant with its heady mix of sizzling nightlife and bustling boulevards lined with bars, shops, cafes and restaurants. Inland, it's a different story altogether. The tranquil hillsides of the Costa Blanca play host to tiny whitewashed villages that look out over citrus groves and lush vineyards. Head away from the Costa Blanca's coastal resorts and discover olive and citrus groves, rugged mountain scenery and colourful hilltop villages. Perhaps the most famous is the whitewashed town of Guadalest. Boasting a dramatic Moorish fortress, it's well worth a visit and provides a real insight into Spanish life and culture.This region really has got it all – glorious sunshine, long swathes of sugar-soft sands, and resorts to suit all tastes. What more could you ask for?
BY DAY - Stretch out on a lounger on lively Levante Beach. If you don't fancy the thrilling water sports, simply people-watch and soak up the rays.

BY NIGHT - Dance until dawn in Benidorm's buzzing English Square. Sip a cool cocktail, listen to live music or have a go yourself in the karaoke bars.
Costa Blanca Holiday Accommodation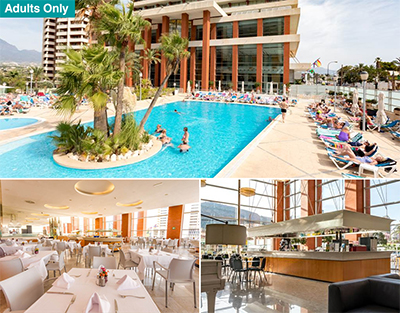 Levante Club Hotel & Spa
Benidorm, Costa Blanca
★★★★ Our Rating
In the Rincon de Loix area of Benidorm, this Adults Only hotel benefits from a great location. There's plenty of shops, bars and restaurants right on your doorstep should you want to venture out, whilst the gorgeous Levante beach is also just a short stroll away.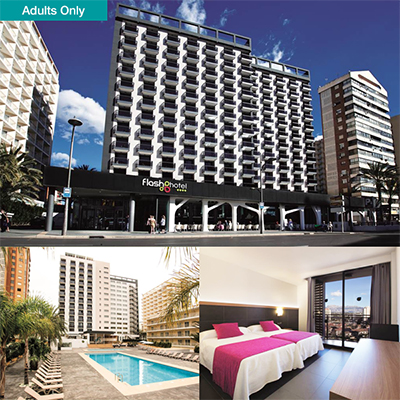 Flash Hotel
Benidorm, Costa Blanca
★★★★ Our Rating
The Flash Hotel offers stylish accommodation in the heart of Benidorm. Modern furnishings combined with lots of facilities including a lively bar area and small pool area are sure to make the Flash Hotel a popular choice for young couples and friends alike.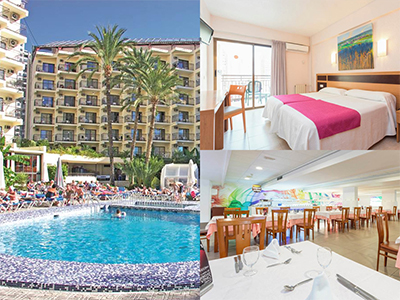 Hotel Ambassador Playa I
Benidorm, Costa Blanca
★★★ plus | Our Rating
Everyone from young singles to couples and families receive a warm welcome at the Hotel Ambassador Playa I. The hotel is renowned for its lively poolside atmosphere, great entertainment and superb location in the heart of Benidorm's nightlife, convincing guests to return year after year.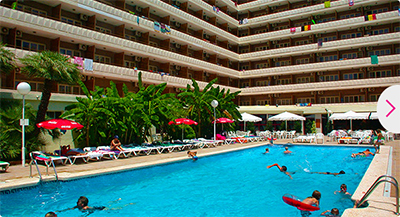 Benilux Park Hotel
Benidorm ★★★
Enjoying a prime position, the Benilux Park Hotel puts you right at the heart of everything that's happening in Benidorm. You're just a stone's throw from the fantastic Poniente Beach, close to the old town too, and within easy reach of Benidorm's amazing central shopping area. As well as the location, it's got the amenities too…. great pool, top notch restaurant and plenty of things for all ages to do.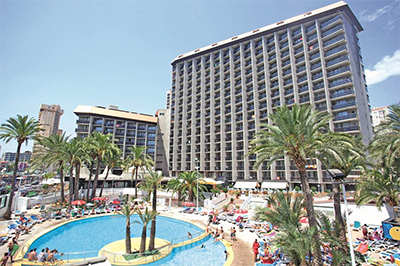 Marina Benidorm
Benidorm, Costa Blanca
★★★★ | Our Rating
The Marina Benidorm boasts a great location in the centre of Benidorm close to the British square. This hotel offers quality, traditional accommodation and great facilities with a lively vibe, making it a favourite with everyone! There's even a great English pub with sun terrace making it a home from home. Plus there's a roof bar to relax, great entertainment and a huge outdoor screen where you can watch live sports amongst a fantastic atmosphere. For a great value holiday all year round, this hotel fits the bill perfectly.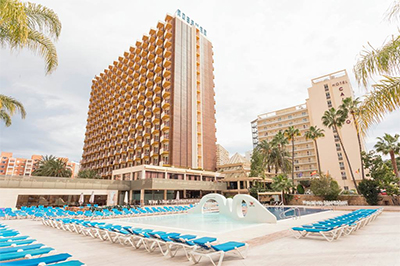 Rosamar Hotel
Benidorm, Costa Blanca
★★★ | Our Rating

Right in the centre of Benidorm with plenty of facilities and activities throughout winter and summer, this hotel is great choice all year round and offers great value for money. Combine this with comfortable accommodation and a friendly atmosphere and this hotel really does suit everyone. Guests can lounge beside the pool, whilst enjoying a refreshing drink and little ones can splash away in the fab splash park. Entertainment extends into the evening at the Rosamar Hotel or just step outside the hotel and enjoy the famed nightlife.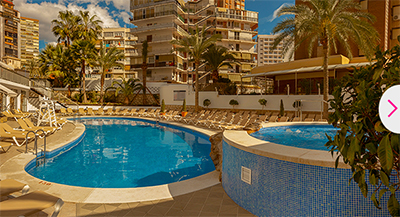 Hotel RH Princesa
Benidorm ★★★★
The RH Princesa Hotel in Benidorm is one of the best. Impeccable in every respect; it has been beautifully designed and built, and occupies an enviable position, right in the heart of Benidorm. You've got access to everything that this thriving holiday capital can give you. Just 500 metres away you'll see Levante beach. A short stroll away, all the shops, restaurants and bars of Benidorm are yours to explore.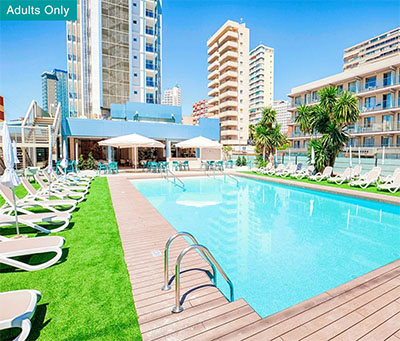 Hotel Benidorm Centre
Benidorm, Costa Blanca
★★★★ | Our rating

Fresh from a full refurbishment for Summer 2019, the Hotel Benidorm Centre is the perfect choice for those looking to combine relaxation with the hustle and bustle of Benidorm. Location is king here, with the resort centre right on your doorstep and the delightful Levante beach just a short stroll away! If you're looking for a way to unwind, the gorgeous pool area is great for catching some rays, or you can try out the brand new rooftop chill-out bar for that extra bit of luxury. There is even an on-site pub showing live sports! For couples and friends seeking an adult only vibe, Hotel Benidorm Centre ticks all the boxes.

Sol Pelicanos Ocas
Benidorm, Costa Blanca, Spain
★★★

Fans of the hit ITV television series Benidorm will recognise this place in an instant, as the Sol Pelicanos Ocas has taken a starring role as the setting of the famous Solana Hotel for over ten years. A twin hotel offering guests access to both parts of the wider complex, this property is a firm favourite with couples and young families, who love the fabulous entertainment, great facilities and friendly atmosphere.
Costa Blanca Holidays Online