Kefalonia Holidays 2021/2022

Kefalonia is the largest of the Ionian islands and is an island of dramatic mountains; underground lakes, pretty pebbled beaches, sandy bays and crystal clear waters.
On Kefalonia even your sunbathing may be monitored by goats on the cliffs overlooking beautiful Myrtos Beach – the island's population includes a unique, short-legged breed – and you may meet them wandering the countryside around Skala. The goats' milk, cheese and meat naturally feature strongly in Greek cuisine, with a stew especially popular in the Peloponnese, and if you take a 'foodie' trip to somewhere like Kefalonia's Gentilini vineyard you'll be offered soft goats' cheese and fresh bread to savour with your wine.
Kefalonia Holiday Accommodation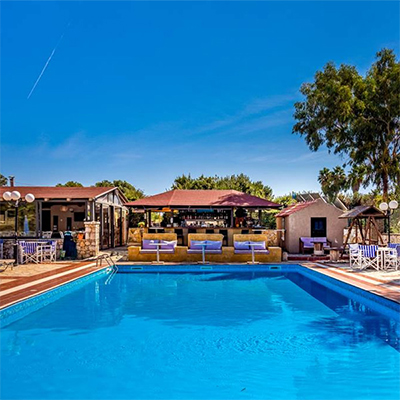 Svoronata, Kefalonia
★★★ Our Rating

Sotiris Studios is a small, friendly, family-run complex in the laid-back resort Svoronata. The complex is made up of studios and apartments offering comfortable accommodation, ideal for a low-key holiday. Guests can take advantage of the well-presented outdoor pool and pool bar, or head to the nearby beach for a lazy day in the sun.
Kefalonia Holidays Online