Florida Holidays 2021/2022

You'll need two weeks to make the most of this state's collection of theme parks.
Orlando
The theme park capital of the world, Orlando in sunny Florida is the ideal destination for a family fun holiday in the sun. The contemporary city surrounded by rolling planes of preserved nature means that there's something for everyone to get involved with.
There's even more choice for a fantastic winter getaway when you head further afield. Maybe you'd like to head to Florida for something a little different. You don't have to be into theme parks to have an incredible family holiday there, with coastal resorts, the Everglades and the Kennedy Space Center to explore.
Florida Holiday Accommodation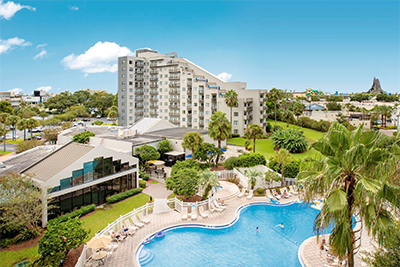 International Drive, Orlando, USA- 3T
The lakefront Enclave Hotel & Suites Resort has bagged a prime spot off International Drive, so you're close to the restaurants, bars, shops and theme parks. The apartments at the Enclave Hotel & Suites Resort are great for getting to the theme parks. A free shuttle ride gets you to Universal Orlando Resort® and SeaWorld Orlando®.
Lake Buena Vista, Orlando, USA- 3T
The Clarion Inn Lake Buena Vista provides easy access to Orlando's world-famous theme parks. It's a five-minute drive from Walt Disney World and puts on a free shuttle bus service there and to SeaWorld and the Universal Orlando® Resort. If you want to get out and about in the evenings, Disney Springs is a 10-minute drive away.

Theme parks
Orlando is well known for its world famous theme parks and attractions, with more than 50,000 acres in the region covered by amusement parks.
The Universal Orlando® Resort has two amazing theme parks, top notch onsite hotels and unique dining and entertainment. Here you can explore such attractions like The Wizarding World of Harry PotterTM, where you can shop in Diagon Alley and have a butterbeer in the wintery setting of Hogsmeade. Whizz around on rollercoasters and have a splash adventure in the waterparks.
Close by is Walt Disney World Resort where it's not only Mickey Mouse that can be found, magic runs through the resort making unforgettable memories.
The whole family can have fun on the rides and attractions, enjoy the thrill of the waterparks and wave pools at the exciting Disney's Typhoon Lagoon and Disney's Blizzard Beach. Watch the parades and shows and even get the chance to meet all of the much loved Disney characters.
Culture
Creativity oozes out of Orlando's famous theme parks and vibrant city. Visit the museums and art galleries to explore the exceptional local art scene. As a destination Orlando mixes tradition with modern entertainment with classic theatre performances and independent film festivals. The Amway Center is the Downtown hotspot for entertainment as it hosts events ranging from sports, like basketball, to live concerts and shows. Orlando is also a fantastic place to shop, with several top notch shopping malls and discounted outlets in the area.
Food
You'll be spoilt for choice with the diverse array of food to sample from around the world. Whether you want fast food, or sophisticated dining, Orlando is home to some of the finest cuisine with celebrity chefs often visiting. For an experience with a flare of fun with the family, have a dinner and show or head to Disney Springs' Planet Hollywood. Feast your eyes on the movie props and memorabilia that lines the walls whilst tucking into a scrumptious steak, fresh seafood or classic American desserts.
Nightlife
Orlando is a vibrant, contemporary destination for families and groups looking to soak up the feel good atmosphere. This means that there's lots of spectacular after dark entertainment for you to choose from. The city is home to a variety of pubs, bars, comedy clubs and Downtown nightclubs where you can dance till the early hours and some even host live music. If you are travelling with the kids then a dinner and show is ideal. You'll find that there are also lots of nightly events happening in the world-renowned theme parks like Walt Disney World Resort and Universal Orlando® Resort.
Things to Do
1. Golfing in Orlando
For a golfing experience like no other, head to one of Orlando's lavish courses worthy of any professional. The glorious weather and interesting landscapes only add to the experience of playing in this golfing paradise.
2. Exploring the outdoors in Orlando
Aside from the theme parks, Orlando itself is also a haven for offbeat, outdoor adventure.
3. Watch an Exciting Game of Basketball
Cheer on your favourite basketball team against the celebrated Orlando Magic MBA in a thrilling home game. You don't have to be a sports fanatic to enjoy basketball as the fast nature of the game means there's always something new and exciting going on.
The newly-refurbished Amway Centre in the beautiful Downtown Orlando area provides the perfect location for a sporting event. The venue often hosts home games for Orlando Magic as well as other music concerts and shows, so make sure you check out the schedule before visiting. Sit back and watch as the professional players take to the court for a spellbinding game.
4. Experience one of Orlando's many 'dinner and a show' nights
Orlando has some of the most famous entertainment in the whole of America. Be amazed by the incredible acrobatics in Cirque de Soleil. Be entertained by the sheer creativity of the neon-painted Blue Man Group.
Travel to Walt Disney World Resort, just over 30 minutes away for a dining experience like no other. Become a part of the show and join the 150 guests at the Pirate's Dinner Adventure. Climb on board the 18th century Spanish galleon replica and be entertained as the fiendish Captain Sebastian the Black leads his motley crew on a stormy voyage.
Head over to the Medieval castle, at the Universal Orlando® Resort and be transported back in time, feast on a traditional banquet and watch as the knights compete on horseback in a tournament to win over the fair maiden.
You're spoilt for choice with the amount of themed dinners you can attend across Orlando. With the growing popularity of this type of evening entertainment, a dinner and a show is quickly becoming a much-loved Orlando tradition.