St Lucia Holidays 2021/2022

Holidays to St Lucia are all about intrepid adventures, storybook scenery and downtime on the beach. This real-life Treasure Island combines jungles, volcanoes and secluded sandy coves.
This tropical gem is more than a beach retreat. Its got cascading waterfalls, dense jungles and the world's only drive-in volcano, too.
St Lucia Holiday Accommodation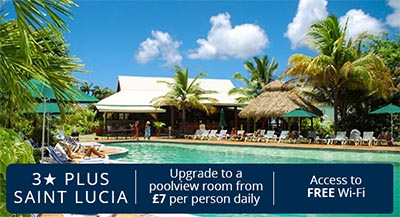 ★★★ PLUS
When you really want to get away from it all, the Ramla Bay Resort is an ideal destination. With its own 350 metre stretch of coastline, it occupies a secluded spot on the northern coast. It all feels very exclusive and when you're sipping a long, cool drink on the private sandy beach you'll appreciate just what a special resort this is.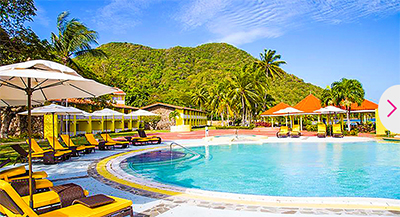 Rodney Bay ★ ★ ★ ★
Located in the popular resort of Rodney Bay and with direct access to Reduit Beach, the All-Inclusive 4-star Papillon Hotel enjoys one of the best locations in St Lucia.

Where is it?
St Lucia is an island state in the Caribbean Sea and 27 miles long and 14 miles wide. North and south of the island are two distinct cultural hubs. Rodney Bay in the north boasts a pristine, modern marina full of seafront bars and upmarket restaurants. Soufriere in the south is infused with retro Caribbean vibes - you'll find candy-coloured villages, barbeque stalls by the roadside and fish fry-ups on the beach.
St Lucia's climate is tropical and humid, moderated by northeast trade winds that allow for pleasant year-round conditions.

Why is it unique?
St Lucia is the only destination in the world named after a woman. Her stunning beauty is captivating, her personality is warm and loving and her nature is wild and free. The island is widely regarded as one of the most welcoming in the Caribbean. And a vibrant mix of Carib, African, French and English culture and history influence day-to-day life. Whether it's the French Creole patois spoken by the locals or the island's distinctive local cuisine, which is a sumptuous mix of West Indian, Creole and French food.
Music doesn't fall short here either: St Lucia's Jazz Festival in May is one of the Caribbean's hottest events of the year celebrating international, St Lucian and Caribbean Jazz music.

Why should I go?
Whilst some have their beaches, some their diving and others their music, only one island has it all. St Lucia's unspoilt landscape calls out to be explored in the most adventurous way. You can zip-line through the rainforest, hike the Piton Mountains (a UNESCO World Heritage site), visit a former pirate base turned national park or cruise through the world's only drive-in volcano. There's every kind of watersport to try, from kayaking and windsurfing to deep-sea fishing and jet-skiing. Which one would you go for?
St Lucia Holidays Online