Lanzarote Holidays 2021/2022

Bathed in sunshine and boasting glorious beaches, Lanzarote is considered by many to be the most beautiful of the Canaries. Swirling multi-coloured rock strata, soaring purple volcanic peaks and jet black solidified lava streams punctuate Lanzarote's stark, moon-like landscape giving it a hauntingly beautiful, otherworldly magnificence.
Did you know? In Lanzarote's most popular attraction, the park features amazing volcanoes and surreal coloured lava fields, but one of the most interesting thing about the park is that the heat of the volcano is used for cooking steaks and fish for visitors. The grill consists simply of nine layers of volcanic rock, which surprisingly makes for the perfect cooking pit.
A stunning volcanic island surrounded by a bright blue sea, Lanzarote is a luxury holiday destination for sun seekers and thrill seekers alike. It is known for its unearthly landscapes, gorgeous beaches, friendly locals, and vibrant nightlife. This is a place where there's always something new to see or do.
When to go
Lanzarote has a pleasant climate all year round and very little rain. The hottest weather is usually between June and September but this can sometimes be too hot for visitors who want to do more than spend their time on the beaches. For a more active holiday, it is better to go in April, May, October, or November. Visitors should note that most parts of the island are windy throughout the year, so despite the heat it may still be a good idea to bring a windproof jacket.
Lanzarote Holiday Accommodation
Hotel Costa Calero Thalasso & Spa
Puerto Calero, Lanzarote

Past the infinity pool and lush gardens, you'll find the aptly named 'Millionaires' Harbour'. Back on site, expect nature-themed room décor, a thalassotherapy centre and two buffet restaurants.

FROM £499 pp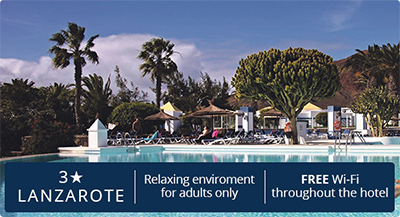 Marconfort Atlantic Gardens Bungalows
★★★
The Marconfort Atlantic Gardens Bungalows is a beachside, adults-only resort with fabulous views out over the sparkling sea and the other islands in the distance. The location is ideal as you'll be nestled between the coast and the mountains, and only a short walk from the centre of Playa Flamingo.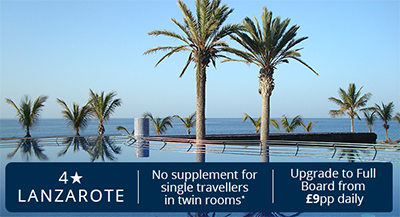 ★★★★
When you go to Lanzarote, you're probably going to want to spend as much time as possible on the beach. One of the many great advantages of staying at the VIK Hotel San Antonio is that it is the perfect location, right on the beach at Puerto del Carman.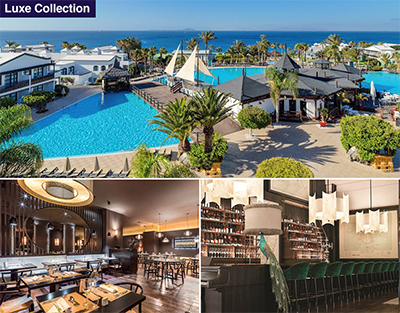 Playa Blanca, Lanzarote
★★★★★ Our Rating
Sculpted by lagoon-like pools and swaying palm trees, this spacious hotel has the feel of a friendly Canarian village with white washed buildings, stunning plazas and boulevards to stroll along. Its low-rise form fits perfectly with the natural surroundings,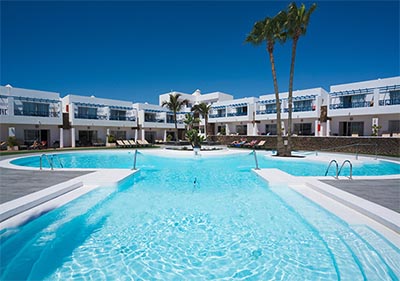 Hotel Club Sirocco
★★★
On a 72-acre private peninsula in the Athenian Riviera, the five-star spa resort features the sumptuous Thalaspa Spa Chenot and a simply gorgeous outdoor pool. Some of the most elegant bungalows have private pools so prepare for complete luxury and pampering.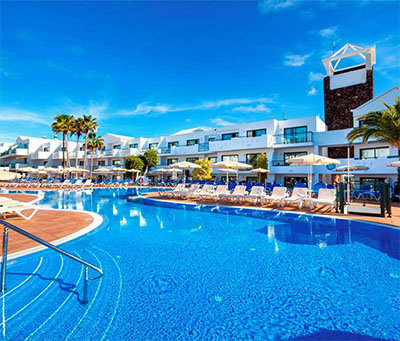 Be Live Experience Lanzarote Beach
Costa Teguise, Lanzarote
★★★★ | Our rating
The location is the thing at the Be live Experience Lanzarote Beach, looking out over the golden sands of Las Cucharas beach in Costa Teguise this fabulous hotel is new to Jet2holidays from November 2019. With super facilities including a suntrap pool area, plenty of dining options and a range of room choices you are sure to find something for everyone at this great all-rounder. The modern, stylish interior offers cool spaces to experience and being close to the heart of Costa Teguise there is plenty to explore on the doorstep. With All Inclusive as standard this friendly hotel looks forward to welcoming you.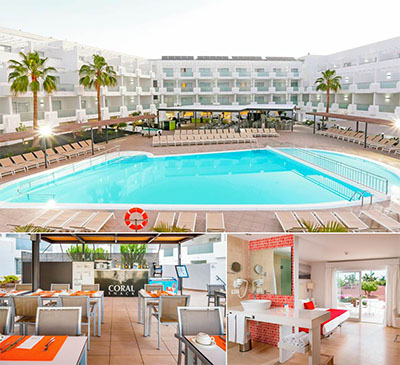 Playa De Los Pocillos, Lanzarote
★★★★ Our Rating
Aequora Lanzarote is perfectly situated in the peaceful resort of Playa De Los Pocillos, just a short distance from a beautiful sandy beach. This modern hotel boasts 5 outdoor pools, a great entertainment programme and a large range of restaurants and bars. The rooms are spacious, bright and airy, with all the amenities you could need. For the younger children there is a splash park and outdoor play area, and there is also an adult only pool and restaurant, so all the family will be kept happy in this resort.
Lanzarote Holidays Online