Ibiza Holidays 2022/2023

Ibiza is a small island with plenty to offer: fine beaches, plenty of sunshine, great food and nightlife to suit all ages. Green hills and open plains become golden sand bathed in the warm Mediterranean, and as resorts flourish on the coast, traditional life still thrives inland.
Ibiza is one of the most popular European destinations for Britons every year. But with beautiful beaches, picturesque villages and a vibrant local culture – all in addition to the world-class night clubs – there's more to Ibiza than most people think. Flights to Ibiza are relatively short, only two and a half hours to get to this wonderful island. The flight time is manageable so you could spend a weekend on the island if you wanted to get away for a short time, and with a range of cheap flights to Ibiza available too, there's no excuse not to visit this island!
Get a taste for the good life whether you're the go-slow or uptempo type. Watch that famous sunset from a beachfront terrace in San Antonio or enjoy evening strolls and seafood by the harbour in Playa Es Cana.
Did you know? Ibiza isn't really an island. Millions of years ago, the Mediterranean basin was flooded by the Atlantic, creating the Mediterranean Sea and leaving the mountain tops that are now the Balearic Islands poking out of the surface.
BY DAY - Island-hop around the White Isle's enchanting neighbours. Es Vedra and Formentera should be top of your list.

BY NIGHT - Hit some of the biggest nightclubs in the world and dance until the early hours. Think Ushuaïa, Amnesia and Pacha.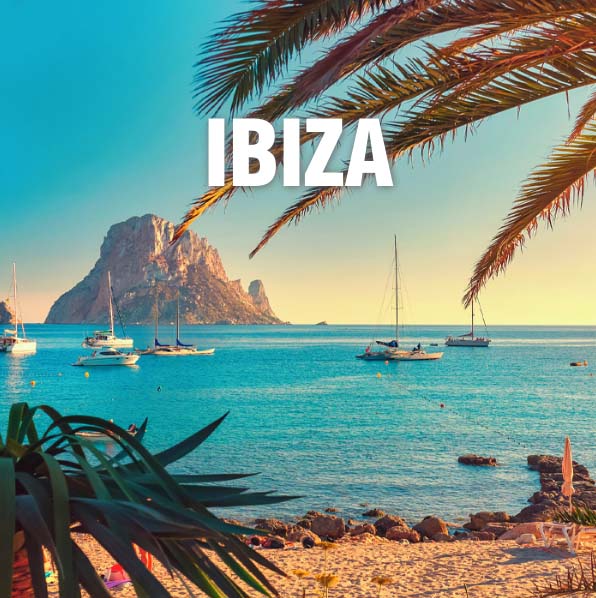 Featured Ibiza Holidays

Ibiza destination guide
Ibiza Holiday Hotels
Ibiza highlights
Whatever you've been dreaming of - Ibiza's got it. Families can relax on the soft white sands, while party animals prepare for the legendary night ahead. Discover the wonderland that is the White Isle.
Stay near the action or find your slice of tranquillity in San Antonio Bay. Whichever you choose, it's sure to be filled with beachy bliss!
Home to the famous Bora Bora Beach, Playa d'En Bossa is the place to be if you're seeking legendary nightclubs and stylish bars.
The beach, the bars and the buzz. Nothing beats a party holiday to San Antonio.
Beauty and the beach make Santa Eulalia a brilliant pick for families seeking a relaxing stay.
Home to the famous weekly hippy market of Punta Arabí, Es Cana has a lively but lovely atmosphere.
Ibiza Town boasts stunning scenes with bright white buildings under the beaming sunshine.
Party, party, party
Holidays to Ibiza normally revolve around the nightlife. Ibiza's international reputation is as a party island, and it's not difficult to see why. Some of the biggest and best nightclubs in the world are here, including Space in Playa d'en Bossa, which was awarded Best Global Club at the International Dance Music Awards in 2012. Other dance landmarks include Amnesia, DC10 and Privilege, the largest club in the world with a capacity of 10,000 people! The most popular clubs are divided between Ibiza Town on the southern shore and Sant Antoni in the West, and the season normally runs between June and October.
Culture and charm
But there's much more to see in Ibiza than the inside of a club. With over 50 beaches and coves, and some truly beautiful spots at Cala Bassa and Cala d'Hort, there's plenty of sand to stretch out on and enjoy the sun – whether you're recovering from the night before or not. Many of the resorts are also family-friendly, and there are plenty of activities to participate in. Ibiza Town is a UNESCO World Heritage site – as are many other sites on the island – and is protected from development and commercialisation, meaning that much of the island's original charm and culture has been preserved. Away from the main towns, Ibiza retains much of its rustic nature, so is popular for photographers and artists alike.
Ibiza

Holidays Online

Summer 2022 is fast approaching and the vibes in Ibiza are *immaculate" with the DJ residencies starting in May. But Ibiza is more than just a party island. Sure, the Cafe Mambo sunsets are iconic but you could also take a day trip to Formentera or spend the day soaking up the sun at Cala Benirrás. Listen to the Vengaboys, they've got the right idea.

Ibiza; the island's name immediately conjures images of hedonistic revellers dancing the night away, but there is so much more to this beautiful Balearic than night clubs and DJs.

Outside the noise of San Antonio in the west, Ibiza boasts some truly amazing resorts that offer a fine balance between laid-back beaches and lively bars; you just have to be willing to look for them.

If the party scene isn't for you, but you still want to holiday at a destination with some atmosphere, try our suggestions below and discover the incredible places on Ibiza's north-eastern coast.
Santa Eulalia
Just up the coast from Ibiza Town, Santa Eulalia is a vibrant sort of holiday resort with all the things you need for a sun-drenched break. The town has a little bit of everything, with lovely little boutiques offering a place to shop, art galleries for culture and there's even a great bar scene on the Calle Jaime for a night out.
While the resort is very popular with tourists in the peak season, it's much quieter over spring. However, that doesn't mean it's any less lively, with the town's fantastic marina restaurants open for business in anticipation of the summer.
For all its charms, Santa Eulalia is actually known mainly for one thing: its gastronomic prowess. The town is almost the unofficial culinary capital of Ibiza due to its many fine restaurants which can be found dotted around its quaint streets.
There are two gorgeous beaches to choose from at Santa Eulalia, and each is meticulously maintained with perfect, white sands.
What to expect:
Very friendly locals and welcoming bars
Bags of relaxed Spanish charm
A resort that can be as lively or as laid-back as you want it to be
Cala San Vicente
Cala San Vicente is a stunningly picturesque little resort, fronted by a bay of real beauty. Protected by rugged Spanish cliffs, it has all the feel of a hidden paradise while still providing you with all the amenities needed for a relaxing break.
The clear, blue waters of the beach make it the ideal place to swim and dive, and there are multiple water sports activities available. As well as a PADI diving centre, the resort also has a windsurfing centre and banana boat rides.
Being surrounded by countryside, there are plenty of places to discover in this part of Ibiza. For the best views, hike up the surrounding cliffs, just don't forget your selfie stick.
As well as its gorgeous scenery and beach, the resort is also known for its many fine restaurants that line the promenade. While much quieter a lot of the other resorts on the coast, you are only a 25-minute drive from Santa Eulalia, so you can always head down for a few afternoon drinks in the town's bars and cafes if you fancy a change of scenery.
What to expect:
Peace and quiet
Beautiful surroundings
Top quality restaurants
San Carlos
Another little town in Ibiza's picturesque north-east, San Carlos is perfect for a couple who want to escape the buzz of the island's larger resorts without being completely isolated.
The first thing to note about this town is that although it looks small and sleepy, there is a great number of bars and restaurants around. Not only that, but they are quite varied in what they offer.
Many of the venue's still hark back to the resort's once prominent hippie scene back in the 60s which makes the town a tremendously fun place to stay – Anita's Bar is the best example and one of the liveliest places to drink in the area. Come Saturday, the town holds a local market which is very bohemian in nature and sells all manner of crafts and wares.
Its location also means that you are never too far away from a beautiful beach (although that's often the case in Ibiza).  Nearby Cala Leña and Cala Nova are of particular note.
What to expect:
Traditional white-washed buildings
Close to the eerie C'an Marca Caves
Don't just limit yourself to one place
Ibiza is a place of great natural beauty, something that is often overshadowed by the island's party reputation. Due to its size, driving around is quite easy making all of the above places quite accessible, no matter where you are staying on the east coast. Simply rent a car (or a couple of mopeds) and explore the area at your leisure – it makes a nice change from just laying on the same beach all week.
The roads up to Cala San Vicente in particular offer some stunning views of the surrounding area which makes it the ideal place for a day trip from the more southern east coast resorts.
Seven amazing days in Ibiza
Ibiza has long been known as a party island, but slowly its reputation is beginning to change. Yes, you could go to a different dance club every night for a week, but Ibiza has so much more to offer than just that. There's enough culture and beautiful scenery to keep families and couples entertained for seven days or even longer. Uncover a different side to the island and expect to be charmed.
Day 1 – Discover Santa Eulalia on foot 
Santa Eulalia is the perfect place to set the tone for your trip to Ibiza. While it is an exciting destination with lots going on, the nightlife is far more laid-back than in San Antonio. You can enjoy fantastic food and unlock the secrets to the island's culture in what is the third biggest resort in Ibiza.
Start the day with a walk along Santa Eulalia's seafront promenade. A wander past the long beach, taking in the palm trees, pretty gardens and fountains will give you an instant feeling of calm and remind you that you're on holiday. You'll eventually come to Mariner's Beach, where there's welcoming white sand and a picturesque harbour.
Continue further along to see the thoughtfully restored Roman bridge and take in the beauty of the riverside location. From here you are close to the beach of Calo de S'Alga, which is small but perfectly formed, and the Siesta neighbourhood. You'll feel like you're in a little village and there are some lovely cafes to enjoy a drink in, before heading back the way you came.
By now you're likely to have built up an appetite for lunch and The Royalty is somewhere you really must try. Situated in the heart of Santa Eulalia in its main square La Rambla, this restaurant with its peach-hued facade,​ has built up a good reputation since the current owners took it over in the 1980s.
The Royalty's history goes back further than that, however, as it was constructed as a hotel in 1933 and its elegant style reflects the architecture of the day. During the Spanish Civil War, it was frequented by Franco and was the political opposite of the Can Cosmi across the street, where the Republicans could be found.
When it comes to ordering lunch, you'll be spoilt for choice with an extensive menu and wide selection of tapas options available. For those who are hungry, the menu del dia, consisting of three courses, represents the best value for money and is a great introduction to the food of Ibiza. With a children's menu available and around a dozen desserts on offer, you couldn't ask for more.
Santa Eulalia is known for being a creative place, with plenty of artists calling it home. On the street that leads from the Town Hall to the sea you will often find craft vendors have set up their stalls, so take a little wander to walk off your lunch and decide if there are any souvenirs you'd like to buy.
Climb to the top of the Puig de Missa, which translates as the Hill of Mass, to see the pretty Church of Our Lady of Jesus. Its stunning 16th-century architecture is something to behold, but don't forget to look outwards too. From here you have vistas across much of the municipality. Landmarks to spot include Santa Gertrudis, much of Jesus, Es Cana, San Carlos and the stunning bay of Cala Llonga.
See the sun disappear behind the horizon from the roof of the Aguas de Ibiza luxury spa hotel. Here, you can get a drink and take in the views of the marina while the sun sets. It's a great spot and you don't have to be staying at the hotel to take advantage of its prime location for an hour or so.
When it comes to the evening, you have a number of options, with the liveliest being at the marina. Here Guarana hosts live music and DJs with a hopping dancefloor, offering a taste of the nightlife Ibiza is famous for. If this is not your vibe, then there are plenty of more low-key things to enjoy. On Santa Eulalia's main street, you can dine on anything from traditional island dishes to curry or sushi.
Day 2 – Have a beach day at Cala Conta 
It would be a shame to travel to a fabulous island such as Ibiza and not have a day relaxing on the beach. When it comes to the stretch of sand you opt to lay yourself out on, the choices are seemingly endless depending on what you're looking for. Cala Conta, not far from San Antonio, is a good bet, however, as it has several areas to choose from and plenty of amenities.
With white sand, turquoise waters and views across to nearby islands, Cala Conta is a vision of paradise. Choose to base yourself at the beach backed by sand dunes or the one with a rocky coastline. Alternatively, seek out the steps cut into the rock at the west end of the beach, which take you to a small naturist cove.
Spend the morning splashing about in the sea, snorkelling or hiring a pedalo. Cala Conta is a popular area and there is a lifeguard on duty, but don't venture too far out to see where the current gets stronger. Sun loungers and parasols are available to hire, so there's everything you need to lie back and relax.
After a hard morning enjoying the holiday lifestyle, get yourself to S'Illa des Bosc for a slap up seafood lunch overlooking the beach. It is one of three restaurants within walking distance of the prime sunbathing spots, but undoubtedly the best. Choose a delicious sharing plate or a dish of your own, featuring freshly caught fish. Finish it off with a signature mojito sorbet for the ultimate refreshing hit.
Pass the afternoon lazing on the beach and planning your course of action for the evening's sunset. You could spend it listening to live DJs at Sunset Ashram, which occupies the space between the two beaches. Its panoramic windows were designed to perfectly frame this natural wonder. Other options include enjoying a sunset cruise or finding your own patch of land to sit and take it all in.
Day 3 – Diving in Las Salinas 
At the southernmost tip of Ibiza is the Las Salinas Beach, which has a reputation for being very hip. While it's a great place to head for a bit of a party vibe in the summer months and plenty of amenities, there's more to do at Las Salinas than just live it up cocktail in hand.
The conditions here are great for body surfing and a number of activities, especially diving. If you're keen to get below the waves and leave the revellers on the beach behind, there's a well-respected diving school at Las Salinas, which can help get visitors of all abilities into the water and enjoying the incredible sealife hidden in the ocean.
When it comes to lunch there's no shortage of beach bars and restaurants across Las Salinas at which to refuel. If you're looking for somewhere with a more relaxed vibe, however, head down the beach to Sa Trinxa. To reach this little haven, which has been serving up delicious food since 1978, you need to venture past the naturist section of the coastline. There's the option to have your meal right on the beach and you may well decide to stay here for a while, as it's fun, but relatively quiet compared to the rest of Las Salinas.
In the afternoon, you may wish to give your beach bum a rest and go for a walk. This could result in you finding a little cove all your own further along the coast or making your way to the watchtower nearby. The area adjacent to Las Salinas is a Wildlife Conservation Area, so there's lots of beautiful pristine scenery to hike through and the opportunity to spot some native flora and fauna.
Day 4 – Cycle the island
Cycling is a great way to see more of the island and get a bit of exercise at the same time. The roads are generally very good in Ibiza and there are plenty of places from which to hire bikes. For most of the year, the climate is conducive to cycling, but if you're visiting in the summer, be sure to set off early in the day and plan to have a rest stop during the hottest hours around midday and early afternoon.
There are lots of opportunities to discover the island on two wheels, depending on what your interests are and your fitness levels. You could decide to do a cycle route that takes you along the coast, stopping at beaches and coves as you go. Alternatively, head inland to get a glimpse of the different terrain and come across pretty villages and the rural way of life in parts of Ibiza away from the areas usually frequented by visitors.
Pick up a map of the cycle routes from the tourist information near where you're staying. Your starting point will help to determine which option to choose and you should have a good idea about how long it will take to cycle, but be sure to factor in a little contingency time.
Decide where you'd like to stop for lunch and ensure there is somewhere that will be open to grab a bite to eat or pack a picnic to take with you. Purchasing items for this from a local market the day before or in the morning will mean you still get to eat fresh produce that is typical of the island. Pack some flao – a local cheesecake, made with honey and herbs, which will give you a good energy boost to help you continue cycling throughout the afternoon.
Bring plenty of water, sunscreen and a basic puncture repair kit to ensure you are prepared for most eventualities on the route. Take a good look at the map before setting off so you know what to expect and check there are no conditions that could prevent you from finishing the ride and getting back to where you need to be.
Day 5 – Day trip to Formentera
By the fifth day of your holiday to Ibiza you'll be getting to know the island quite well and it could be nice to explore one of the other landmasses close by. Formentera is the nearest of the Balearics to Ibiza and can be reached in around half an hour by ferry. There are four companies that offer the crossing and between them there are approximately 50 sailings a day, meaning you have plenty of options for getting there and back. The boats leave from Ibiza Town.
Formentera provides a quieter alternative to much of Ibiza and with 20 kilometres of white-sand beaches you're bound to find your own little stretch of paradise. It's up to you where you head, but Migjorn, Illetes and Llevant are among the best options. With no high-rise constructions and many being backed by protected sand dunes, it's nature at its finest.
A project to build wooden walkways at some of the larger beaches on Formentera has made them easier to navigate. A lovely touch is the addition of information boards dotted along these, allowing you to learn more about the wildlife and plants you may spot as you enjoy your day on the island.
When it comes to eating and drinking, you will often spot a small establishment on the beach known as a chiringuito. These huts acts as small bars and often serve up a very small selection of dishes, but when the ingredients are this fresh and simply prepared, some barbecued fish or similar is all you need.
Day 6 – Explore Ibiza Town and enjoy a laidback evening 
Having caught a glimpse of Ibiza Town the previous day when you boarded the ferry for Formentera, you may wish you go back and explore the island's largest city in more detail. There is so much to see both night and day, you could find yourself staying out until 5am if you get into the spirit of the party, but the cultural sights are also quite captivating.
Start in the Old Town, known as Dalt Vila, which is a United Nations, Educational, Scientific and Cultural Organization (UNESCO) World Heritage Site. It has occupied its wonderful position up on the hill for 2,500 years and its panoramic views remain unrivalled to this day. Follow the winding cobbled streets up to the Plaza de Vila main square, which is reached in dramatic style across a drawbridge with Roman statues on each side.
Once you've arrived, the entire area is a treasure trove of gothic buildings, pretty courtyards and small chapels. Be sure to climb to the top of the Cathedral of Our Lady of the Snows, which can be found nestled into the Old Town's walls, as the views are incredible. Look out for the terracotta roof tiles of the Santo Domingo Church and the statue of General Joaquin Vara de Rey, a hero of the Cuban War. The cathedral itself stands on the site of a temple founded by the Carthaginians in the seventh century, although the current incarnation was started in the 14th century and not completed until the 15th.
Occupying a fantastic position in the main square, La Oliva really is the best place to go for lunch. It would be a shame to sit inside, as this restaurant, which has been going for more than a quarter of a century, has a pavement terrace that is perfect for watching the world go by, as you tuck into a plate of braised and roasted meat or something from the Mediterranean-style menu.
In the afternoon there is the opportunity to enjoy all of the New Town's offerings. This encapsulates everything​ from marvelling at the stunning town houses on the Vara de Rey boulevard and shopping to taking in some culture at one of the museums and galleries that are dotted about the area.
After a hearty meal at lunchtime, you may not be wanting a huge dish in the evening, but that is fairly convenient due to the tapas and pintxos culture that has been fully embraced in Ibiza Town. These small plates and delicacies on sticks allow you to mix and match what you'd like to try and simply stop when you're full up. Avenida Ignacio Wallis and Paseo Bartolomé Escandell are home to some of the best bars and restaurants serving up tapas and pintxos, so head here and see what takes your fancy.
Alternatively, take a stroll around the stunning Marina Botafoch, where you will see the yachts of the rich and famous moored. If you would prefer to indulge in a more upmarket meal, then you'll find plenty of choice here, with Sushipoint and Los Pasajeros coming highly recommended, depending on your tastes.
Day 7 – Get in some last minute beach time at Cala Jondal
If you want to make the most of your final day on the island, there's only one thing for it – the beach. Just a 15-minute drive from Ibiza Town, Cala Jondal is an upmarket beach that is frequented by boat owners and has restaurants to match this clientele. There are also a few chiringuitos too, which is good if you've cultivated a taste for this more simple fare during your time in Ibiza.
Grab a sun lounger in the shade of a pine tree or go swimming in the startlingly clear water. While much of the beach is pebbly, there are sandy areas, making it easier to get into the sea for a swim. With the jagged cliffs and green mountains behind, Cala Jondal paints a wonderful picture of Ibiza and is a great final memory to create before heading to your flight.
Insider's Guide: Ibiza
Ibiza is one of my favourite places for a summer holiday and each time I go back I discover something new. The island's dazzling combination of beautiful beaches, pulsating super-clubs, water sports, delectable seafood and a widely-accepted dose of debauchery make it a popular holiday hotspot.
But beyond this façade you can discover plenty more to Ibiza than these stereotypes would suggest. Captivating cultural sites, deserted coves and bays, inland landscapes and mouth-watering fine dining are just some of the gems that keep visitors (including me!) coming back year after year.
For the very best island experience, capturing both sides of the coin can be easy and accessible, allowing you to explore an Ibiza you never knew and the Ibiza you've always dreamt about.
Ibiza's Nightlife
There are few islands that capture the notion of disconnecting from normality like Ibiza. You're immersed in a scene of indulgence, vibrancy and fun, all anchored by one of the world's most famous and established clubbing scenes. There are three primary destinations for those who have packed their dancing shoes, all lined with bars, pubs and super-clubs playing the best dance music and summer anthems – choosing where to head can often be the hardest part of the night.
Playa d'en Bossa
Playa d'en Bossa promises to draw the dance crowd, boasting three of Ibiza's most iconic clubs, Space, Sankeys and Ushuaia. These clubs have performances from some of the world's top DJs including David Guetta and Fatboy Slim.
Space is a club on every night owl's itinerary, renowned and awarded as one of the best clubs on the planet, with an events calendar crammed full of intrigue year-round. Ushuaia, a famed beach hotel with some alluringly-glistening club pools and a true VIP vibe allowing you luxury amid chaotic party scenes. Sankeys is a good old fashioned basement club known as a no-frills rave haven for clubbers.
San Antonio
Another popular clubbing destination is the bustling and colourful centre of San Antonio. San Antonio is best known for the Sunset Strip. Bars and cafes line the strip and provide the ideal setting to warm up for the evening and watch the sun come down while enjoying a cocktail or two. Es Paradis Ibiza is in San Antonio and is recognised as one of the most beautiful clubs on the island with a labyrinth secret garden and the best water parties.
Ibiza Town
Ibiza Town is the place to be for a more laidback and sophisticated evening. Sun-drenched boat parties departing the town and there's no shortage of stylish bars.
If dance music and energetic club scenes aren't your thing, there is so much more to keep you entertained at night. One of the most diverse music events on the island is Ibiza Rocks, a fantastic festival going against the grain and bringing live bands to the island. This year sees performances from the likes of The libertines and Catfish and the Bottleman, with the party kicking into life in June through to September.
Top Tip: If you need a night off from the hustle and bustle or fancy enjoying some quiet drinks devoid of rhythm and vibration, check out Santa Eulalia for a laid-back bar scene by the beach.
Hitting the beach
If nights are for clubbing, days are most certainly for the beach. Whether you're looking to rest the hangover and forget about the night before or keep the action alive with some water sports experiences, the beaches of Ibiza are teeming with quiet spots or charismatic vibes.
Playa d'en Bossa boasts the longest beach on the island and has loads of great bars and eateries and plenty of water activities to draw you off your beach towel. Those in need of some beauty sleep will easily find a secluded spot if it's sunshine and snooze on the agenda in preparation for when the sun goes down.
San Antonio offers more of the same, with arguably the best selection of water sports on the island, including parasailing, jet boating and snorkelling. If you fancy a slower pace then head to Reggae Beach for a wonderfully-chilled atmosphere beside the sea.
Away from the main hub of the island you'll find secluded and even hidden beaches and bays for explorative beach bums looking for their own personal slice of paradise. Cala Bassa towards the south-west of the island, Playa Cala Salada on the west coast and Cala Martina on the east coast are perfect for those looking to escape the crowds but still enjoy the best of Ibiza's beach scene. Others will find peace and solace in trekking some of the island's inland landscapes and scenic coastal paths, delivering a different perspective to the coastline of this island gem.
Top Tip: Escape to Formentera, an incredibly beautiful and peaceful island located off of the south coast of the island, accessible by boat from Ibiza Town.
For some culture, history and indulgence
Amid the hectic party scenes and vibrant beach resorts, it may come as a surprise that Ibiza is an island of great cultural and historical significance. Ibiza is home to UNESCO World Heritage Sites and authentic markets, grand churches and classy traditional dining; dispelling the myth that Ibiza is only good for the clubbing crowd.
One of the best places for culture vultures to explore is the old sector of Ibiza Town. Here you'll encounter one of the island's most character-filled and gorgeous sites, the UNESCO World Heritage Dalt Vila. This imposing walled fortress circles a charming cobbled town within. Stroll along these historic streets and take in the beautiful architecture. Stop at some of the charming little restaurant to enjoy cold beers and tapas.
Another great day out can be had at the famous Es Cana Hippy Market, a traditional, if somewhat touristy, collection of stalls selling goods from all over the world. For those looking to achieve another sort of flavour of Ibiza, you'll struggle to find a finer dining scene than that of Ibiza Nueva, home to luxury cruisers and a glitzy vibe. This is the place to come for some of the best and most flamboyant takes on traditional cuisine of Ibiza.
Hidden Gem: Check out the stunning Iglesia del Puig de Missa, one of the most spectacular religious monuments in Ibiza, peering over pretty Santa Eulària des Riu.
Author Bio:
Monica Stott, better known as The Travel Hack, is a travel blogger with a love for stylish adventures. She's on a mission to see as much of the world as possible and wants to prove that adventure travel can have a stylish twist. Monica spent summers in her teens and early 20's in Ibiza discovering the island's clubbing scene. She's recently become a mum so is looking forward to going back and exploring a more chilled out side to the island.