Madeira Holidays 2021/2022

Want a holiday that's perfect for all ages? Madeira's balmy climate means that fun-filled adventures are always on the agenda. Discovering the island's traditions can be so much fun and eating out is easier than ever with restaurants catering for all tastes. Plus, there's unrivalled mountain scenery that's really accessible when you and your tribe fancy exploring.
Take a cable car from the capital up to Monte, passing over buzzing streets and a verdant valley. On the way back down, jump in a traditional basket cart that's controlled by two drivers who run alongside and use their boots as brakes! It's a totally unique experience that you won't forget in a hurry.
Strolling along Madeira's levadas, small aqueducts, is a hugely popular activity. These unique paths snake through dense forests and hillside havens, so you can take in the colourful nature along the way. There's a huge variety of routes and trails to choose from, no matter the age or ability of your little ones.
Want to venture offshore? Depending on the season you visit, you could spot various species of dolphins and whales – there are 28 different types here! You can catch a speed boat or embark on a catamaran trip from various ports across the island. Some tickets include swimming and snorkelling, so you could get up even closer to these magical animals.
Rain or shine, there's so much to keep the kids occupied here. Step back in time and experience a bygone era at Funchal's Toy Museum, delve deep into the São Vicente caves and thrill-seekers will love the glass platform at the Cabo Girão Skywalk.
A little island that packs a punch, Madeira is the Portuguese island with it all. With a dramatic mountainous landscape, year-round sunshine and unique black-sand beaches, it's no wonder this tiny island has visitors coming back year after year.
Madeira Holiday Accommodation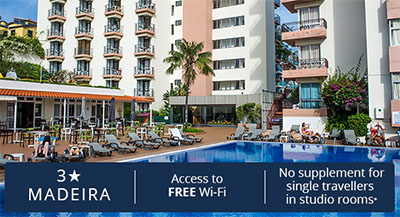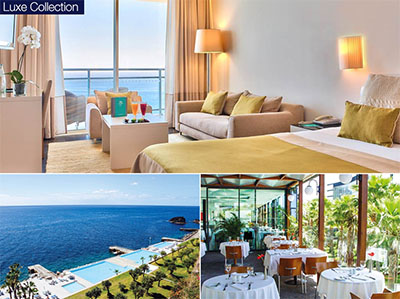 Funchal, Madeira
★★★★★ | Our Rating
Get lost in these bright-blue ocean views that stretch as far as the eye can see. Surrounded by palm trees and tropical plants, your hidden-away balcony is the perfect spot to enjoy these perfect panoramas. Grab a cocktail and watch the sky fade from day to night.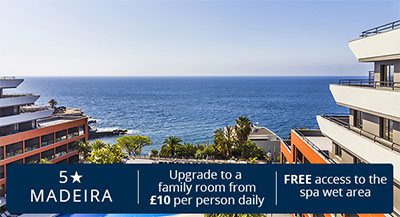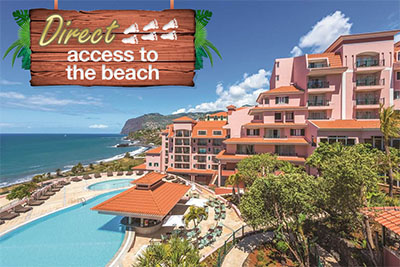 Pestana Royal Premium All Inclusive Ocean & Spa Resort
Funchal, Madeira
★★★★ | Our Rating
Perched on a cliffside, the Pestana Royal Ocean & Spa Resort can be found in one of the most sought-after locations in the island's capital of Funchal. Spend your days by the pool taking in the views of the glistening Atlantic and the famous Cabo Girão, the largest sea-cliff in Europe, so be sure to take some snaps. Strolling away from the pool, you will discover Praia Formosa, the largest pebble beach of the city.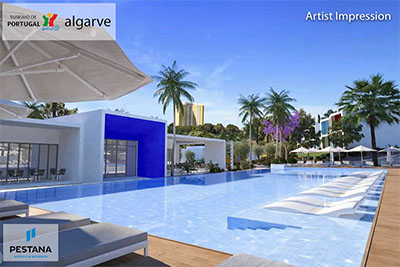 Pestana Blue Alvor All Inclusive Beach & Golf Resort
Alvor, The Algarve
★★★★ plus | Our Rating
Step into a well-rounded property that's brand-new for 2019. Families will feel nice and comfortable as there's a fantastic children's club and extensive entertainment programme. Meanwhile, three pools, four restaurants and chic guestrooms will entice couples as well. And, to make things simple, you can enjoy All Inclusive board basis.

Pestana Ocean Bay All Inclusive Resort
Funchal, Madeira
★★★★ | Our Rating
Relax and unwind in a traditional-style base that sits in pretty Praia Formosa. Past charming décor, breathtaking ocean views can be seen from the pool and certain homely, colourful rooms. Enjoy a stroll along the pebbles, unwind in the soothing spa, let the kids go rogue in the children's playground and sit down to evening entertainment.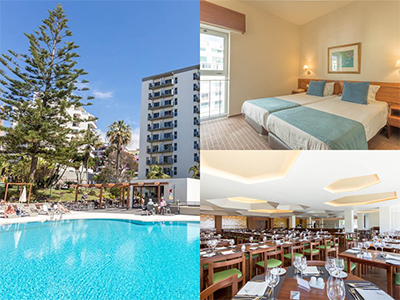 Funchal, Madeira
★★★★ | Our Rating
If you are looking for a spot within reach of the bustling resort of Funchal, with added space to indulge in some rest and relaxation, the Girassol All Inclusive Suites will be the choice for you. Your suite will boast a separate living area with flat screen television and when you opt for an upgrade enjoy views of the Atlantic to accompany you for a sit down on the balcony. Sunbathe in style on a Bali bed or take a dip in the outdoor pool on those days you wish to unwind.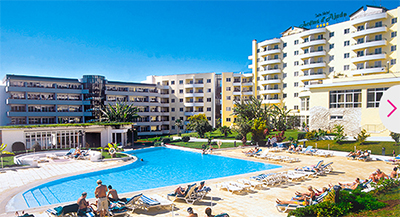 Funchal, Madeira ★★★★
As its name suggests, the Jardins d'Ajuda Suite Hotel occupies a delightful setting in beautifully maintained gardens. The smart exterior (in a subtle shade of yellow) is a clear sign of what to expect inside – it's a well maintained, stylish facility, and one you'll quickly fall for.
Madeira Holidays Online