Holiday Destinations in 2019/2020
Sunseeker Holidays.co.uk offers many fantastic worldwide holiday destinations. From Euopean beach holidays on the med to exotic paradise locations in the carribean and indian oceans. Whatever type of holiday you want, wherever you want it, Sunseeker Holidays.co.uk can provide you with your perfect holiday choice.
Make a quick getaway to one of our close-to-home destinations and you could be relaxing on the beach within a few hours of leaving home. It's a great way to make the most of your time off with the kids, so you can do more of the things you love together. Like going sightseeing, playing in the pool and trying all the ice cream flavours.
If you could show the kids anywhere in the world, where would it be? Perhaps you'd like to experience the white sands and Mayan temples of Mexico, the amazing theme parks of Florida, or the colourful reefs of the Red Sea. Whether you want to unwind somewhere sunny or have a family adventure, you'll find it on a faraway holiday.
Whether it's the glorious beaches and popular resorts of the Costa's, the year-round sunshine of the Canaries or the blue sea and mountainous scenery of Majorca, Spain & the Canary Islands are the ideal choice for warm winter sun or a blissful summer escape.
Have you heard? These six sizzling destinations are topping our popularity polls. Holidaymakers flock to them for their gorgeous beaches, vibrant nightlife and slew of delicious food. And 2019 marks the year to muscle in on the action!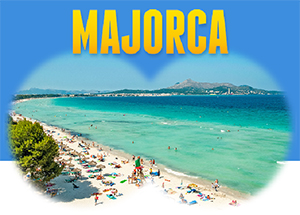 This Balearic island needs no introduction. Dreamy Majorca is a holiday honeypot, drawing in visitors with its idyllic coastline. Tear yourself away from the glittering Mediterranean and you'll find fascinating cities, atmospheric bars and peaceful countryside to explore.

FROM £349 pp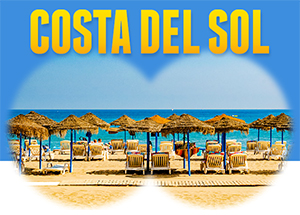 In Spain's deep south, this pocket of coast calls. Costa Del Sol has everything you could ever want from a holiday – miles of sandy beaches, more than 320 days of sunshine annually and endless tapas bars. Is it any wonder that it's one of the most popular destinations for a relaxing getaway?

FROM £399 pp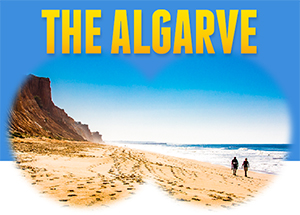 Perfection can be found in Portugal. Lapped by the Atlantic, the Algarve has no shortage of gorgeous beaches. Beyond the sand, you'll find castles, bustling old towns, manicured golf courses – the list goes on and on.

FROM £249 pp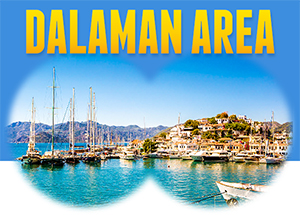 This region of Turkey is a real crowd pleaser. From stunning beaches and modern resorts to ancient ruins, there's something for every type of holidaymaker to enjoy here. And at night, harbours and towns hum with life, thanks to the incredible line-up of bars and restaurants.

FROM £349 pp
Couples seeking a romantic break should holiday in Kefalonia. This breathtaking Greek island is where Captain Corelli's Mandolin was shot, with filming of the historical drama taking place in quaint villages and coastal locations. While the movie didn't come up trumps in the awards department, it was applauded for its slick cinematography.
Cult teen classic Kevin & Perry Go Large had audiences in stiches in the early noughties and you can still see where the film was shot today on the sun-kissed Balearic island of Ibiza. Soak up the sunshine at Cala Benirras beach and party into the night at Amnesia for a day inspired by the comedy favourite.
James Bond fan? Set your sights on Fethiye along Turkey's Turquoise Coast. Dreamy Koca Calis beach is where part of award-winning Skyfall, the 23rd movie in the franchise, was filmed, as a place for 007 to hideout after being presumed dead. Sink into the white sands where Daniel Craig once sat.
Venture to this southern slice of Spain and seek out Oasys Mini Hollywood. Among this desert landscape, you'll find an intriguing theme park where more than 100 films were shot throughout the 60s and 70s. Indiana Jones and the Last Crusade and Lawrence of Arabia included, the latter of which scooped a whopping number of top accolades in 1962.
The charming historical backdrop of Dubrovnik has long-inspired directors and a vast range of TV shows and films have been shot in this Croatian beauty, Star Wars: Episode VIII - The Last Jedi included. Not a galaxy far, far away, but Stradun, the Old Town's main thoroughfare, depicted fictional Canto Bight. Take a stroll down here to get a feel for the movie's magic.
It's no wonder Italy's jaw-dropping coast has featured in multiple award-winning films – the Sorrento area is a total knockout! Visit the colourful cliffside village of Positano, which you may recognise from The Talented Mr. Ripley, and the birthplace of pizza in Naples, as seen in Eat Pray Love.
Take in the sights, scents and scenery in some of the lesser known Greek islands.
You'll fly into a bigger island and then be transported to a world of authentic charm and simplicity. It's what holiday dreams are made of and we feature the best properties on each island for you to explore.

Soak up the never-ending views from harbours, where local tavernas serve the freshest Greek cuisine and owners will sit and chat until the sun goes down.

Blessed by Mother Nature with glorious beaches, lush landscapes and wildlife, the islands closest to the Adriatic are referred to as emeralds in the sea. With an unhurried pace of life, ideal for the perfect escape from the modern world, tiny Paxos is a haven of peace and tranquillity with outstanding natural beauty.

Close to the eastern coast of Greece, Skiathos, Skopelos and Alonissos offer everything you could dream of in a Greek island – with fantastic beaches, crystal clear sea and the greenest forests. Simply choose your hotel style and find pure, carefree Greece.

The Cyclades form a circle around the sacred and uninhabited island of Delos. Each island has its own strong identity, so flying into Santorini and hopping onto another island will give you significantly different landscapes and everything from peaceful days and traditional hospitality, to some super luxurious properties

Explore some of the most southerly islands of Greece where the summer lasts longer and friendly locals are sure to make your stay on one of the smaller islands a memory to last a lifetime. From hiking paradise with wildflowers and birds to cosmopolitan beachfront resorts, these islands are full of character and beauty.

With endless sandy beaches and coastlines that stretch for miles, the islands off Kos are undiscovered havens in the Eastern Aegean. Experience the real character of the Greek islands with life revolving mainly around the sea with hot summer days and warm evening breezes.
Africa Holidays
| | |
| --- | --- |
| | Drifting 500 kilometres off the shore of Senegal, the Atlantic islands of Cape Verde have been called the African Caribbean. They're still rather new to the holiday circuit, however with their out-of-this-world beaches as well as vibrant surf, they're quickly going far for themselves. |
| | |
| --- | --- |
| | Expect sandcastle-worthy beaches and some of the world's best diving sites in trophy-toting Egypt. |
| | |
| --- | --- |
| | Relaxation-ready sun and sand come as standard in Tunisia. |
Asia Holidays
| | |
| --- | --- |
| | The Land of Smiles serves up tree-lined skirts of sand, craggy limestone islands and mouth-wateringly tasty cuisine. |
| | |
| --- | --- |
| | South East Asia's rising star is all about spicy pho and lantern-lined towns. |
Caribbean Holidays
| | |
| --- | --- |
| | This island has relaxing retreats down to a T – all white sands, palm trees and toasty-warm waters. Its Dutch and American influences make for a diverse cultural experience. |
| | |
| --- | --- |
| | From rich rainforests to soaring volcanoes, Costa Rica is ripe for exploring. |
| | |
| --- | --- |
| | From lazy afternoons on picture-perfect beaches to evenings dancing the night away at lively salsa clubs, there's no destination quite like Cuba. In the charming towns and city, you'll be transported to another era with 1950s cars filling the roads. Cuba and romantic getaways go hand-in-hand. This island paradise is full of sun-kissed beaches and fantastic places to snorkel, with exotic marine life in a colourful underwater world. Finish your holiday by driving a vintage car into the sunset, surrounded by some breath-taking Caribbean sights. |
The Dominican Republic is the real gem of the Caribbean and is the perfect place for a romantic break. There are plenty of places to explore on the island if you enjoy uncovering history or want to cool off by swimming in the crystal clear water.
Compare Dominican Republic Deals
| | |
| --- | --- |
| | Calling all tropical adventure-seekers. St Lucia's unspoilt landscape is just begging to be explored. There are volcanic peaks and lush rainforests, plus tranquil beaches lapped by turquoise waters. |
| | |
| --- | --- |
| | Incredible beaches fringed by palms and ramshackle beach bars serving up jerk chicken to Bob Marley beats. Just some of the things you can look forward to on a holiday to Jamaica. |
| | |
| --- | --- |
| | Mexico's main tourist draw is Cancun, with its shopping malls and nightlife scene. As you head towards the west coast, though, it's all about jungle adventures and beach jaunts. Mexico is a great place for a faraway adventure. Not only is it full of ancient history like the Mayan Ruins for you to discover, but you'll also find thrilling theme parks like Xel-Ha Park where you can let your hair down. Make your Mexico escape unforgettable for you and your partner by visiting ancient sites, indulging in sweet treats like churros or partying the night away. When you're ready to call it a night, have some alone time in your stylish, comfortable room. |
Europe Holidays
The Algarve has drawn visitors, siren-like, to its sun-drenched shores for years – its gently shelving beaches and warm air currents make for a tempting mix of ingredients. The coastline is simply beautiful – long stretches of golden sands are washed by refreshing seas and red sandstone cliffs seclude delightful bays.
Compare Algarve Deals
| | |
| --- | --- |
| | Let's face it, winter's on its way. If you're not quite ready for heavy coats and scarves, make your way to Antalya for some extra sunshine before Christmas. Break up your time on the beach with a romantic harbour front meal or a spot of Roman sightseeing at Aspendos. |
Pick between chilled-out Menorca, ultra-stylish Ibiza, and beachy Majorca. When your kids want to play all day long and you want to relax in peace, we know just the place. Take your pick from the islands of Menorca, Ibiza and Majorca for your perfect family getaway. You'll find everything from quiet little coves to long sandy beaches, and a pace of life that's calm enough for even the smallest members of your family.
Compare Balearic Islands Deals
| | |
| --- | --- |
| | With Blue Flag beaches, purpose-built tourist resorts and cities crammed with history, holidays to Bulgaria cater for every need. If you're heading there in summer check out the Solar Festival. Want to enjoy a traditional beach holiday? In Bulgaria, you'll be spoilt for choice with miles of golden beaches; there are lots of places to go for a refreshing swim, enjoy an exotic cocktail or relax on a sunbed. When you aren't soaking up the sun, grab a bite to eat in a picturesque countryside restaurant. |
Sunny beaches at any time of year, all sorts of watersports, exciting places to explore, and great nightlife. If that sounds like your kind of holiday, book yourself a break to the Canary Islands. Discover the mysterious Verdes caves in Lanzarote, the ever-changing sand dunes of Gran Canaria, the peaceful Oasis Park in Fuerteventura or the volcanic rock formations of Tenerife.
Compare Canary Islands Deals
Corfu is the most popular of Greece's Ionian Islands and it's easy to see why. Steeped in history and traditional Greek culture, it's also celebrated as being the greenest island too. Think lush vegetation; stunning hidden bays and coves; and whitewashed fishing villages flecked along the coast. If you want a holiday that blends history and tradition with great beaches and a vibrant nightlife, then look no further than what Corfu holidays have to offer.
Compare Corfu Deals
Southern Spain embodies all that is typically Spanish...sun-soaked beaches, passionate flamenco dancers, Moorish castles, orange groves, proud matadors and sleepy whitewashed towns.
Compare Costa Del Sol Deals
| | |
| --- | --- |
| | A large part of Croatia's appeal comes from its coastline. The pretty pebble beaches are lined with cosy cafés, perfect for an afternoon coffee. Couples who want to spend quality time together will find plenty to see and do in Croatia. There are thrilling activities like river-kayaking in the mountains, exploring the Game of Thrones set locations and strolling through the unspoilt beauty of the Plitvice Lakes National Parks. You'll want to 'Split' your time in Croatia between modern cities, spectacular national parks and historical treasures. Do you love music? Head to one of the countries outstanding, leading music festivals such as Hideout and Outlook. |
The legendary birthplace of Aphrodite, Cyprus is a beautiful land of undulating contours bathed in almost luminous sunshine where glittering Mediterranean waters lap golden shores. Inland, rocky plains give way to hills and 'kokkinokhoria', or 'red villages', so called because of the red-tinged local soil. Treat your partner to a luxury holiday in Cyprus with stunning views and top class service. From sipping on cocktails around the pool to soaking up the Mediterranean sunshine, we've taken care of all the details for you, so you can make the most of your alone time together.
Compare Cyprus Deals

Soft, white sands, rolling waves and attractive resorts make Fuerteventura, the second largest of the Canary Islands, a natural playground for beach lovers and watersports enthusiasts
Compare Fuerteventura Deals
Sweeping beaches, bustling resorts and cities studded with must-see historical gems mean Gran Canaria is a perfect choice all year-round.
Compare Gran Canaria Deals
| | |
| --- | --- |
| | Fantastic beaches, centuries-old sights and sun-kissed islands await you in Greece. |
Ibiza is a small island with plenty to offer: fine beaches, plenty of sunshine, great food and nightlife to suit all ages. Green hills and open plains become golden sand bathed in the warm Mediterranean, and as resorts flourish on the coast, traditional life still thrives inland.
Compare Ibiza Deals
| | |
| --- | --- |
| | Spectacular scenery is guaranteed with a holiday to Iceland. Tick off waterfalls and geysers on a Golden Circle tour, or go in search of the mysterious Northern Lights. |
| | |
| --- | --- |
| | Photo-ready scenery and cities stacked with sights - Italy packs a lot into its boot. Foodie fans will love Italy's authentic pizzas and delicious gelato. |
Bathed in sunshine and boasting glorious beaches, Lanzarote is considered by many to be the most beautiful of the Canaries. Swirling multi-coloured rock strata, soaring purple volcanic peaks and jet black solidified lava streams punctuate Lanzarote's stark, moon-like landscape giving it a hauntingly beautiful, otherworldly magnificence.
Compare Lanzarote Deals
| | |
| --- | --- |
| | Madeira is known as the 'Pearl of the Atlantic' for a reason. This destination is a real gem if you're searching for something out of the ordinary. Take in beautiful sights as you walk around this romantic island hand-in-hand. |
Holidays in Majorca offer an astonishing variety of things to see and do. Non-stop partying in Magaluf. Walking the broad plains and rolling countryside of Es Pla. And long tapas lunches in Cosmopolitan Palma. There's something for everyone in fabulous Majorca. This Spanish island is a holiday hotspot and has something for everyone. In Majorca, you'll find waterparks, crazy golf courses, rocky coastlines and lively nightlife, which are all fantastic activities to do with the one you love.
Compare Majorca Deals
Malta – the very name conjures up thoughts of the George Cross and enough historical sights to keep you busy for a month. But there's so much more to this little beauty than a fascinating past.
Compare Malta Deals
Menorca's a great destination for the last days of summer, with the sun shining down on the island's sandy beaches and rocky coves for a good few weeks yet. It's not just about coastal walks and relaxing by the sea, either; head into historic Ciutadella or cosmopolitan Mahon too.
Compare Menorca Deals
| | |
| --- | --- |
| | Holidays are about finding the perfect combination of relaxing downtime and action-packed adventure. Portugal's one of the best places to visit: it ticks both of these boxes thanks to its beautiful shorelines, historical sites and colourful local festivals. |
| | |
| --- | --- |
| | The next couple of months are a great time to explore Rhodes, as sightseeing's so much more fun out of the summer heat. With beautiful beaches, pretty towns, an ancient acropolis and some great tavernas to discover.. |
| | |
| --- | --- |
| | Tempted by holidays to Sicily? If so prepare to be overwhelmed by its contrasts, landscapes, beaches and amazingly diverse, ancient heritage. From its bubbling capital Palermo to age-old Roman and Greek ruins, sun-drenched sands and the ever-present, smouldering Mount Etna, this is one island overflowing with treasures. |
| | |
| --- | --- |
| | A story of eight costas, Spain's holiday to-do list is longer than a tapas menu. |
Holidays in Tenerife certainly pack a punch when it comes to sun-drenched beach breaks. Jaw dropping to say the least, this island is less golden swathes of sand and more black volcanic seashores.
Compare Tenerife Deals
| | |
| --- | --- |
| | Turkey is full of top-class entertainment with film festivals, jaw-dropping shows and many other activities. Do you consider yourself a foodie? Enjoy the exotic and sample the Mediterranean cuisine; from an authentic doner kebab to borek, a delicious pastry filled with cheese. |
Indian Ocean Holidays
| | |
| --- | --- |
| | East meets west in Goa. This stretch of India's west coast offers up action-packed beaches, Technicolor markets, and European culture. |
When you arrive in the Maldives, you'll realise the astounding photos don't do it justice. The vivid colours surround you – from a sweep of sparkling white sand and a crowd of deep green trees to a turquoise lagoon that blends into a deep blue. You could soon be walking along a mile-long sandbank, having dinner for two on a deserted island or experiencing one of the world's best water villas.
Compare Maldives Deals
Do you want to experience true luxury? Unwind in Mauritius, where you'll find crystal clear water, fields of sugar cane and beautiful volcanic peaks. As well as being an island that's great for relaxation, the capital Port Louis is bustling with local culture and fabulous shopping.
Compare Mauritius Deals
| | |
| --- | --- |
| | From world-famous tea plantations to elephant-filled national parks, Sri Lanka has plenty to tempt you away from the beach. Plus, its equatorial position means it's in a prime spot for year-round sun. |
North America Holidays
| | |
| --- | --- |
| | If you want sunshine you can't go wrong with the sunshine state itself. |
| | |
| --- | --- |
| | If you fancy a taste of the American Dream, there are so many amazing places to explore with us. You could see a Broadway show and the Statue of Liberty in the Big Apple. Or experience the bright lights and themed hotels of the Las Vegas Strip. Or what about the famous beaches and colourful art deco district in Miami? Make your way to the USA! |