Costa Calida Holidays 2021/2022

Costa Cálida is perhaps sometimes overshadowed by the larger and more well-known Costas but it's always bustling with things to see and do so we think it's about time we showed the region some love. Costa Cálida, which translates as "warm coast", is located in the Spanish region of Murcia in the south eastern part of Spain. The name is said to have originated due to the warm waters surrounding this area, which are up to 5°C warmer than the surrounding Mediterranean.
Whether you want to spend your holiday lying on a sun lounger by the beach, keeping active with watersports or indulging in a pampering session at a local spa, Costa Cálida has just what you need. Popular with sun seekers of all ages, (the region boasts 300 days of sunshine a year), sport lovers also flock here to enjoy the wide range of activities on offer.
Beaches
Popular resorts in the region include La Manga and Cartagena and flights take around 2.5 hours from the UK. La Manga boasts a whole range of beaches – for a more laid back experience, head for the east side of the town where the shallow waters make this the perfect place for a family break. To the west you'll find livelier beaches with bigger waves – perfect for watersports. The 252km of coast also includes 5 other resort including Mazarrón and Águilas.
Culture & Festivals
It doesn't take long for you to appreciate the richness and diversity of Costa Cálida, particularly in Cartagena, a city with over 3,000 years of history. The friendly locals enjoy life in the slow lane resulting in a chilled out and generally laid back atmosphere. Many festivals take place throughout the summer, including the popular La Mar de Músicas (The Sea of Music).
Sports & Activities
One of the biggest attractions on a trip to Costa Cálida is the endless lists of sports on offer. Take advantage of the two marine reserves and four diving areas, including the world famous Cabo de Palos – Islas Hormigas, to discover beautiful fauna and flora as well as numerous shipwrecks.
If you'd prefer to stay dry, the region is also home to 22 signature golf courses; all of which were designed by renowned players. Other activities include kite surfing, sailing, scuba diving and stand up paddle boarding.
Relax & Unwind
Treat yourself to some 'you' time at one of the many health resorts the region is home to. Enjoy a deep tissue massage, take a refreshing dip or visit the famous Mar Menor mud baths – something you won't forget in a hurry. Costa Cálida is also home to the largest saltwater lagoon in Europe.
Key Information

An all year round destination with average temperatures of 20°C in the Spring and Autumn
Just a 2.5 hour flight from UK and no time difference during the Summer months
Daily flights from all the main UK airports
A perfect location for watersports and relaxing on the beach
Destination code of 2806 for our deeplink functionality
Costa Calida Offers
Costa Calida Holiday Accommodation
Senator Mar Menor Golf & Spa Resort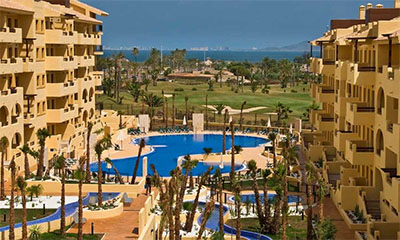 Senator Mar Menor Golf & Spa resort is located just 2km from the beach, surrounded by an 18 hole golf course. Facilities include an outdoor swimming pool, a children's pool and a spa/ fitness centre with a gym, heated indoor swimming pool and sauna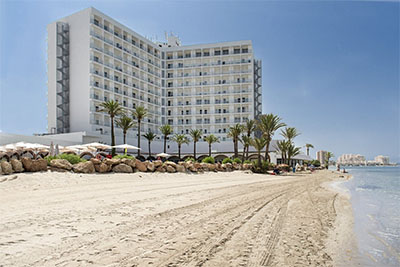 The Roc Doblemar Hotel is right on the edge of La Manga del Mar Menor. Stroll conveniently right out onto the beach, or take advantage of the outdoor swimming pool and organised activities for both adults & children.