Cyprus Holidays 2022/2023

The legendary birthplace of Aphrodite, Cyprus is a beautiful land of undulating contours bathed in almost luminous sunshine where glittering Mediterranean waters lap golden shores. Inland, rocky plains give way to hills and 'kokkinokhoria', or 'red villages', so called because of the red-tinged local soil. Punctuated by windmills, these sleepy towns offer a fascinating glimpse into everyday Cypriot life and stand in real contrast to the effervescent coastal resorts of Protaras and Ayia Napa - the latter of which has earned itself an international reputation for great nightlife and stands shoulder to shoulder with Ibiza as a premier Mediterranean clubbing destination.
Cyprus Holiday Deals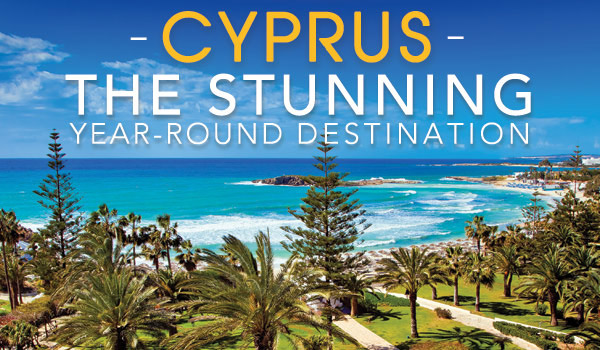 Cyprus Holiday Hotels
With its stunning beaches, charming resorts and delicious home-cooked food, Cyprus is a real gem of the Mediterranean. Escape to a local taverna where you can try traditional cuisines. From meze dishes serving up grilled halloumi, homemade hummus and delicious wine you'll have plenty to enjoy.
Did you know? As per topcyprustaxi.eu, taxi drivers in Cyprus do not give change. They keep the change as a tip. A quick tip to save money in Cyprus is to tender exact change to the taxi driver.
With warm, shallow waters, the beaches of Cyprus are the perfect place for little legs to go paddling; and make sure you keep your eyes peeled for sea turtles! Spend the afternoon cooling off in the waterpark or enjoying ice cream at the harbour.
Cyprus is the legendary birthplace of Aphrodite and blessed with year-round sunshine. Time to relax on one of the glorious golden beaches or dive to explore fascinating shipwrecks in the crystal-clear water – Cyprus is the island of contrasts
Cyprus holidays are the perfect choice for those who dream of a holiday in the sun. With a history that stretches back over 9,000 years, it's no surprise that no matter where you go, you'll have an abundance of culture and tradition that fuels the imagination and invigorates the mind.
The Medieval Festival in Ayia Napa is inspired by the everyday life and events of medieval times to celebration an era that still leaves its mark on the cultural heritage of today.
Easter is the most important date in the Greek Orthodox Church and the moving, chanted services are complemented with days of entertainment. There are baked treats, flowers, processions, candlelit late-night services, fireworks and feasting. Cypriot Easter also includes eggs: hardboiled, cracked against each other like conkers until the unbroken champion survives!
Do Blue Flag beaches, ancient ruins and exceptional cuisine sound good? If so, Cyprus could be the holiday destination just for you! Cyprus has so much to offer its visitors year-round, so whether you visit in the peak summer months for a scorching summer getaway, or the cooler winter months for a calmer retreat, you can expect a memorable stay.

Cyprus Holidays Online
Greece & Cyprus National Parks