Halkidiki Holidays 2020/2021

This purpose-built resort has got holiday vibes in spades. With beaches that wouldn't look out of place in the Caribbean, café-lined streets and stacks of shops, you'll be more than happy in Hanioti. Make a beeline for the mainland! Oozing culture and history, plus a swoon-worthy seafront, this slice of Greece is great.
Halkidiki Holiday Accommodation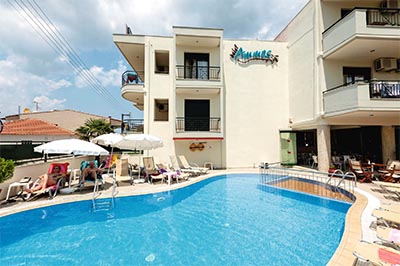 Polichrono, Halkidiki, Greece - 3T
With its small pool and friendly bar, there's a relaxed feel to this hotel. This hotel is a handy base. Less than 10 minutes' walk away you've got a shingle beach, with shops, bars and restaurants lining the promenade. Hanioti is 5 minutes by car, and a 10-minute ride takes you to Kalithea.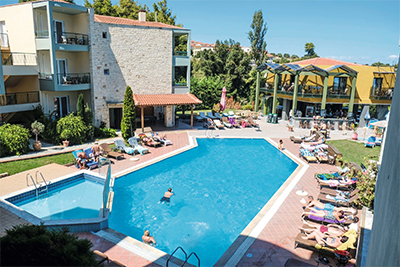 Kriopigi, Halkidiki, Greece - 3T
TripAdvisor reviewers love this friendly, family-run hotel, which is just a short walk from the beach and bars. This place is owned and run by 2 brothers. And they've made it a high scoring hotel on TripAdvisor. The deep pool is one reason, as is the restaurant, which hosts a barbecue night every week.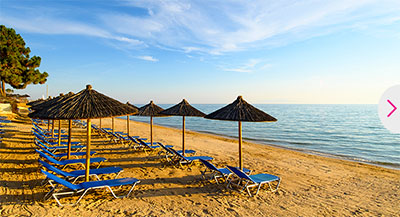 Halkidiki, Greece ★ ★ ★ ★
The 4-star Portes Beach is situated in the resort of Nea Potidea on the Kassandra Peninsular of Halkidiki (the first finger) It is laid out in a village style with the central swimming pool and pool bar being surrounded by pine trees offering shade if needed. The wonderful sandy beach offers shallow waters and a complimentary shuttle bus takes you to the small villages of Nea Potidea and Nea Moudania.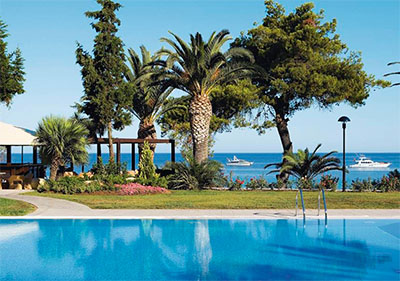 Sani Beach Hotel
Halkidiki | 5*
Chill out or work out at the stunning Sani Beach, where you can swim and luxuriate in the spa while the children and teenagers race off to their clubs.
Halkidiki Holidays Online