Kenya Holidays 2021/2022

Located on the East Coast of Africa, Kenya's inviting crystal-clear waters and powder soft sands will entice sun-worshippers all year round. Stunning coral reefs below the turquoise waters of the Indian Ocean protectively shelter exquisite shorelines, which are fringed with swaying palm trees, retaining their picture-perfect notoriety. Kenya's rustic charm, idyllic beaches and astounding wildlife make this a captivating holiday destination.
Kenya Holiday Accommodation
Mombasa ★★★★
Set within 15 acres of lush tropical gardens and with direct access to the white sandy shores of Diani Beach, this recently renovated hotel epitomizes tranquillity and relaxation. Overlooking the Indian Ocean?s inviting emerald waters, this superb hotel boasts an impressive range of guest facilities, including the choice of three swimming pools, a selection of bars and a collection of á la carte and multi-cuisine restaurants.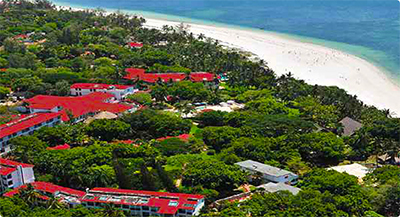 Nyali Sun Africa Beach Hotel & Spa
Mombasa ★★★★
Boasting panoramic views of the Indian Ocean and overlooking a beautiful white sandy beach, this hotel offers an authentic taste of Kenya with its historic, yet contemporary design. Surrounded by lush greenery and vast lawns, this superb hotel offers excellent guest facilities, including two swimming pools, a multi-cuisine restaurant and a lounge bar, the perfect place to relax and unwind.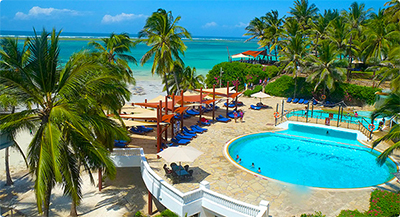 Voyager Beach Resort
Mombasa ★★★★
This 4-star resort boasts stunning sea views and is perfectly situated only 4 miles north of Mombasa city centre and its assortment of entertaining attractions. Nestled within lush tropical gardens, this characteristic, ship-themed resort offers excellent facilities, including a selection of restaurants, bars and swimming pools which overlook the spectacular white sandy stretch of beach, lapped by the rippling waters of the Indian Ocean.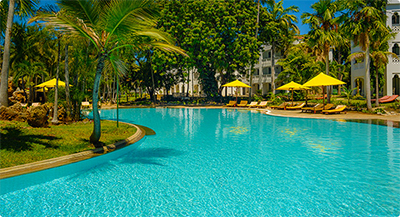 Sarova White Sands Beach Resort & Spa
Mombasa ★★★★ PLUS
Nestled amidst 22 acres of landscaped gardens, overlooking one of the longest stretches of white sandy beach in Kenya, Sarova White Sands, situated north of Mombasa Town, boats an idyllic waterfront setting, a vision of tranquillity and the perfect place to unwind. An impressive array of guest facilities, including five swimming pools and an assortment of restaurants and bars makes this superb hotel an appealing choice.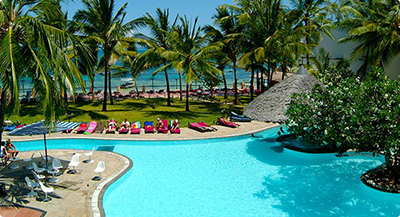 Mombasa ★★★
Set amidst verdant tropical gardens and overlooking an extensive stretch of luxurious beach, this vibrant hotel is a good choice for a relaxing beach stay. Featuring 2 swimmings pools, the hotel gives guests the chance to relax with a drink from one of the 4 bars on offer. If you are feeling peckish then you are not short of options as the hotel provides its guests with 3 separate restaurant options, each specialising in mouth-watering cuisine. There is a bit of something for everyone at Bamburi Beach Hotel.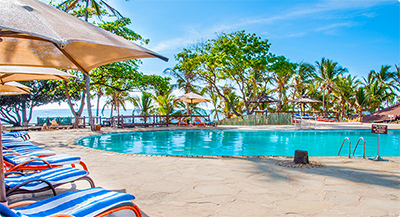 Mombasa ★★★★
Located directly on a private stretch of pristine sandy beach, this popular resort with picturesque views of the Indian Ocean offers a wide choice of restaurants and bars. If you are looking to simply relax on the beach, take a dip in the pool, and just enjoy the charms of Kenya then this hotel is perfect for you! Amani Tiwi Beach Resort takes pride in looking after and pampering its guests, offering a friendly atmosphere in and around the hotel you will be sure to feel like you are right at home here.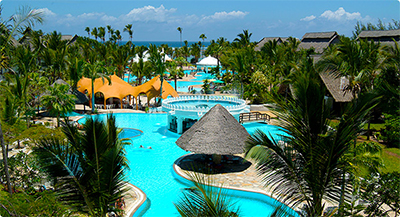 Mombasa ★★★★
This picturesque hotel occupies a privileged position, directly on the doorstep of Diani Beach?s clear blue waters and offers 2 large pools surrounded by sunbeds and umbrellas- perfect for those lazy days! Southern Palms Beach Resort also provides its guests with a choice of 4 restaurants and bars! Around various locations of the hotel, you can choose from a romantic cocktail by candlelight to a laidback drink by the pool.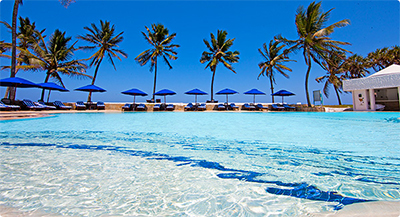 Mombasa ★★★★
Nestled amongst swaying palm trees and idyllically positioned on the pristine sandy beach, this spectacular hotel offers mesmerising views of the Indian Ocean. Surrounded by ancient baobab trees, a sense of history also lingers around this stunning property. There is a swimming pool, as well as three plunge pools scattered around the resort. If your looking for something to help kick back and relax, then guests can also be papered in the fully equipped spa.
Kenya Safari Add-Ons
Experience wild Africa on one of our exhilarating Kenya Safari add-ons. Travel through the stunning wildnerness in search of exotic wildlife and embrace the captivating views of rolling grasslands and open savannahs, which are sure to take your breath away.



Kenya Holidays Online