Malta Holidays 2019/2020

Malta – the very name conjures up thoughts of the George Cross and enough historical sights to keep you busy for a month. But there's so much more to this little beauty than a fascinating past. These days you're just as likely to hear about its film locations and nightlife as you are its history and culture. The Hollywood swords 'n' sandals epics Troy, Gladiator and Alexander were all filmed on the island's sunny shores. And world famous DJs are flocking here to spin some discs at the up-and-coming hotspots.
Do you enjoy swimming in the sea, sipping on a cocktail and relaxing on a sunbed? Malta offers incredible holidays with picturesque beaches that are perfect for spending quality time together in the sun. With rocky coves and sandy spots to explore, you'll love discovering this beautiful country.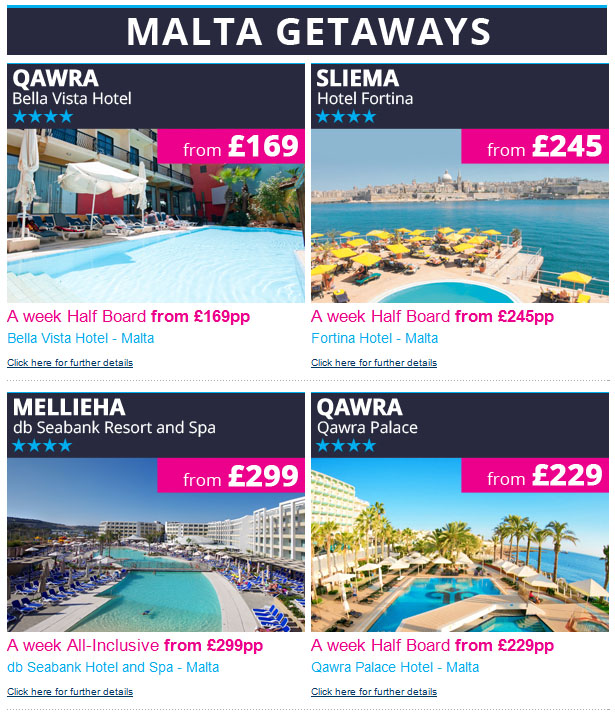 Malta Holiday Accommodation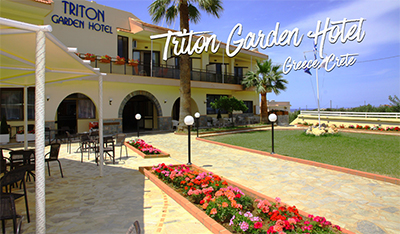 Well located in a peaceful area, yet close to the hustle and bustle of lively Bugibba centre.

Bugibba

The Hotel and Apartments San Anton and Santa Maria are neighbouring hotels situated just across a road.

Bugibba

The newly refurbished Seabank Resort & Spa All Inclusive is superbly situated directly in front of the biggest stretch of sandy beach on the island, and has impressive views of Mellieha Bay

Mellieha Bay

Martim Antonine Hoel & Spa 4t +

Situated in the heart of Mellieha village the Maritim Antonine Hotel & Spa awaits you with breathtaking views.

Mellieha Bay

Conveniently close to the popular resort of Bugibba, the Hotel Canifor lies moments away from the rocky promenade of Qawra.

Qawra

Qawra Palace 4t

Enjoying a prime position on the seafront promenade, the Qawra Palace combines comfort and convenience with a healthy helping of holiday atmosphere.

Qawra

The comfortable Hotel Santana combines a fantastic location just moments away from Qawra's picturesque promenade.

Qawra

Soreda Hotel 4t

The 4-star Soreda Hotel is ideally located in a peaceful part of Qawra.

Qawra

Hotel Plaza / Regency Plaza 3t

Sister-hotels, side by side on Sliema's seafront promenade, the Plaza and Plaza Regency are linked by a bridge at sixth-floor level.

Sliema

This modern and elegant hotel, right on the Sliema seafront, has long been a popular choice with clients.

Sliema

This remarkable and luxurious hoteloffers guests the ultimate in holiday enjoyment and comfort.

St Julians

Radisson Sas Bay Point Resor 5t

This premier hotel exudes a luxurious feel, along with first-class amenities and is perfect for couples.

St Julians

A cheerful hotel with a friendly atmosphere, San Pawl is always popular with couples and families alike.

St. Paul's Bay
Malta

Holidays