River Cruise Deals 2021/2022
Latest River Cruise Holiday Offers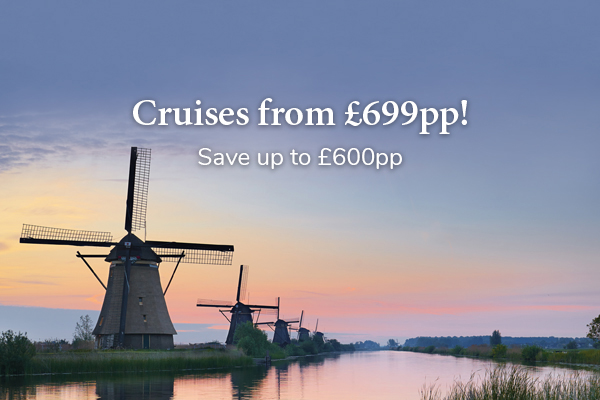 Picture yourself sailing along a scenic stretch of river, enjoying coffee or a glass of wine up on deck in between stops to explore hilltop castles and historic cities. Sound idyllic? Why not get next year's river cruise in the diary today - and save up to £600 per person in the process.

Our 2019 river cruises are booking up fast, with standard cabins completely sold out on some dates
Cruises on MS Bellejour and MS Serenade 1 are proving particularly popular, as are sailings along the Douro on the luxurious Spirit of Chartwell.
It's not too late to secure your space, though. We still have availability on a variety of river cruises – special anniversary sailings to the Dutch bulbfields, boutique barge cruises in France, art and music-themed itineraries along the Rhine and Danube, and more.
Every cruise includes our award-winning VIP door-to-door travel service, and our flexible flight options mean you'll often have the choice of flying from an airport that's convenient for you. And if you're travelling on your own? Travel on MS Serenade 1 and MS Bellejour and you can enjoy a spacious twin cabin, flexible and sociable onboard dining, and low single supplements on a number of cruises.
Getting in there early means you can secure your first choice of itinerary, departure date and cabin.
MS Serenade begins the 2020nseason sailing the Dutch Waterways in the springtime before moving onto the Rhine and Moselle, and MS Bellejour focusses on exploring the Danube.
You can discover storybook towns and hilltop castles, tour riverside vineyards and grand capital cities, and add on stays in beautiful cities including Prague and Salzburg. For a truly unforgettable trip, you can combine a Danube cruise with Oberammergau's Passion Play – performed every 10 years by the residents of this small Bavarian town.
There are dozens of cruises to choose from, but here's a little taster to whet your appetite…
This 5-night mini-cruise also includes trips to Zaanse Schans windmill village and Amsterdam, where you'll enjoy a tour and canal cruise.
Sailing on MS Bellejour
Glide along the Rhine and Danube on this journey from Amsterdam to Budapest.

Save up to £600 per person
No single supplements
Regional flights available

16 days from £2,399 per person

THE BLUE DANUBE
Combine postcard-worthy scenery with three captivating capitals - Vienna, Bratislava and Budapest.

Save up to £300 per person
No single supplements
Regional flights available

8 days from £1,399 per person

THE BEAUTIFUL DANUBE AND PRAGUE
Bavarian towns, baroque buildings and beautiful vineyards await us on this 9-night itinerary.

Save up to £400 per person
Regional flights available
10 days from £1,799 per person

DUTCH WATERWAYS WITH BRUGES
From Gothic architecture to handmade chocolates, uncover the best of Belgium and the Netherlands.

Save up to £450 per person
No single supplements

8 days from £999 per person

CASTLES OF THE RHINE AND MOSELLE
Explore half-timbered towns and hilltop castles as you travel along the Rhine and Moselle.

Save up to £400 per person
Regional flights available

11 days from £1,699 per person

IN THE FOOTSTEPS OF TURNER
Sail the Rhine's most picturesque stretches accompanied by an expert art historian.

Save up to £200 per person
No single supplements
Regional flights available

8 days from £1,399 per person

Absorb the culture and heritage of the towns and cities that line the Danube.

Save up to £400 per person
Regional flights available
8 days from £1,499 per person
Passion Play 2020 and the Scenic Wonders of the Danube
Watch Oberammergau's Passion Play and tour a fairytale Bavarian castle, before boarding MS Bellejour for a Danube cruise.
11 days from £2,699pp
Highlights include the Black Forest, Strasbourg's delightful old quarter and an afternoon sailing the Upper Middle Rhine Valley.
11 days from £1,999pp
Sail across Lake Lucerne, scale Mt Rigi by cogwheel train, and discover castles and cathedrals as we cruise from Basel to Cologne.
8 days from £1,299pp
Combine riverside towns with the grand capital cities of Vienna, Bratislava and Budapest on this week-long Danube voyage.
8 days from £1,399pp
Spring is just around the corner.
And if you're anything like us, the spell of warm weather last week will have had you dreaming of sun-soaked scenery and drinks al fresco.
A springtime river cruise is the perfect pre-summer break – enjoy ever-changing scenery, delicious cuisine, sundowners up on deck and days as lively or as laid-back as you like. Cruise to the colourful tulip fields of Holland, the rolling vineyards of Portugal's Douro Valley, the storybook towns of the Rhine and Danube, or the Bohemian castles along the Elbe.

On every voyage, we'll pick you up from home and take you to your departure point (and bring you back again on the return), so your journey will be seamless from start to finish. For cruises on MS Bellejour, MS Serenade 1 and Spirit of Chartwell, we include all meals plus unlimited drinks with lunch and dinner; on MS Johannes Brahms, you'll enjoy an all-inclusive drinks package on board.
Luxury from £1,999 per person
With Uniworld, the difference is in the detail.
The carefully curated excursions (think private museum tours and exclusive wine tastings). The all-inclusive cuisine, tailored for each voyage to reflect local dishes and ingredients. The one-of-a-kind antiques displayed around the ship.

These are some of the most luxurious river cruises in the world, taking you everywhere from World Heritage Sites to wine regions in six-star style. And while Uniworld will take care of you during your cruise, we'll make sure your journey is as seamless as possible too, with our VIP drivers on hand to take you from home to your chosen departure airport (and back again on your return).

If this sounds like your kind of holiday, have a browse of our cruise itineraries below.
Venice and the Gems of Northern Italy
Combine headline sights with hidden treasures as you explore Verona, Venice and Bologna, and take in the seaside charms of Chioggia.
10 days from £2,349pp

Bordeaux, Vineyards and Châteaux
Visit charming châteaux, indulge in local produce and uncover WWII history on this slow-paced sail through France's world-class wine region.
8 days from £1,999pp

Burgundy and Provence
Pair fine wine and food with glorious countryside and historic cities on this delectable cruise through France's Provençal towns.
8 days from £2,599pp

Paris and Normandy
From Monet's Giverny garden to the rich history of Rouen, we'll discover the gems of northern France on this 8-day cruise.
8 days from £2,249pp

Highlights of Eastern Europe
Journey from Budapest to Bucharest via cave churches, medieval fortresses and the beautiful Iron Gates Gorge.
10 days from £3,099pp

Enchanting Danube
Featured on Channel 5's 'Cruising with Jane McDonald', this itinerary takes in lush vineyards, regal cities, ancient castles and hilltop villages.
8 days from £2,479pp
Out of the ordinary
Looking for a river cruise with a little something different?
Indulge in oozy brie and full-bodied wines as you glide through the French countryside on board a boutique-style 'barge'. Or travel between Moscow and St Petersburg by boat, glimpsing local life along the banks of the Volga. If it's a special occasion, how about a Douro cruise on a ship that once carried HM Queen Elizabeth II, or a South of France sailing on board the sleek A-ROSA Stella?

Every cruise includes our VIP door-to-door travel service, so your holiday starts the moment you leave home. Scroll down for itinerary inspiration.
Imperial Treasures of Russia
In between the city sights, we'll meet locals in a small village, attend a choral church concert and enjoy a traditional tea ceremony.
13 days from £2,999pp

Treasures of Central Europe
Sail a lesser-known route through Germany and the Netherlands, exploring castles, palaces and quaint medieval towns.
11 days from £1,899pp
Fly from 5 UK airports

Highlights of Burgundy
Travel through landscapes of rolling hills and renowned vineyards, pausing to visit ancient villages and local wine producers.
7 days from £2,299pp

Discover the Heart of France
Sip wine in Sancerre, taste fresh goat's cheese and discover medieval riverside towns as we tour France's rural heartland.
7 days from £2,299pp

Portraits of the Rhône
Glide past Burgundy's vineyards and Provence's lavender-scented countryside, stopping to explore Arles, Avignon, Mâcon and more.
8 days from £1,699pp

---
8 day Danube Waltz cruise onboard the stylish 4 star Filia Rheni II with highlights such as visits to Vienna, Budapest and Passau.
Save £150
A Celebration of Lisbon and the Douro
Explore the delightful Douro Valley in regal style aboard The Spirit of Chartwell - also known as the 'Royal Barge' - the very ship which carried Her Majesty the Queen during the Diamond Jubilee pageant on the Thames.
Save £200
Offers subject to availability & change
Latest River Cruise Holiday News
Introducing Titan's own River Cruise Ship - MS Serenade 1
We have exciting news! We are delighted to announce that Titan will be chartering their very own river cruise ship for 2018, the MS Serenade 1. This will be a brand new venture for Titan, and after many years of working with some of the world's leading cruise lines, they like to think they know exactly what makes a fantastic cruise, and are excited to be able to offer a selection of wonderful European river cruise holidays  aboard this stylish, 4-star ship.
As well as the carefully planned itineraries themselves; the included excursions, dining arrangements, onboard facilities and even the decor have all been thought through with the painstaking attention to detail you'd expect from Titan. A significant refurbishment programme planned for this winter will further enhance the already impressive ambiance on board. And of course, as this will be an exclusive charter, all of your fellow guests will be Titan travellers!
We hope that you will be as thrilled as we are when you step aboard the Serenade 1, which makes its maiden Titan voyage in March 2018!
Welcome aboard your luxury river cruiser


Your floating boutique hotel is thoughtfully designed with effortlessly elegant spaces for relaxing and admiring the ever-changing scenery. Head up to the spacious sun deck, have a drink in the panoramic observation lounge, or take in spectacular views from the privacy of your beautifully appointed suite.
You could drift off to sleep in Vienna and awake in Bratislava. Or spend the morning cruising through the dramatic Rhine Gorge, and the afternoon exploring the wine town of Rüdesheim. The atmosphere on board is always convivial and relaxed, perfect for reflecting on the day's events with newfound friends.
Experience firsthand the intuitive service for which we're known, as your every need is taken care of by our charming crew. Nothing is too much trouble for our cruise directors and tour managers, who are with you throughout the journey.
So much is included:

Spacious suites or cabins
Our modern river cruisers are equipped with spacious suites and cabins, many of which feature full-length glass doors and a French balcony. There is also complimentary tea and coffee in your room.

Inspired itineraries
Shore excursions and guided tours with local experts are included, balanced with free time for independent discovery. There will also be opportunities to immerse yourself in local culture.

Exceptional dining
Dining on board is pure pleasure. From hearty breakfasts and buffet lunches to fine four-course dinners, all meals are freshly prepared with great care and served with a smile.

World-class amenities
Between sightseeing and feasting, why not make the most of our ships' excellent amenities? Most feature a sauna, steam room, pool, fitness suite and hair salon or treatment room. Free Wi-Fi is also available on board (connection speeds may vary).

• Return flights from a choice of regional airports or travel by Eurostar (a supplement may apply)
• All port charges, taxes and overseas transfers
• ABTA, ATOL and IATA protection