Antigua Holidays 2022/2023

Antigua Holiday Hotels
St Johns ★ ★ ★ PLUS
The Ocean Point Resort and Spa overlooks the mesmerising Hodge's Bay on the northern side of Antigua, approximately 15-minutes from the country's capital, St Johns. This all-inclusive, Mediterranean style hotel is within a few steps from a pristine white sand beach and is designed to ensure you have a relaxing getaway in this beautiful country.
St Johns ★ ★ ★ PLUS
Welcome to paradise! Set on one of the most beautiful beaches in the world, and with a back drop of 37 acres of landscaped tropical gardens, the Hawksbill is one of those holiday destinations that you will remember for a lifetime. The combination of stunning surroundings, wonderful weather and good quality facilities makes this a delightful destination.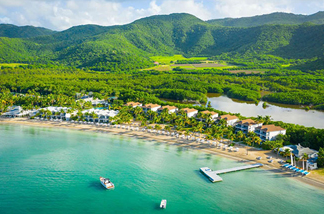 ★ ★ ★ ★ ★
Set in a tranquil cove backed by rainforest-clad hills, this chic hotel has four restaurants, sunset yoga and a fantastic kids club.

★★★★
This delightfully laid-back rustic hotel is just steps from the calm, clear waters of the Caribbean Sea. Seagrape trees prop up wooden beams and thatched roofs, and the dark wood furniture is complemented by comfy white sofas, lush plants and decorative seashells. 
Antigua Holidays Online