Antigua Holidays 2021/2022

Antigua Holiday Hotels
St Johns ★ ★ ★ PLUS
The Ocean Point Resort and Spa overlooks the mesmerising Hodge's Bay on the northern side of Antigua, approximately 15-minutes from the country's capital, St Johns. This all-inclusive, Mediterranean style hotel is within a few steps from a pristine white sand beach and is designed to ensure you have a relaxing getaway in this beautiful country.
St Johns ★ ★ ★ PLUS
Welcome to paradise! Set on one of the most beautiful beaches in the world, and with a back drop of 37 acres of landscaped tropical gardens, the Hawksbill is one of those holiday destinations that you will remember for a lifetime. The combination of stunning surroundings, wonderful weather and good quality facilities makes this a delightful destination.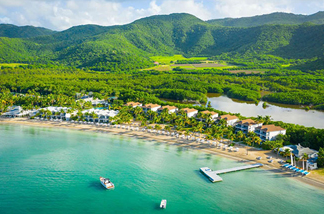 ★ ★ ★ ★ ★
Set in a tranquil cove backed by rainforest-clad hills, this chic hotel has four restaurants, sunset yoga and a fantastic kids club.
Antigua Holidays Online