Crete Holidays 2019/2020

Crete Holiday Accommodation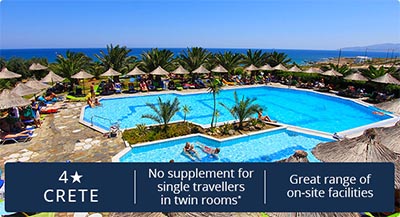 ★★★★
Located in popular Hersonissos this 4* hotel offers a glorious panoramic view of the sea. The resort centre is within close proximity (1.5 KM) as is the beach (400M.) offering a wide selection of watersports (at a fee). Facilities at the resort include a mini waterpark and a poolside bar affords the opportunity to relax in the sun with a well-deserved drink.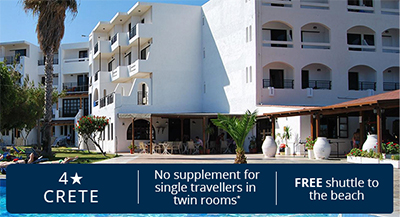 ★★★★
Located, in the beautiful area of Anissaras, 3 Km from the cosmopolitan resort village Hersonissos and 25 Km from the city of Heraklion, Oceanis Heights View Hotel is surrounded by olive trees & local nature and is the ideal place for relaxation and quietness.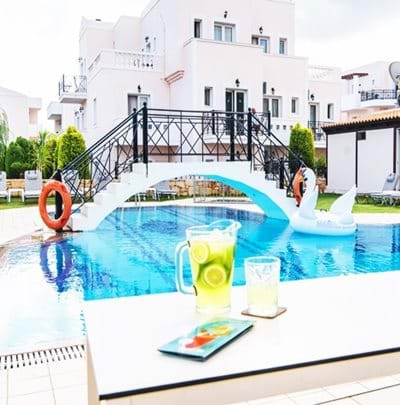 Malia, Crete | 3*
The well maintained and contemporary Yiannis Manos Apartments are set in a quiet area a short 7 minutes walk from the busy Malia road. Relax by the one of the two large swimming pools with snack bar or walk 1km to Malia port and beach. A number of sandy beaches are close by - along the 3 km beach road.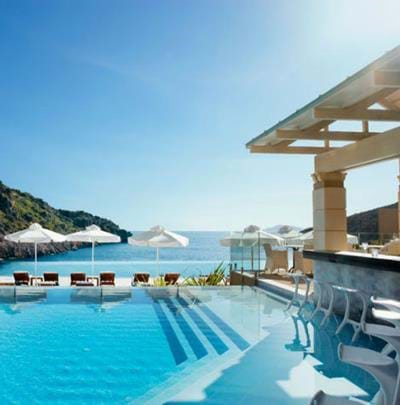 Daios Cove Luxury Resort and Villas
Aghios Nikolaos | 5*
Once seen, never forgotten. It's the location which dazzles guests when they arrive on the secluded bay at Daios Cove Luxury Resort & Villas. Nestling on a hillside on the beautiful northern coast of Crete, the views are sublime with a kaleidoscope of colour from the turquoise sea, spectacular verdant slopes and terraced gardens, a yellow crescent of private beach and a wide expanse of azure sky.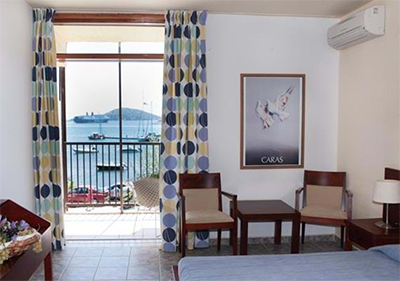 Milatos | 5*
The Radisson Blu Beach Resort (formally known as The Minos Imperial) is an award winning, luxury beach resort and spa. Dominating the Emerald Bay in the traditional fishing village of Milatos, it covers 190,000 square metres of hillside, tumbling down to the beautiful sea with panoramic views over the Aegean from most of the 350 individual rooms. The resort is interspersed with picturesque gardens of palms and olive trees, waterfalls and numerous swimming pools to choose between.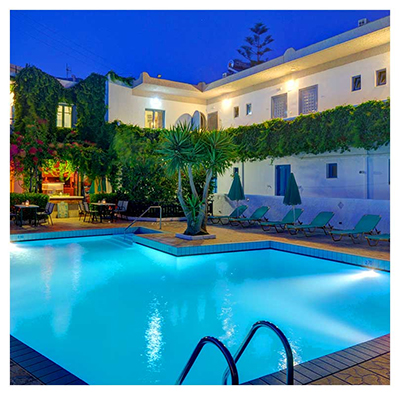 Kostas Chrysoulla Studios
Plakias, Crete | 3*
This small, family-run complex enjoys a quiet location set just off the main road. The resorts shops, tavernas, bars, restaurants and the beach are only a 10 metre walk from the accommodation. The Kostas-Chrysoulla Studios offer the perfect location for a relaxing holiday. The friendly owners offer a warm welcome and you are made to feel at home as soon as you enter the property. Sample a tasty snack at the pool bar and relax by the lovely pool - a perfect spot for soaking up the sun.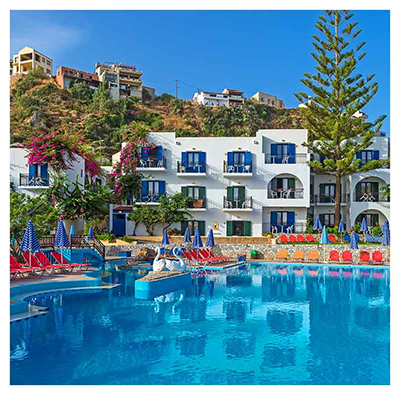 Platanias Chania | 4*
The Porto Platanias Village is designed like a traditional Cretan Village with small picturesque paths, squares and gardens full of flowers. It is located in the centre of Platanias, with a number of bars, tavernas, restaurants and cafes can be found as well as supermarkets, mini markets and speciality shops. The 4km long sandy beach of Platanias is also not far. It is a popular resort for families as it offers many amenities for small children, as well as being a good choice for couples with a range of facilities for relaxation.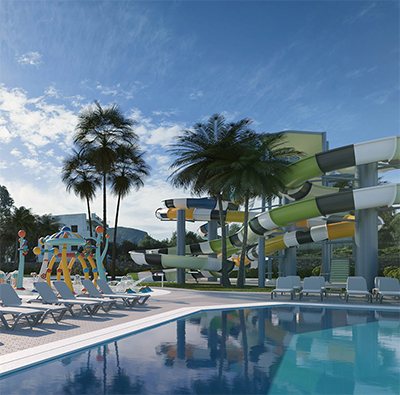 Creta Maris Beach Hotel
★★★★★
Creta Maris Beach Resort is situated next to Hersonissos, just 25 minutes from the Heraklion Airport. A blend of traditional and luxury, sitting on a beautiful beach among crystal clear waters, where guests can experience authentic Cretan hospitality.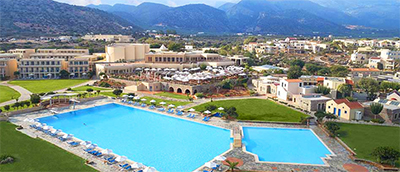 Kalimera Kriti Hotel & Village Resort
★★★★★
Kalimera Kriti Hotel & Village Resort is a unique resort located on the north-east coast of Crete. This resort with its three Cretan style villages is harmoniously spread over 60 acres of colourful Mediterranean gardens, with long golden sandy beaches. Enjoying the most romantic sunset over the crystal clear waters of the Cretan sea will evoke a feeling of romance and relaxation. It is approximately 45 km east of Heraklion and 900 meters from the village of Sissi.
Crete Holidays Online