Tenerife Holidays 2019/2020

Holidays in Tenerife certainly pack a punch when it comes to sun-drenched beach breaks. Jaw dropping to say the least, this island is less golden swathes of sand and more black volcanic seashores. But if it's yellow-white sands you're after, you'll find your ideal summer holiday spot in Las Teresitas. One thing's for sure, you'll return from your Tenerife holiday with a tan that even the most discerning sun-seeker would be proud of.
Did you know? The Tenerife flag is the same as Scotland's, this is because St Andrew is the patron saint of the island.
Tenerife Holiday Deals
Last Minute Deals
---
Code: SALE100
Min Spend: £1000
Booking Dates: 26th December 2017 - TBC
Travel Dates: 1st May 2018 - 31st October 2018
Booking Dates: 26th December 2017 - TBC
Travel Dates: 1st May 2018 - 31st October 2018
Booking Dates: 26th December 2017 - TBC
Travel Dates: 1st May 2018 - 31st October 2018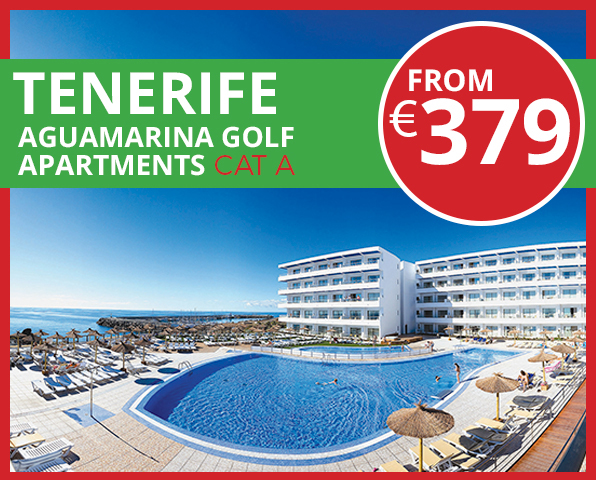 Aguamarina Golf Apartments - Tenerife
Tenerife Holiday Accommodation
Bahia Principe Tenerife Resort 5t
Costa Adeje

From its glorious seafront location to its gorgeous gardens and palm-island pool, this exceptional hotel really has the wow factor.

Apartments Aguamar 3t
Los Cristianos

The Apartments Aguamar is an attractive complex enjoying a convenient location for the resort centre.

Arona Gran 4t
Los Cristianos

Superbly positioned directly on the seafront, with fabulous views to Los Cristianos Harbour.

H10 Oasis Moreque 3t +
Los Cristianos

Situated on the sea front in the old fishing port of Los Cristianos, this hotel offers the combination of being part of a large hotel group, but remains a small and friendly hotel itself.

Hotel Paradise Park 4t +
Los Cristianos

Set on the upper slopes of Los Cristianos, this smart and stylish hotel offers courtesy transport to the beach ... but tempts you to stay right on site.

Tenerife Sur Apartments 3t
Los Cristianos

A well located property with a bustling atmosphere suitable for all ages.

H10 Las Palmeras Hotel 4t
Playa de las Americas

Feast your eyes on the fabulous gardens and their two free-form swimming pools.

Caledonia Park Hotel 3t
Playa de las Americas

A family-friendly all-inclusive complex, the Caledonia Park is well placed for the waterpark and within easy walking distance of San Eugenio's shops and bars.

H10 Conquistador 4t
Playa de las Americas

The Conquistador hotel is ideally suited for those in search of high standards both from the staff and the hotel.

Hotel Bitacora 4t
Playa de las Americas

Grown-ups will love the high standards of this member of the acclaimed Spring Hoteles group, with its spacious rooms and fine facilities.

Oro Blanco Apartments 3t
Playa de las Americas

Sharing facilities including a swimming pool, snack bar and reception services, these two buildings offer a good standard of well furnished accommodation.

Iberostar Hotel Bouganville Playa 4t
Playa de las Americas

Active holidaymakers enjoy the central location of the Bouganville Playa - close to the beach and Puerto Colon marina.

Iberostar Hotel Torviscas Playa 4t
Playa de las Americas

The recently refurbished Torviscas Playa stands in a prime position in this relaxing area of the resort.

Laguna Park I Apartments 3t
Playa de las Americas

Although a popular choice with families due to the on site children's clubs, this is the perfect setting for any age.

Parque de la Paz 3t
Playa de las Americas

Along with a pool, bar and restaurant right on site, all the holiday essentials are within effortless reach of these popular apartments.

Hotel Vulcano 4t
Playa de las Americas

The impressive entrance hall is the highlight of this well established hotel, where guests are greeted by elegant designs and lush vegetation.

Sunwing Fanabe Resort 4t
Playa Fanabe

High standards and a good range of facilities are the hallmarks of this popular self-catering complex.

Dunas Paraiso 4t +
Playa Fanabe

With a huge pool as the focal point of the grounds, and real attention to detail throughout the hotel, the Paraiso Dunas offers excellent standards.

H10 Tenerife Playa 4t
Puerto de La Cruz

In a privileged position on the waterfront of Puerto de la Cruz, with a dark sand beach and the famous lido almost on the doorstep.

Tamaimo Tropical Apartments 3t
Puerto Santiago

The Tamaimo Tropical is a large self-catering complex comprising of spacious apartments built in a traditional Canarian style.
Search more
Tenerife

Holidays with these tour operators:

Thomson Holidays | First Choice | A1 Travel | James Villa Holidays | Kuoni | lastminute.com | Jet2Holidays | Mercury Holidays | Monarch Holidays | Thomas Cook | Hot Holidays | LogiTravel | Olympic Holidays |