Tenerife Holidays 2019/2020

Holidays in Tenerife certainly pack a punch when it comes to sun-drenched beach breaks. Jaw dropping to say the least, this island is less golden swathes of sand and more black volcanic seashores. But if it's yellow-white sands you're after, you'll find your ideal summer holiday spot in Las Teresitas. One thing's for sure, you'll return from your Tenerife holiday with a tan that even the most discerning sun-seeker would be proud of.
Did you know? The Tenerife flag is the same as Scotland's, this is because St Andrew is the patron saint of the island.
Featured Tenerife Holidays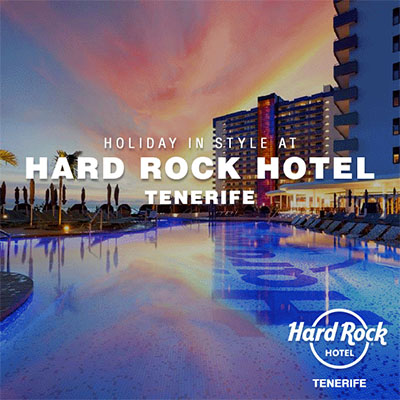 Whether you're looking for full-on relaxation or family-friendly fun, Hard Rock Hotel Tenerife has it all. Treat yourself at the first-class spa, indulge on gourmet cuisine at the five restaurants and check out the six stylish bars. With out-of-this-world facilities and superb service, you'll never want to leave!
Fine dining comes as standard
With so many cuisines to choose from, you can try something different every night of your stay. There's an international buffet restaurant, as well as tapas, Asian and steak-themed eateries, to name just a few. Why not end your night at The 16th rooftop bar, enjoying panoramic views across the Atlantic and live music?
Hard Rock Roxity Kids Club™
Every day's an adventure when they're rocking out at this action-packed kids' club. Got budding musicians in your family? They'll love the chance to perform on stage as their favourite singer or hone their skills on Guitar Hero. From tiny tots to teens, you child's every wish is catered for here.
You're a VIP at the indulgent spa
While the little ones are entertained at the kids' club, head to Rock Spa®, a state-of-the-art facility which provides total relaxation. Indulge in a treatment, before chilling out on the stylish terrace with a glass of champagne. With your own personalised playlist on, there really is no better spot to unwind.
Tenerife Holiday Accommodation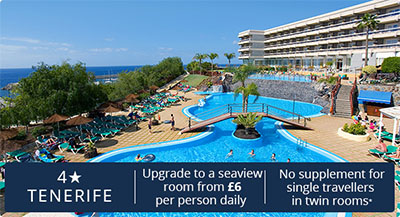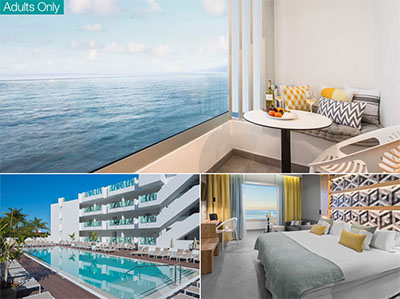 Puerto De La Cruz, Tenerife
★★★★
Want undisturbed views across the Atlantic? This hotel's chic suites boast sensational sea views that are bound to impress at any time of day. On Tenerife's north coast, you can enjoy beautiful sunsets and warm evenings on your balcony. Alongside a glass of wine, it's the perfect way to end a day.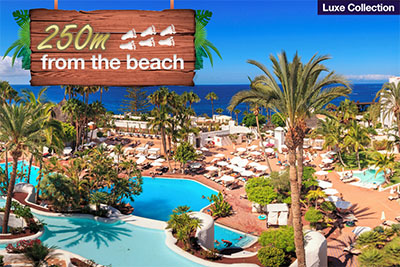 Costa Adeje, Tenerife
★★★★ Plus
Hotel Jardin Tropical is a stunning white-washed hotel with a subtropical style located on the seafront, which creates a sense of calm and relaxation throughout. The modern design, exceptional service and chic facilities are sure to impress, and guests of all ages will relish their time at this peaceful retreat. Your taste buds are also in for a delightful treat at this hotel as there's five unique restaurants on offer as well as a beach club and ample chill-out spaces and bars, while the beautiful lagoon-style pools are ideal for relaxed days in the sun.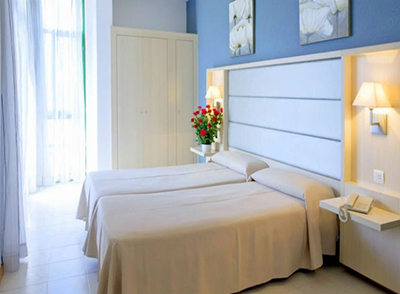 This excellent 5 storey hotel has two blocks encompassing a total 438 rooms. Ideally situated just 350 metres from the beach in the quiet area of Playa Fanabe, the Labranda Isla Bonita Hotel complex is the perfect place for an unforgettable holiday.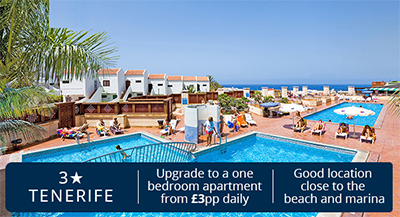 ★★★
Just thinking of Tenerife conjures up a wonderfully warm, sunny feeling of holiday contentment. You'll need a place to stay that's just right and the Hotel Villa de Adeje Beach is perfectly placed, close to the gorgeous beach at Torviscas, and just 500 metres from the Puerto Colon Marina. This is a holiday location with everything on hand - the shops, the attractions, the sun and the sand.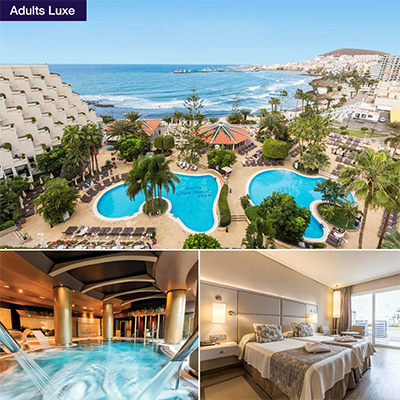 Los Cristianos, Tenerife
★★★★ plus | Our Rating
Located on the seafront overlooking Los Cristianos bay, Spring Arona Gran Hotel & Spa is an adults only hotel designed to be the perfect getaway for couples and friends alike. Featuring an elegant and modern style throughout, this hotel offers a great choice of facilities including spacious rooms, two restaurants and a relaxing Thalasso spa. Upgrade to an Exclusive UP Service room to gain access to the "UP!" rooftop terrace where you will find a stunning infinity pool, sunbeds and whirlpool as well as complimentary snacks and drinks!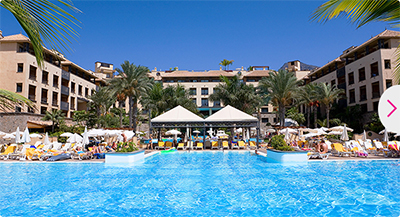 Costa Adeje ★★★★★
Situated in the resort of Costa Adeje, in the south of Tenerife, the Costa Adeje Gran Hotel is only 500m from Duque and Fanabe Beaches. Offering a superb range of facilities and with the many attractions of Costa Adeje on its doorstep, this five star hotel is the perfect year round choice for a stunning holiday to Tenerife.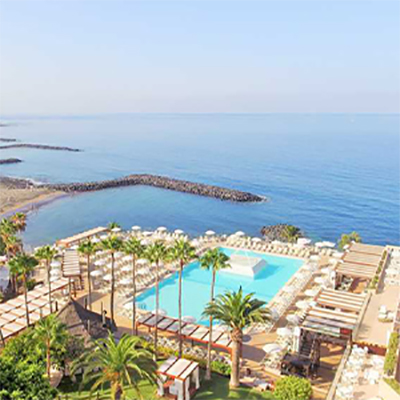 Iberostar Bouganville Playa
Costa Adeje, Tenerife ★★★★
This four-star hotel is located in Costa Adeje, in the south of the island of Tenerife. It is situated in a beachfront location next to the town, and approximately 250m from the nearest bathing spot, with many activities and attractions to explore.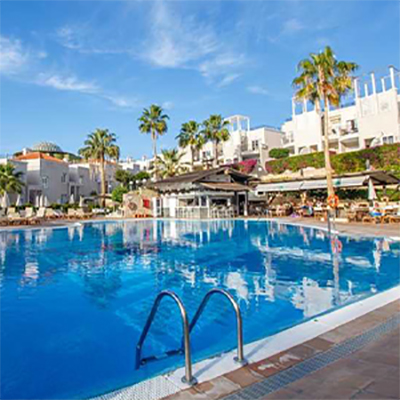 Los Olivos Beach Resort
Costa Adeje, Tenerife ★★★
The beautiful Los Olivos Beach Resort boasts a range of luxurious apartments with a spectacular location on the doorstep of Playa de Fanabe and just 5m from public transport. The relaxing complex offers two outdoor pools, along with a choice of restaurants and bars, providing the perfect sunny getaway for families and friends.
Tenerife Holidays Online