Islands of the Indian Ocean Cruise
16 November 2018 | 14 Nights
Cruise Information
Departure Port: Port Louis, Mauritius
Departure Date: 16 November 2018
Duration: 14 nights
Ship: Boudicca
Cruise Code: D1725
Price From: £2,399pp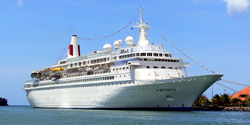 Ship: Boudicca
Cruise Line: Fred Olsen
Departures: 16 November 2018
Duration: 14 nights

POPULAR CRUISE
Meet Boudicca in Mauritius and embark on an epic, 14-night exotic voyage, taking in a selection of the most beautiful and culturally diverse islands in the Indian Ocean.
Before setting sail, sample the authentic Mauritian lifestyle in Port Louis – a city famed for its mix of cultures, religions and ethnicities – or perhaps visit Casela National Park and experience the once-in-a-lifetime thrill of walking with lions. Alternatively you could discover the breathtaking Trou-aux-Cerfs volcano, sacred lake and 'Seven Coloured Earth' sand dunes on a stunning South Island tour. Then in the Seychelles, an abundance of 'must-do' experiences await. Explore the UNESCO-listed forests of Vallee De Mai in search of huge Coco de Mer nuts and relax on the paradise Anse Lazio beach on a Praslin Island tour; and encounter friendly land tortoises with a boat trip to uninhabited Moyenne Island from Victoria, Mahe. Sandwiched between these calls is a magical cruise by Silhouette Island at sunset – a simply unforgettable spectacle.
The marvels of Mayotte are yours to experience during a day-long stop at Mamoudzou, the French island's sprawling capital. Step ashore and take in the charming architecture of the city, or perhaps venture deeper into the island's lush landscapes and scale the rolling peaks for incredible vistas. Don't miss the chance to go snorkelling with tropical fish, turtles and even dolphins in the Indian Ocean's largest lagoon. Magnificent Madagascar is renowned for its amazing fauna and flora, and you'll have two days to discover the best of this world-famous natural wonderland. First you'll visit Hell-Ville, which is perfectly placed for tours to Nosy Be's tropical, 740-hectare Lokobe National Park; then sail to Diego Suarez for trips to Amber Mountain National Park. Both of these calls offer you the chance to see wonderful wildlife such as lemurs, chameleons, geckos, boa constrictors and much more in their unspoilt natural habitat. Before returning to Mauritius, you can also savour the sweeping volcanic landscapes of Reunion Island on a hike or exhilarating helicopter tour from Port Reunion.
Itinerary
November 2018 Thu 16 Port Louis, Mauritius
Port Louis, Mauritius
Port Louis, Mauritius's capital and  busiest  city is an exhibition of everyday Mauritian life. Head to the busy market and experience excitement of shopping in Port Louis or take a trip to the sparkling new waterfront to sample local cuisine and the island's 58 varieties of tea. To get closer to nature, visit the famous Pamplemousses Botanical Gardens.
Fri 17 Late PM Port Louis, Mauritius
Mon 20 Early AM Praslin Island
Praslin Island, Seychelles
Take the opportunity to indulge in complete relaxation on the white sandy beaches of Praslin Island in the Seychelles. Originally the perfect hideaway for pirates, it is now the perfect example of tropical paradise, with crystal blue seas and tropical forests.
Tue 21 Early PM Praslin Island
Tue 21 Late PM Late PM Cruising by Silhouette Island at Sunset
Cruise by Silhouette Island at Sunset, Seychelles
Experience a simply unforgettable sunset as you cruise by stunning Silhouette Island, the third largest island in the beautiful Seychelles archipelago. 
Tue 21 Late Night Victoria, Seychelles
Victoria, Seychelles
Indulge in some uninterrupted relaxation among the golden sands of the Seychelles in one of the worlds smallest capitals, Victoria. Surrounded by green and blue swells of quietly rippling Indian Ocean and sprinkled with dense forests and tall hills offering breathtaking views, the Seychelles are the epitome of paradise.
Wed 22 Late Night Victoria, Seychelles
Sat 25 Early AM Late PM Mamoudzou, Mayotte, Comoros Islands
Mamoudzou, Mayotte, Comoros Islands
Mamoudzou is the capital of Mayotte, a beautiful French overseas department in the Comoros Islands archipelago. Located on Grand-Terre, the main island of Mayotte, Mamoudzou is a gateway to the region's most spectacular sights and cultural delights.
Sun 26 Early AM Late PM Hell-Ville (Andoany), Nosy Be, Madagascar
Hell-Ville (Andoany), Nosy Be, Madagascar
Although commonly known as Hell-Ville, Andoany – the capital of the beautiful Madagascan island of Nosy Be – is anything but 'hellish'. Warm and welcoming, the city boasts fine colonial architecture, busy markets and a pretty harbour. It's also a gateway to the island's stunning rainforests, fascinating wildlife and sun-kissed beaches.
Mon 27 Early AM Early PM Antsiranana (Diego Suarez), Madagascar
Antsiranana (Diego Suarez), Madagascar
Antsiranana (formerly Diego Suarez) is the largest city in Northern Madagascar, located close to one of the world's largest and most beautiful natural bays.
Wed 29 Early AM Late PM Port Reunion, Reunion Island
Port Reunion, Reunion Island
A republic of France, Reunion is like is like a tropical version of the French Riviera, with gourmet restaurants, sandy beaches and chic boutiques. An island that begs to be explored, Reunion's lush landscapes and vast mountain ranges provide some incredible views and picture opportunities.
Thu 30 Early AM Port Louis, Mauritius
Boudicca
Loved by Fred.'s staff and guests alike, beautiful Boudicca oozes a sense of class, style and elegance not seen or experienced on modern megaships and floating theme parks. On board Boudicca, like on all Fred. Olsen ships, the emphasis is on providing an intimate and more traditional cruise experience, ensuring our guests disembark after their relaxing holiday as friends, not just customers. 
Up to 880 guests can cruise in pure comfort on board Boudicca, enjoying ample space and fantastic restaurants, lounges, bars and facilities. Indulge yourself with delicious dinners in the Four Seasons, Tintagel or the Heligan Room restaurants; take a dip in one of the three heated pools; watch a show in the Neptune Lounge; simply relax on the Sun Deck; enjoy al fresco dining at The Grill and much more without ever feeling overcrowded. Cruising alongside hundreds, not thousands of like-minded travellers also ensures that staff on board Boudicca can provide Fred.'s renowned personal, attentive service, catering to your every want and need.

Boudicca sails from ports all around the UK, and thanks to her new Terrace Balcony Rooms, offers plenty of opportunities to enjoy unforgettable sights and experiences as you cruise the world's most spectacular waterways to a string of stunning destinations.