Islands of the Mediterranean Cruise
5 April 2018 | 17 Nights
Cruise Information
Departure Port: Southampton, UK
Departure Date: 05 April 2018
Duration: 17 nights
Ship: Balmoral
Cruise Code: L1705
Price From: £1,599pp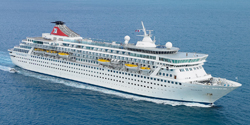 Cruise Line:
 Fred Olsen
YOUR TIPS COVERED
Cruise to the Mediterranean aboard Balmoral and enjoy glorious spring sunshine as you hop between stunning Spanish, French and Italian islands. Enlightening and indulgent in equal measure, this fantastic 17-night voyage is sure to have you head over heels for this beautiful part of the world.
Calls into two of Spain's most popular holiday islands follow a short stay in the charming port city of El Ferrol – the perfect start to your sun-splashed sailing. Experience the renowned party atmosphere and vibrant nightlife of Ibiza, where you could also visit the famous salt flats of Las Salinas and see the 16th century structures of the UNESCO-list Dalt Vila Old Town; then explore narrow streets in search of shops, cafés and bars in Mahon, which also boasts beautiful beaches. The breathtaking coastline and countryside of Corsica awaits your exploration next, with Balmoral calling into Ajaccio. Marvel at the spectacular gorges of Prunelli, where huge granite cliffs plunge into the Prunelli River; or alternatively stay in the city to explore the life of Napoléon Bonaparte – an Ajaccio native – at several superb museums.
The incredible Italian islands of Sardinia and Sicily are next on the itinerary. Make the most of Fred.'s maiden call into the Sardinian city of Olbia to sample the celebrity lifestyle at the glitzy Costa Smeralda resort and discover historic highlights such as the beautiful 11th century Basilica of San Simplicio; then wander the streets of Palermo – the capital of Sicily – to find a picture book of attractions, including the Royal Palace, the Cathedral, Teatro Politeama and Teatro Massimo. Returning to Spain, take in the scenic highlights of Mallorca on an electric train tour from Palma, and while away a few hours relaxing on the island's white sands; then explore the Roman history of charming Cartagena. A day in Lisbon – the picturesque Portuguese capital – is a delightful end to this fantastic cruise.  
Itinerary
April 2018 Wed 05 Late PM Southampton, UK
Southampton, UK
We offer a range of fantastic cruises from Southampton. Sail to the warmth of the Canaries, the majestic Norwegian Fjords, the wonderful American Deep South or the vibrant cities of the Far East. Wherever you want to visit, we have a cruise for you.
Fri 07 Early AM Early PM El Ferrol, Spain
El Ferrol
El Ferrol is a city in La Coruña provincia, in the comunidad autónoma ("autonomous community") of Galicia, in extreme northwestern Spain on the Ferrol Inlet of the Atlantic Ocean.
Mon 10 Early PM Late Night Ibiza, Spain
Ibiza, Spain
Join a Mediterranean cruise and experience the charming Spanish Island of Ibiza.
Tue 11 Early AM Early PM Mahon, Menorca
Mahon
The narrow streets of Mahon have a charming mixture of chic shops, restaurants and bars to be discovered.  From here you can discover the beauty of Menorca: the sleepy fishing villages, stunning beaches and Monte Toro, the island's highest peak. 
Wed 12 Early AM Early PM Ajaccio, Corsica
Ajaccio, Corsica
Friendly capital of this captivating 'Isle of Beauty'.
Wed 12 Late Night Late Night Cruising by Bonifacio, Corsica
Cruising by Bonifacio, Corsica
Bonifacio is a picture-perfect Corsican town perched atop pearly-white cliffs and surrounded by gorgeous azure waters. 
Thu 13 Early AM Late PM Olbia, Italy
Olbia, Italy
Situated on the beautiful North East coast of Sardinia, Olbia is often used as a gateway to the island's fashionable Costa Smeralda holiday resort. A fascinating ancient city, Olbia is also well worth exploring to discover a number of historic structures and archaeological sites. 
Fri 14 Early PM Late PM Palermo, Sicily, Italy
Palermo, Sicily, Italy
Sicily's ancient capital has been around for nearly 3,000 years since its foundation by Phoenician traders.
Sun 16 Early AM Late PM Palma, Mallorca
Palma, Mallorca
Palma is the cosmopolitan capital of Mallorca, the most popular of the Balearic Islands (if not the entire Mediterranean)
Mon 17 Early AM Late PM Cartagena, Spain
Cartagena
Cartagena's Old Town is protected by the city walls. There's a natural harbour that is watched over by the medieval Castillio de la Concepcion, from which there are superb views. Many of the buildings from Roman Cartagena have disappeared, but some important sites remain, including the amphitheatre dating from around 100BC.
Wed 19 Early AM Early PM Lisbon, Portugal
Lisbon, Portugal
Spread out over seven hills on the north of the River Tagus, Lisbon is a delightful mix of palaces, art-nouveau cafés, museums, gardens, ancient castles and splendid bridges. Don't miss a visit to the Centro Commercial Colombo – the biggest shopping mall on the Iberian Peninsula!
Sat 22 Early AM Southampton, UK
Balmoral
Named after the Scottish home of the Royal Family, Balmoral is a classically styled ship exuding a welcoming, friendly atmosphere and a warming, home-from-home feel. Capable of carrying up to 1,350 guests in pure comfort, Balmoral is the newest and largest ship in the Fred. Olsen fleet but never feels overcrowded, ensuring those on board always enjoy ample space and receive Fred.'s renowned personal, attentive service. 
A range of dining options are available on Balmoral, with mouth-watering menus to suit all tastes on offer in the elegant restaurants; and the fantastic selection of bars and lounges are perfect for enjoying a pre-dinner drink, sumptuous afternoon tea and superb entertainment. The Marquee Bar has its very own evening Gin Menu, including a variety of premium gins; while the Observatory Lounge offers spectacular panoramic views from the bow of the ship and a glass dance floor designed for late-night entertainment. The broad spiral staircase at the heart of the ship is one of Balmoral's key features, as is the stunning walkway towards the beautiful Ballindalloch Restaurant, where you can admire photographs and paintings from Fred.'s private collection.
There's also a comfy pub with occasional live music or comedy, cabaret and shows in the Neptune Lounge, and the serene Atlantis Spa, where guests can treat themselves to a range of treatments from manicures to massages – the perfect holiday indulgence. Balmoral also features two swimming pools and bubbling Jacuzzis, ideal for keeping fit and for relaxing in the sunshine.