Interested in any of our holidays? - Contact Us Here

Cruising The Fjordland Cruise
8 July 2016 | 9 Nights
Cruise Information
Departure Port: London Tilbury, UK
Departure Date: 08 July 2016
Duration: 9 nights
Ship: Black Watch
Cruise Code: W1609
Price From: £1,599pp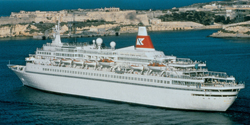 Cruise Line:
 Fred Olsen
ADULTS ONLY CRUISE
Including 8 of the official top 10 Norwegian fjord experiences, as voted by the Norwegians, this stunning scenic cruise is packed with unforgettable sights from beginning to end. Cruise the mesmerising still waters of Lysefjord – Fred.'s guests' favourite western fjord – and glide past the legendary Pulpit Rock plateau which towers 604 metres above the fjord. You'll also get to see the intriguing Kjeragbolten rock that's wedged between one of Kjerag Mountain's huge rocky crevices high above the water's edge. 
Glide through narrow, winding waterways and see the tumbling white-water of the famous Seven Sisters and Suitor waterfalls deep within the heart of Geirangerfjord and Nærøyfjord – the joint number one UNESCO World Natural Heritage Sites, as voted by National Geographic. See Strandafjellet Mountain; gaze at the stunning Jostedalsbreen Glacier at the end of the Nordfjord; and ride the fantastic Flåmsbana and funicular railways in Flåm and Bergen – two of Norway's most picturesque and historic destinations – to get closer to the soaring peaks, tumbling waterfalls and towering cliffs of the fjords. 
Itinerary
July 2016 Fri 08 Late Night London Tilbury, UK
London Tilbury, UK
Sun 10 Late PM Late PM&Kjerag
Cruising Lysefjord, Preikestolen & Kjerag
Enjoy an unforgettable scenic cruise along the beautiful Lysefjord, where you'll sail past the famous Kjerag Mountain and underneath the incredible 'Preikestolen' (Pulpit Rock).
Sun 10 Late Night Late Night Cruising Karmsund
Cruising Karmsund
Cruise along Karmsund, a narrow channel between Karmoey Island and Haugesund, which is only passable by smaller ships like Black Watch. Larger ships have to cruise 10 nautical miles out into the open sea.
Mon 11 Early AM Early PM Eidfjord, Norway
Eidfjord, Hardangerfjord
Eidfjord is a picturesque village set within the breathtaking Hardangerfjord. It's a gateway to some of the region's most spectacular highlights, including the Hardangervidda Nature Centre and the Voringfossen Waterfall.
Eidfjord, Hardangerfjord must do
A TASTE OF THE HARDANGERFJORD
Sample local culinary specialities
Taste apple juice and cider from the orchard
Travel alongside the spectacular Hardangerfjord
Mon 11 Early PM Late Night Cruise Hardangerfjord, Norway
Cruise Hardangerfjord
Experience the breathtaking landscape of Hardangerfjord.
Tue 12 Early AM Late PM Flåm (Flam), Norway
Flåm (Flam), Sognefjord
Flåm is a tiny village on the banks of the Aurlandsfjord, one of the branches of the beautiful Sognefjord – the longest and deepest fjord in Europe. The setting is utterly spectacular.
Tue 12 Late PM Late PM Cruising Nærøyfjord (Naeroyfjord)
Cruising Nærøyfjord (Naeroyfjord)
Cruise along the Nærøyfjord (Naeroyfjord), a fjord rated by National Geographic as the world's number one natural heritage site. 
Tue 12 Late Night Late Night Cruising Sognefjord
Cruising Sognefjord
The Sognefjord is one of the world's longest fjords and the largest in Norway. This spectacular waterway will showcase magnificent scenery, snow-capped mountains and glistening waterfalls.
Wed 13 Early AM Late Night Cruising Nordfjord
Cruising Nordfjord
The Nordfjord is one of Norway's longest and most picturesque fjords, with the stunning Jostedalsbreen Glacier and Stadhavet Ocean located at either end. 
Wed 13 Early AM Late PM Olden, Norway
Olden, Nordfjord, Norway
The charming village of Olden is set amongst green meadows – ablaze with colourful flowers throughout the summer – and babbling brooks meandering between pretty houses. It's the gateway to the famous Briksdal glacier arm, which is set between tumbling waterfalls and high peaks.
Wed 13 Late Night Late Night Cruising Hornelen
Cruising Hornelen
Cruise alongside Hornelen and marvel at the highest sea cliff in Europe. 
Thu 14 Early AM Late PM Geiranger, More og Romsdal
Geiranger, More og Romsdal
The scenery around the attractive town of Geiranger is some of the most breathtaking in Europe; Geirangerfjord itself is listed as a UNESCO World Heritage Site. Kayak the clear blue water and see abandoned farms clinging to near-vertical cliffs and tumbling waterfalls such as the Seven Sisters, the Suitor and the Bridal Veil. For less energetic visitors, a walk along the waterside is a delight to be savoured.
Thu 14 Late PM Late Night Cruising Geirangerfjord
Cruising Geirangerfjord
Surrounded by majestic snow-capped mountains and thundering waterfalls, the deep blue Geirangerfjord is unique and exceptionally breathtaking.
Thu 14 Late PM Late PM Cruising past Seven Sisters Waterfall
Cruising past Seven Sisters Waterfall
Enjoy a scenic cruise along the incredible Geirangerfjord and enjoy breathtaking views of one of Norway's most famous and most impressive natural wonders - the Seven Sisters waterfall. 
Thu 14 Late PM Late PM Cruising past Strandafjellet Mountain
Cruising past Strandafjellet Mountain
Located in Sunnmørsalpene (the Sunnmøre mountain range) the views of Strandafjellet Mountain from your cruise ship are spectacular, surrounded by the clear blue waters of the Geirangerfjord.
Thu 14 Late Night Late Night Cruising Sunnylvsfjorden
Cruising Sunnylvsfjorden
With the town of Hellesylt lying at the end, and at 16 miles long, Sunnylvsfjorden is one of the most innermost branches of the large Storfjorden. The famous Geirangerfjord branches off from this stunning fjord.
Fri 15 Early AM Early PM Bergen, Norway
Bergen, Norway
The Hanseatic city of Bergen has many attractions, including the UNESCO-listed Bryggen Wharf, with its colourful timbered houses and cobbled streets; a vibrant fish market; and the Troldhaugen Museum, the former home of Norway's most famous composer, Edvard Grieg.
Bergen, Norway must do
GRIEG'S BERGEN
Catch a glimpse of Bergen's past in a corner of western Norway that abounds in culture and history
Visit Grieg's summer home in the outskirts of Bergen
Be enchanted by some of his works during an exclusive concert 
Sun 17 Early AM London Tilbury, UK
Black Watch
Black Watch is sleek, intimate and harks back to the days when cruise ships were revered for their style and charm. Focusing on providing a traditional cruise experience rather than gimmicks such as climbing walls and on board bumper cars, Black Watch feels friendly and familiar. This is further enhanced by the attentive staff who strive to offer service with a smile and remember the important things, such as your name and favourite tipple and how your like your eggs cooked at breakfast.

Able to accommodate up to 804 guests, there are a selection of suites and ocean view rooms to choose from, providing ample room and everything you need for a comfortable enjoyable and stress-free stay; and spacious public rooms bathed in natural light and retaining the elegant style of a traditional cruise ship. Black Watch has four restaurants options, including the stylish Glentanar Restaurant and beautiful Orchid Room which has a wonderful oriental look and feel. Before dinner you could delve into a good book in the well-stocked library, relax in the warmth on the Sun Deck, sample a great selection of premium gin at the Marquee Bar, or even devour a premium afternoon tea. Don't miss the extravaganza of music, dance and comedy at evening shows in the Neptune Lounge. 

Black Watch sails from ports all around the UK, and thanks to her new Terrace Balcony Rooms, offers plenty of opportunities to enjoy unforgettable sights and experiences as you cruise the world's most spectacular waterways to a string of stunning destinations.