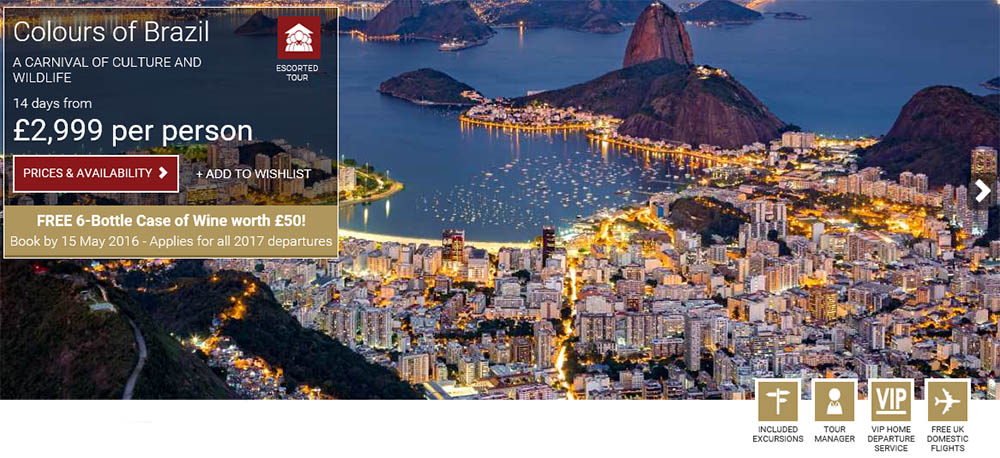 Colours of Brazil
Escorted Tour
Offer: Save Up To £300
When imagining Brazil, endless jungle, Rio de Janeiro and vibrant carnivals spring to mind. Our new tour embraces all these, with the opportunity to meet Christ the Redeemer and perhaps watch extravagant carnival costumes and floats being created in captivating Rio de Janeiro. We also stand in awe of Iguazu Falls and watch the natural phenomenon at the source of the Amazon River. As a country that is approximately the same size as Europe and covers half the South American continent, there is much to see and our adventure continues to the state of Bahia, a place of beauty, magic and traditions, renowned for a constant celebration of happiness, kindness and spontaneity.
Including...
11 nights in hotel and 2 in flight (accommodation as specified or similar)
20 meals: 11 breakfasts (days 3-13) 4 lunches (days 6, 8-9 and 12) 5 dinners (days 3, 5 and 7-9)
Included excursions and visits: 12
Rio city tour including Corcovado & Sugarloaf Mountain
Tour of the Brazilian side of Iguazu Falls
Tour of the Argentinean side of Iguazu Falls
Visit to Bird Park at the Falls
Visit to a Caboclo house
Canoe night tour
Full-day excursion to 'The Meeting of the Waters'
Full-day tour of the local Amazon region, including visit to Monkey Forest
Evening Amazon fishing tour
City tour of Manaus
Salvador city tour
Cachoeira tour
Plus all these benefits:
Titan's VIP Home Departure Service®
Free connecting flights from regional airports
Check-in service by Titan staff with porterage
Services of an experienced Titan tour manager
Scheduled TAM Airlines flights via Sao Paulo. Internal flights as detailed in the itinerary
Best available coaches with experienced drivers
Hotel porterage (one bag per person)
Airport taxes, security charges and fuel surcharges
UK Air Passenger Duty (APD)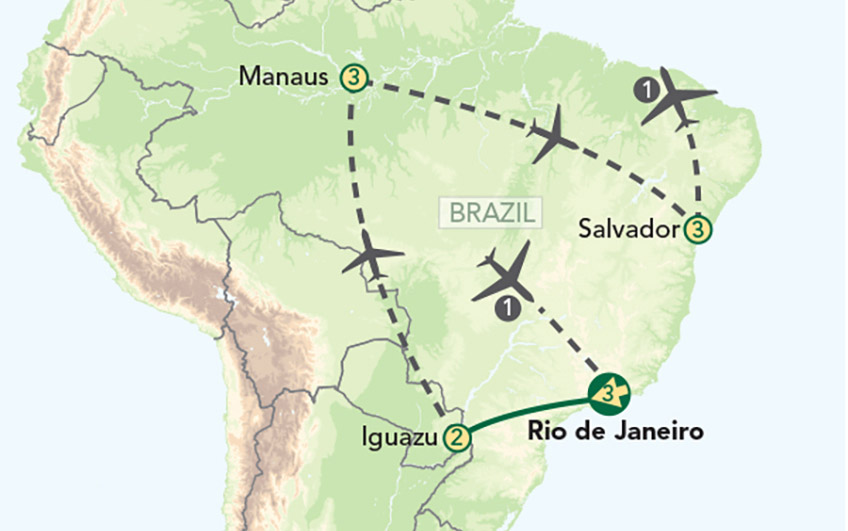 14 Day Itinerary:
Day 1 London - In flight
Titan's VIP Home Departure Service® collects you from home, for your journey to London Heathrow Airport and a scheduled TAM Airlines flight to Rio de Janeiro via Sao Paulo.
Day 2 Rio de Janeiro
Upon arrival, we transfer to the Mirador Rio Hotel (3T+), where we are greeted with a welcome drink. The rest of the day is free to relax and enjoy your surroundings.
Day 3 Rio de Janeiro
Our adventure starts today with a true highlight - we board a cog-train to ascend 748 metres through the dense Tijuca Forest up Corcovado Mountain where, after climbing steps to reach its peak, we will be greeted with the magnificent sight of Christ the Redeemer, and share his breathtaking views over the city. Learn about the creation of this iconic 130ft statue in 1931, before descending by train. Our tour continues past Rio's world-famous beaches to the Urca district where we board a cable car for a two-staged ascent of Sugarloaf Mountain. At the peak of this unforgiving natural landmark, we invite you to sip a typical Caipirinha while admiring the views of Niteroi, Copacabana and Santa Cruz Fortress at sunset. Dinner is included in a local restaurant this evening.
Day 4 Rio de Janeiro
Today is free for you to explore this captivating city, or choose an optional excursion. Maybe take a unique walking tour of downtown Rio to hear the legends and stories, as you walk past the historical buildings. The excursion also includes Maracana Stadium, with a tour through the grandstand and locker rooms. Alternatively, choose an excursion to the Samba School warehouse, where carnival costumes and floats are manufactured and stored for a year in advance. This evening you have an additional option to be entertained by samba bands and skilled dancers in a wonderful display of Brazilian folklore and Carnival.
Day 5 Rio de Janeiro - Iguazu Falls
This morning we depart Rio for a flight to Iguazu. On arrival, we transfer to Recanto Cataratas Thermas Resort (4T). This afternoon, one of the biggest wonders of nature in South America awaits - Iguazu Falls. We travel through Iguazu National Park to visit the Brazilian side of the falls and walk beside cascades along a path that leads very close to the bottom of the Devil's Throat to enjoy magnificent views.
Day 6 Iguazu Falls
Today we cross the border for a tour of the Argentinean side of the falls. Once in Argentina, we take a scenic drive through the Argentinean Iguazu National Park, stopping at the Visitors' Centre and proceeding by Ecological Jungle Train to the most impressive observation point of the falls - The Devil's Throat. Lunch is included in a local restaurant. After returning to Brazil, this afternoon we visit the Bird Park, where a walking trail through native woods offers the chance to spot some of 150 species of birds, as well as viewing a butterfly cage, hummingbird aviaries and the reptile section.
Day 7 Iguazu - Manaus - Amazon
This morning we fly via Brasilia to Manaus, the Amazonas State capital. On arrival we transfer to the Amazon Ecopark Jungle Lodge (3T) in Rio Tarumã, where we will be greeted with refreshments. You might choose to start exploring the beautiful Amazon jungle that surrounds you before we visit a Caboclo's House to learn about the traditions and customs of local Amazonians and take to canoes to appreciate the sounds of the jungle at night, with the possibility of spotting small alligators and other nightly creatures.
Day 8 Amazon
Board a boat to sail down the Negro River, navigating along the shore of the city of Manaus with views of the Amazonas Theatre and the Port of Manaus, and interesting glimpses into local life including stilt houses. We arrive at 'The Meeting of the Waters', a spectacular merge of Negro and Solimões Rivers. From this point the rivers form the legendary Amazon that runs all the way to the Atlantic Ocean. The waters of the two rivers run together for about 12kms, side by side, without mixing. The phenomenon happens due to differences in temperature, density and speed of the waters of the rivers. Lunch is included and we return to the Amazon EcoPark Jungle Lodge (3T) in time for dinner.
Day 9 Amazon
For today we have a full-day excursion to explore the variety of the flora and fauna of the Amazon region and visit Monkey Forest. Since 1991, this non-profit making institution receives animals which have been confiscated from illegal commerce and facilitates the rehabilitation and re-introduction of wild animals in their habitat. This evening you have the opportunity to take a fishing tour in the Amazon, in search of piranhas and other species.
Day 10 Amazon - Salvador
On the way to the airport, explore Manaus on a city tour - see the market place, the busy harbour and the Opera House, a magnificent example of Neo-classical architecture and considered one of the most beautiful theatres in the world. We continue to the airport for a flight, via Brasilia, to Salvador, named by Brazilians as the 'Land Of Happiness'. On arrival, we transfer to the Hotel Vila Galé Salvador (4T).
Day 11 Salvador
We take a sightseeing tour of Salvador this morning, taking in its principal historical landmarks including the Farol da Barra lighthouse and Municipal Square with a stop at the art deco Elevador Lacerda, for a breathtaking view of Baía de Todos os Santos 'All Saints Bay'. Walk through the cobblestone streets of the Pelourinho district, the city's historic, UNESCO-listed old town. Visit the Baroque Cathedral, built by the Jesuits in 1672 and Sao Francisco Church, Brazil's most famous religious structure with its intricately-carved gold-leafed rosewood interior, fine paintings and sculpture and silver ornamentation. We return to the hotel for an afternoon at leisure. This evening there is an optional dinner at a typical restaurant accompanied by colourful Afro-Brazilian dance and music show.
Day 12 Salvador
Today we explore Cachoeira, a town of fine colonial architecture founded by Diogo Alvarez, the only survivor of a shipwreck in 1510. The small town is one of the main centres of Candomblé, an African-based religion, and the beat of spirit drums can be heard emanating from tiny huts all over the region on Fridays and Saturdays. After a tour of the local market and historical churches, we take lunch at a farm and visit a local tobacco factory. After free time, you may like to spend your evening visiting a local Candomblé House to witness a traditional Candomblé ceremony that pays homage to the Orixas (African Gods).
Day 13 Salvador - In flight
Today we travel on to Salvador Airport for a scheduled TAM Airlines flight to London via Sao Paulo.
Day 14 London
Arrival at London Heathrow Airport where you will be met and guided to your Titan vehicle, for the journey home.
Colours of Brazil
Brazil
14 days from
£2,999 per person
Prices subject to availability & change