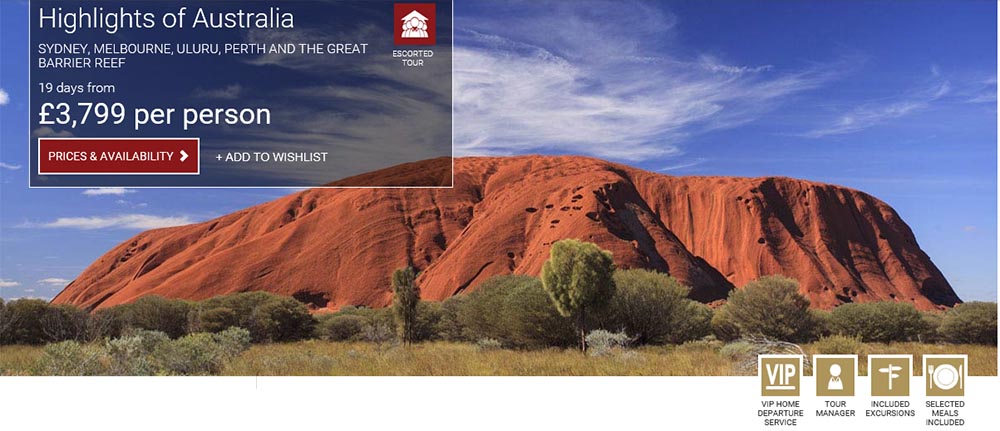 Highlights of Australia
Escorted Tour
Offer: Save Up To £500
Australia's diverse natural history has evolved the country into a nature lover's delight which has awed British explorers since James Cook and Joseph Banks set foot in 1769. It is now home to 15 World Heritage Sites and 550 national parks. The terrain offers a haven to innumerable species of plants and creatures, many unique to this vast continent. On this holiday, discover just how diverse Australia is, from the seasonal southern states of New South Wales, Victoria and Western Australia, to tropical Queensland and the Northern Territory's 'red centre', and see Australia's natural and man-made icons - the Great Barrier Reef, Uluru, and Sydney Opera House.
Including...
15 nights in hotels, 3 in flight
(accommodation as specified or similar)
4 meals: 4 lunches (days 4, 8, 10 and 14)
Included excursions and visits: 11
City tour of Sydney
Captain Cook Harbour Cruise
City tour of Melbourne
Entry to Cooks' Cottage
Full-day excursion to the Yarra Valley, including lunch at a winery
Great Barrier Reef Cruise
Visit to Kata Tjuta
Sunset viewing of Uluru
Sunrise tour of Uluru
City tour of Perth
Fremantle river cruise
Plus all these benefits:
Titan's VIP Home Departure Service®
Check-in service by Titan staff with porterage
Services of an experienced Titan tour manager
Scheduled Qantas flights via Dubai
Best available coaches with experienced drivers
Hotel porterage (one bag per person)
All airport taxes, security charges and applicable fuel surcharges
UK Air Passenger Duty (APD)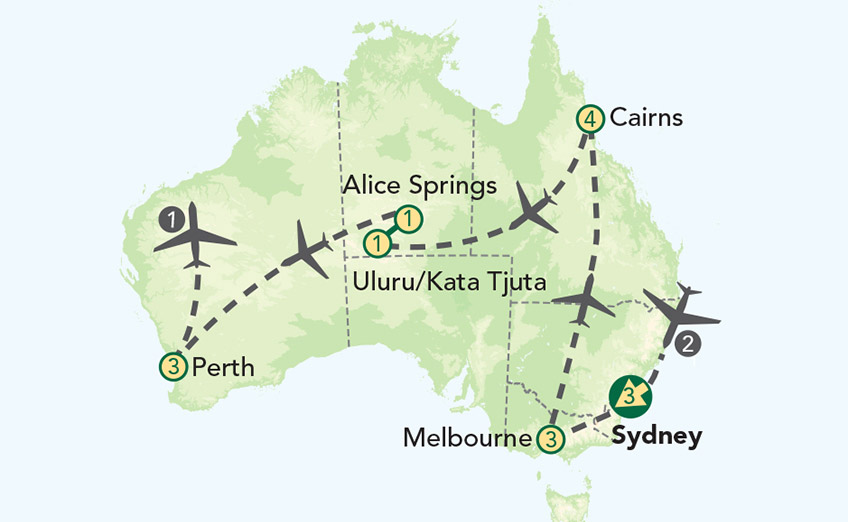 19 Day Itinerary:
Days 1-2 London - In flight
Titan's VIP Home Departure Service® collects you from home, for your journey to London Heathrow Airport and a scheduled Qantas flight to Sydney via Dubai.
Day 3 Sydney
On arrival our coach transfers you to the Travelodge Wynyard (3T+), where your room will be ready for you to make home for the next three nights. Take some time to relax with the remainder of the day at leisure.
Day 4 Sydney
A city tour introduces the highlights of Sydney, one of the world's greatest cities. Dominated by 'the coat hanger' Sydney Harbour Bridge and the distinctive white sails of the Opera House, Sydney's harbour is one of the most recognisable in the world. The 19th century Royal Botanical Gardens and Hyde Park, famed for its magnificent fig-tree-lined avenues, also reward a visit. In the early afternoon, we board a cruise vessel for an unforgettable exploration of Sydney from the water's perspective, including lunch - see its sumptuous waterfront homes and its iconic harbour in more detail.
Day 5 Sydney
A full day at leisure to explore Sydney. A leisurely stroll from our hotel will take you through the charming old dockland streets of the Rocks - the area where the first British convicts settled, which retains much of its Victorian character thanks to the efforts of conservationists in the 1960s and 1970s, and now hosts numerous fine shops, galleries and restaurants. Nearby Circular Quay has some wonderful dining venues of its own. On the other side of the Quay is the unmistakable shape of the Opera House, which invites countless photo opportunities. Stroll through the Botanical Gardens, admiring the flora, and along historic Macquarie Street, a parade of grand colonial-style buildings including the State Conservatory of Music, Parliament House and the Mint, all designed by Englishman Francis Greenway, who was transported to Australia for forgery. Shopping opportunities abound in Sydney, but many of the best can be found on Pitt Street, running south of Circular Quay, and George Street, which boasts one of the most sublime shopping centres in the world - the Queen Victoria Building, with its three floors of bow-fronted shops adorned with marble, gilt, rich panelling and stained glass.
Day 6 Sydney - Melbourne
We take a morning flight to Melbourne and spend the afternoon familiarising ourselves with Victoria's capital on a tour that takes in the fine contrast of Victorian, Edwardian and 21st century buildings that line wide boulevards plied by the ubiquitous trams, and its Botanical Gardens, a substantial part of the delightful parkland that comprises more than one third of this 'garden city'. Another of Melbourne's beautiful gardens, Fitzroy Gardens, is home to Cooks' Cottage, built in England in 1755 and transported to Melbourne 180 years later. We spend the next three nights in the Travelodge Southbank (3T+).
Day 7 Melbourne
Today is yours to relax or see more of Melbourne independently. Take some time to enjoy the South Bank's café culture and boutique shops, visit Queen Victoria Market, the largest open-air market in the southern hemisphere, pop into the state library to see Ned Kelly's hand-made armour, or take a tram to Melbourne Zoo to watch platypus play.
Day 8 Melbourne - Yarra Valley
We take a full-day tour to the Yarra Valley, sprawled between mountain and city. Renowned as one of the world's greatest regions for food and wine, you will find acre after acre of lush orchards, vineyards and farmland. Lunch will be included today at Rochford Winery.
Day 9 Melbourne - Cairns
Fly to Cairns, a city with two World Heritage listed natural treasures on its doorstep - the Great Barrier Reef and the Wet Tropics of Queensland. Transfer to the Holiday Inn Harbourside Cairns (4T) for our four night stay.
Day 10 Great Barrier Reef
The Great Barrier Reef is the world's largest reef system and the largest structure built by living organisms. It is breathtaking in scale - covering an area of 344,000km² - and is visible from space. As awe-inspiring as its size, is the variety and colour of the tropical fish that inhabit its shallow waters; and today presents opportunities to see them your way. We take an exhilarating catamaran journey across the blue Coral Sea to the reef, where you can choose to spend your time exploring as you wish. Perhaps snorkel in the sheltered coral lagoon, view the reef from the semi-submersible reef viewer, take a trip in a glass bottom boat or view its beauty from the underwater observatory. Lunch is included and we return to Cairns, late afternoon.
Days 11-12 Cairns
Two days at leisure or take a trip into the surrounding tropical parks and forests to spot some of the many species of plants, birds, mammals and reptiles inhabiting the area.
Day 13 Cairns - Kata Tjuta - Uluru
We take a morning flight to Ayers Rock. On arrival we transfer to our accommodation, the Desert Gardens Hotel (3T+). This afternoon we travel to the Olgas, a collection of rounded rocks known to Aborigines as Kata Tjuta ('Many Heads'), one of which, Mount Olga, is 200m taller than Uluru, at 548m. We then head to Australia's most famous natural site, Uluru, to watch the colours of the great rock change as the sun sets, with a glass of sparkling wine and canapés.
Day 14 Uluru - Alice Springs
We have an early start to watch the sunrise at Uluru, which is of deep cultural significance to the Aborigines, who now officially own the park in which it stands. Uluru has inspired a number of paintings and carvings - learn about the Aboriginal interpretation of the rock and their art as you tour the base. Later, we journey towards Alice Springs, stopping en route for an included BBQ lunch. On arrival we check in to the DoubleTree Alice Springs (4T) for one night. The rest of the day is free for you to explore this famous town.
Day 15 Alice Springs - Perth
Transfer to the airport for your flight to Perth. On arrival, transfer to the Holiday Inn Perth City Centre (4T), the rest of the day is at leisure, to explore this attractive city.
Day 16 Perth
We have an included tour of Perth to explore this very green city's many parks and elegant array of turn-of-the-century buildings. During the course of our fascinating day we also visit Fremantle's old port; where the town's old-English colonial atmosphere is yours to enjoy, and take a cruise along the Swan River, passing the fabulous waterfront homes of Australia's multi-millionaires.
Day 17 Perth
A day at leisure to explore Western Australia's capital including London Court, a small pedestrianised Tudor style street complete with carved woodwork and gargoyles. With a charming atmosphere, small shops and quaint cafés, it's a delightful rest bite from the surrounding skyscrapers. Or take one last opportunity to relax on one of the city's sandy beaches.
Day 18 Perth - In flight
Enjoy your last few hours in Perth before we transfer to the airport for a flight to London via Dubai.
Day 19 London
Arrival at London Heathrow Airport where you will be met and guided to your Titan vehicle, for the journey home.
Highlights of Australia
Australia
19 days from
£3,799 per person
Prices subject to availability & change