Interested in any of our holidays? - Contact Us Here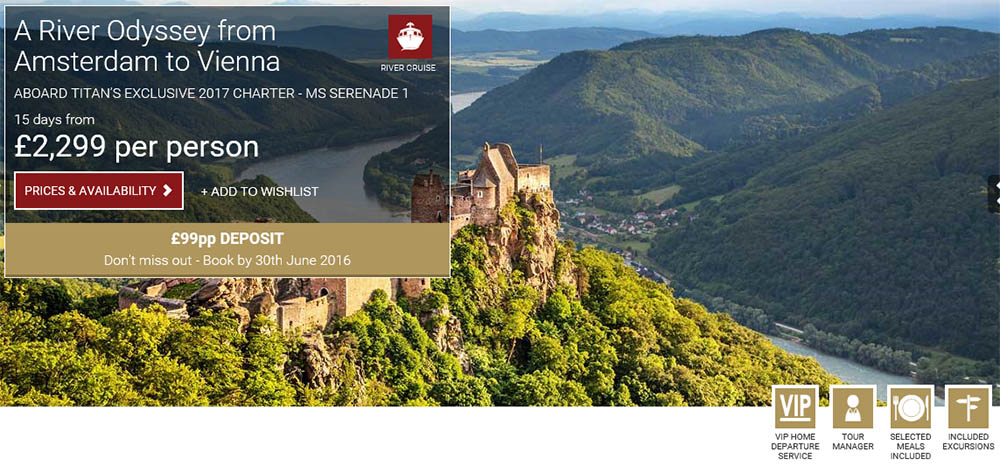 A River Odyssey from Amsterdam to Vienna
River Cruise
Offer: Save Up To £200
Book early and save up to £200pp on selected departures
This exceptional two-week cruise into the heart of Europe takes you from the characterful Dutch capital, Amsterdam to Vienna, sailing along the Rhine, Moselle, Main and Danube rivers through some of the most celebrated landscapes of the Netherlands, Germany and Austria. You'll explore historic towns and cities such as Cologne, Koblenz, Cochem and Frankfurt and spend time strolling through the cobbled streets, castles and palaces of picture-postcard Bavarian towns including Bamberg and Würzburg before sailing onwards to Austria, enjoying the natural beauty of the Wachau Valley on the way to the nation's majestic capital.
Including...
14 nights cruise on MS Serenade 1
41 meals: 14 breakfasts (days 2-15) 13 lunches (days 2-14) 14 dinners (days 1-14)
Local wine, beer and soft drinks with lunch & dinner
Welcome buffet, cocktail and evening gala dinner
Chef's gala dinner
Captain's farewell gala dinner
Quietvox portable audio headset system on cruise excursions
Plus all these benefits:
Titan's VIP Home Departure Service®
Free connecting flights from regional airports
Check-in service by Titan staff
Services of an experienced Titan tour manager
Scheduled British Airways direct flights
Porterage (one bag per person)
Airport taxes, security charges and fuel surcharges
Port Taxes
UK Air Passenger Duty (APD)

15 Day Itinerary:
London - Amsterdam
Titan's VIP Home Departure Service® collects you from your home, for your journey to London Heathrow Airport and a direct, scheduled British Airways flight to Amsterdam. On arrival, transfer to embark MS Serenade 1 (4T). A buffet is available on arrival, with time to settle in before a welcome cocktail and Captain's gala dinner this evening.
Amsterdam - cruising the Rhine
We set sail this morning, arriving in Utrecht for a brief stop, before we continue our leisurely cruise along the Rhine this afternoon.
Cologne
Our ship docks in Cologne for a full-day visit this morning. Cologne's origins go back to the days of the Roman Empire, and our included walking tour will introduce us to the city's highlights such as the magnificent Gothic cathedral and the Praetorium, where the excavated remains of the Roman governor's palace are on display. Also of interest are the fascinating Romano-Germanic Museum, filled with treasures from that period, and Museum Ludwig, which holds one of Europe's largest collections of works by Picasso, alongside those of other major 20th century artists. We sail this evening.
Koblenz - Cochem
Koblenz is dominated by the Ehrenbreitstein Fortress, completed in 1828, which you may choose to visit this morning on an optional excursion. Otherwise, take the opportunity to discover this historic city at leisure, maybe taking a stroll to Deutsches Eck (German Corner) at the confluence of the Rhine and Moselle rivers, watched over by an equestrian statue of Kaiser Wilhelm I. This afternoon we enjoy a relaxing cruise along the Rhine towards our next destination, Cochem, where we dock for the night.
Cochem
The small town of Cochem is one of the prettiest in the Moselle Valley, crowned by the turreted Reichsburg castle which stands watch on the top of a precipitous rock high above the town. We visit the castle today on an included excursion. The first castle here was built more than a thousand years ago, although what we see today is a romantic 19th century reconstruction in the elaborate Gothic Revival style. The rest of the day is free for you to explore Cochem at leisure before we depart tonight.
Lorelei Rock - Rüdesheim
This morning we sail past the fabled Lorelei Rock in the Rhine Gorge, where legend tells of a water nymph luring fishermen to their doom, before arriving at our next port of call, the picturesque town of Rüdesheim. Here, you will have time to explore by yourself or you may join our optional excursion to Siegfried's Mechanical Music Museum, with its wonderful collection of music boxes and automated musical instruments. We sail late tonight.
Frankfurt
One of the world's leading financial and business centres, Frankfurt is more than just gleaming skyscrapers and banks, as we discover today on our guided tour. Much of the city was painstakingly rebuilt after heavy wartime damage, and we will explore the charming old town and take in sights such as the Opera House, the Goethe House, where one of Germany's most famous writers was born and the Kaiserdom cathedral, where Holy Roman Emperors were once crowned.
Miltenberg
This morning we visit the medieval town of Miltenberg, on the River Main. Take a stroll around the old town, where you'll find pretty timber-framed houses and one of the oldest inns in Germany, Zum Reisen, which has been in operation here since at least 1411. There will also be an optional visit to a brewery to sample the local beers. We depart this afternoon.
Würzburg
Today's destination is Würzburg, where you are free to relax or explore by yourself. You may also choose to join our optional walking tour of the old town and visit to the 18th century Würzburg Residence, a palatial home built for the local prince-bishop, noted for its spectacular staircase and frescoes by Tiepolo. We return to our ship this afternoon.
Bamberg
This afternoon we arrive in the picturesque town of Bamberg where we enjoy a guided tour of the historic centre including its famous rose garden. We see sights such as the Romanesque cathedral, dating from the 11th century, the medieval Old Town Hall with its wonderful frescoes and the New Residence palace, once the magnificent home of Bamberg's prince-bishops. The rest of the day is free and we sail on this evening.
Nuremberg
For centuries, the Bavarian city of Nuremberg was the unofficial capital of the Holy Roman Empire, and was one of the main centres of the German Renaissance. It was also the scene of Nazi rallies during the days of the Third Reich, and of the War Crimes Tribunal held in 1946. Our optional city tour takes in the sights of this fascinating city this morning, including the 900-year-old ramparts, towers and walls of the Imperial Castle that surround the historic city centre and the house where artist Albrecht Dürer once lived.
Regensburg
Regensburg is one of Germany's best-preserved medieval cities and a UNESCO World Heritage Site, home to architectural treasures such as the Porta Praetoria, a Roman gateway built in AD 179 and the Gothic St Peter's Cathedral. Our included excursion today is to the Benedictine Weltenburg Abbey, which was founded in the 7th century. It also houses what is said to be the oldest monastic brewery in the world, producing several high quality beers.
Passau - Linz
We arrive in the 'Three Rivers City' of Passau overnight, which stands on the confluence of the rivers Danube, Inn and Ilz. The Old Town is a pleasant place for a walk, and well worth a visit is the baroque St Stephan's Cathedral, home to the largest church organ in the world. Or choose an optional excursion to Dürnstein with wine tasting. Crossing the border into Austria, we reach Linz, renowned for its wealth of baroque and neoclassical architecture.
Linz - Melk
Vienna. Departing Linz early this morning, our first stop is the little town of Melk, dominated by its spectacular Benedictine abbey which you may visit on an optional tour today. The grand interior displays exhibitions of religious art, while the abbey church is adorned with an abundance of gold, marble and colourful murals. We reach the beautiful Austrian capital, Vienna, this evening, where we moor overnight. Tonight, enjoy the Captain's farewell gala dinner on board.
Vienna - London
Disembark in Vienna and transfer to the airport for a direct, scheduled British Airways flight to London Heathrow. On arrival you will be met and guided to your Titan vehicle, for the journey home.
A River Odyssey from Amsterdam to Vienna
15 days from
£2299 per person
Prices & offers subject to availability & change