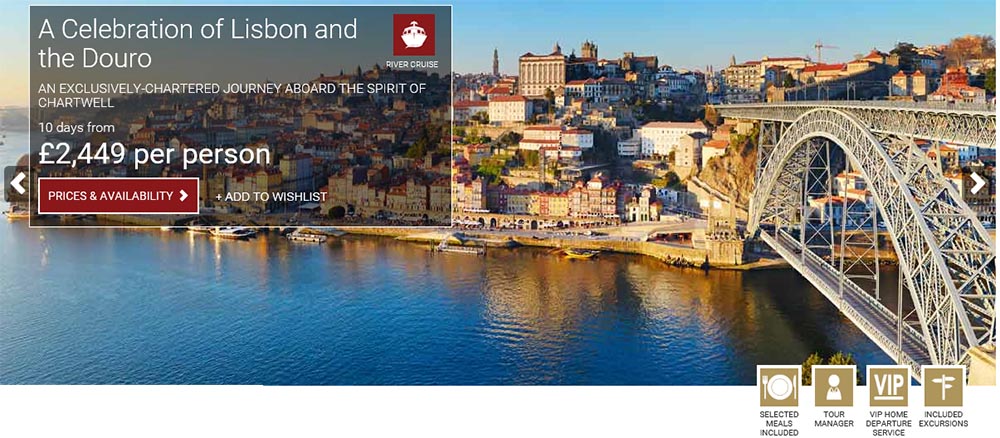 A Celebration of Lisbon and the Douro
River Cruise
Offer: Save Up To £200
Explore the delightful Douro Valley in regal style aboard The Spirit of Chartwell - also known as the 'Royal Barge' - the very ship which carried Her Majesty the Queen during the Diamond Jubilee pageant on the Thames. It has now been transformed into an intimate cruise ship, chartered exclusively for small groups of Titan travellers on a leisurely seven-night journey along Portugal's beautiful River Douro. Sailing between the coastal city of Porto and the Spanish border, you'll enjoy included visits to picturesque towns, monasteries and palaces along the way, as well as a full-day tour to Salamanca in Spain, while your holiday experience will be enhanced by onboard wine tastings, folk shows, cooking demonstrations and informative talks by our guest lecturer. You'll also have two nights in the nation's vibrant capital, Lisbon, and on select autumn departure dates, we will have a special day celebrating the grape harvest with the locals. An unforgettable holiday aboard a truly unique vessel!
Including...
2 nights in hotel and 7 nights cruise on the Spirit of Chartwell (accommodation as specified or similar)
24 meals: 9 breakfasts (days 2-10) 7 lunches (days 3-9) 8 dinners (days 1 and 3-9)
Complimentary local wine and beer with meals on board cruise
Titan onboard cocktail party
Fado and folk music show on board
Included excursions and visits: 7
Lunch at Alpendurada Monastery
Walking tour of Douro Museum
Mateus Palace and Gardens
Tour of Castelo Rodrigo
Full-day tour to Salamanca and Ciudad Rodrigo
Lamego and the Sanctuary of Nossa Senhora dos Remédios
City tour of Porto
Plus all these benefits:
Titan's VIP Home Departure Service®
Free connecting flights from regional airports
Check-in service by Titan staff with porterage
Services of an experienced Titan tour manager
Scheduled TAP Portugal flights
Best available coaches with experienced drivers
Hotel porterage (one bag per person)
Airport taxes, security charges and fuel surcharges
Port taxes
UK Air Passenger Duty (APD)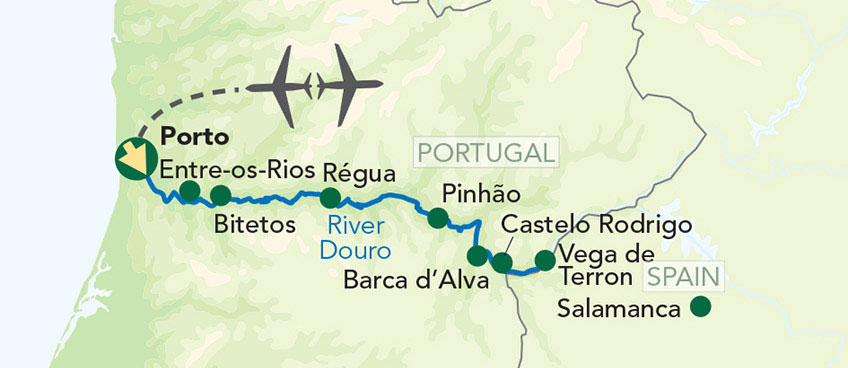 10 Day Itinerary:
Day 1 London - Lisbon
Titan's VIP Home Departure Service® collects you from home for your journey to Gatwick Airport and a direct, scheduled TAP Portugal flight to Lisbon. On arrival, we transfer to the Hotel Mundial (4T), for a two-night stay.
Day 2 Lisbon
Lisbon entrances visitors with its wealth of beautiful buildings, from Baroque churches and palaces to art nouveau façades and striking contemporary architecture, and today you are free to explore the beautiful Portuguese capital at your own pace. Perhaps visit Jeronimos Monastery, the last resting place of Portuguese explorer Vasco da Gama, and the Belém Tower, built in 1515 to protect the city's harbour and now a UNESCO World Heritage Site, or learn more about Portugal's rich maritime heritage at the Navy Museum.
Day 3 Lisbon - Porto
This morning we leave Lisbon, driving northwards to Porto, stopping for lunch en route. On arrival, we transfer to the port to embark Spirit of Chartwell (4T) for a welcome cocktail party and dinner.
Day 4 Entre-os-Rios - Régua
Relax in the elegant surroundings of the Spirit of Chartwell this morning, as we sail up the River Douro, with its steep, terraced vineyards, while our lecturer gives an informative talk about the river and its history. Our first stop is Entre-os-Rios, where we have lunch at the 14th century Alpendurada Monastery. We continue this afternoon to Régua, where we will be staying overnight. We take a tour of the Douro Museum, housing exhibitions on the local wine industry, before enjoying a fado and folk music show back on board our ship.
Day 5 Régua - Pinhão
This morning there is an included excursion to the 18th century Mateus Palace, a Baroque masterpiece that offers a glimpse of Portuguese aristocracy and is renowned for its delightful gardens, as well as the rosé wine which was first produced here. Returning to our ship, we leave Régua, sailing onwards to Pinhão, arriving early this evening for our overnight stop. We are treated to a cooking demonstration on board, before disembarking for dinner at a wine-producing Quinta.
Day 6 Pinhão - Barca d'Alva
Departing Pinhão this morning, we continue our cruise through the beautiful Douro Valley, and hear more about the history of Portugal from our guest lecturer. This afternoon we arrive in Barca d'Alva, close to the Spanish border, where we will be staying for the next two nights. A visit to the medieval hilltop town of Castelo Rodrigo, a peaceful village that still bears the scars of old battles, is included before we sit down to the Captain's dinner on board this evening.
Day 7 Barca d'Alva - Salamanca - Barca d'Alva
We cross the border into Spain for our full-day tour today, visiting the UNESCO-listed city of Salamanca, home to one of Europe's oldest universities, outstanding examples of Romanesque, Gothic, Moorish and Baroque architecture, two cathedrals, and an impressive main square, the arcade-lined Plaza Mayor. The medieval walled town of Ciudad Rodrigo is also on the itinerary. Besieged by the Duke of Wellington and his Anglo-Portuguese Army in 1812, during the Peninsular War, these days it is a quiet and atmospheric place, with an attractive cathedral, castle and historic mansions. We experience a traditional flamenco show before returning to our ship for a Portuguese barbecue dinner.
Day 8 Barca d'Alva - Lamego - Régua
Early this morning we sail down the River Douro, back towards Régua, where we will stay overnight. Relax, enjoy the beautiful scenes of green, vineyard-clad hills and listen as our knowledgeable guest lecturer gives a talk about life in Portugal today. An excursion to the quaint town of Lamego and the grand rococo sanctuary of Nossa Senhora dos Remédios is included today. If you choose to walk down the steps of this town's elaborate shrine, don't forget to look back to appreciate the tiled artwork. This evening a vintage port wine tasting will be held on board our ship.
Day 9 Régua - Porto
Another early sailing this morning as we head back towards Porto, arriving after lunch. A guided tour introduces us to the highlights of this fine city, with its many churches, palaces and museums. Tonight, we bid a fond farewell to Portugal with a sunset cruise in Porto harbour.
Day 10 Porto - London
This morning we transfer to Porto Airport for a scheduled TAP Portugal flight to London Gatwick (which may be via Lisbon). On arrival, you will be met and guided to your Titan vehicle for the journey home.
Spirit of Chartwell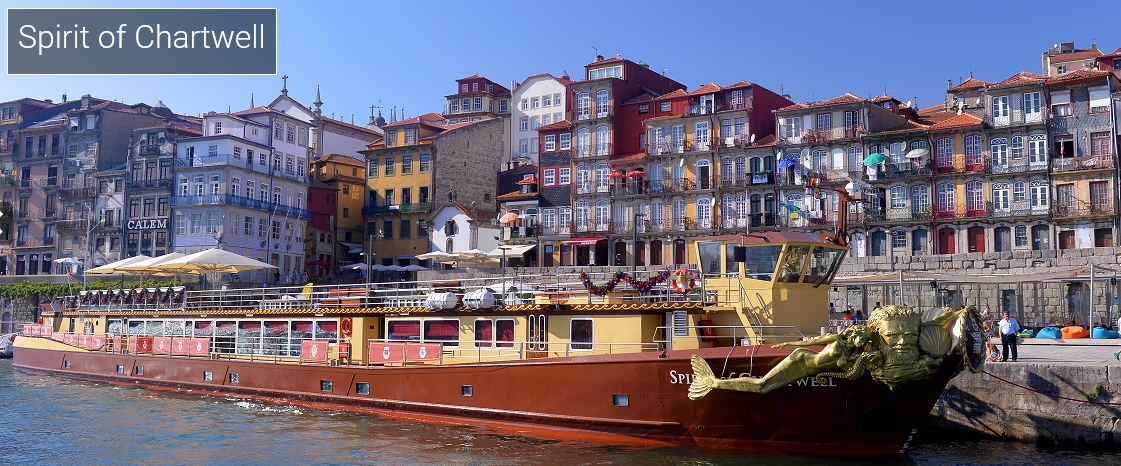 The Spirit of Chartwell defines luxury Douro River barge cruising and sets the standard for service and quality. Very recently designed and refurbished for, and used by, Her Majesty The Queen's Diamond Jubilee on 3 June 2012, the Spirit of Chartwell offers select travellers a cruise experience worthy of its Royal Heritage. The finest interior furnishings, the impressive amount of space, and the high number of staff members per guest, create an elegant, club-like atmosphere for experienced travellers; an environment where every need is predicted and promptly attended to during the calm passage through the majestic Douro River Valley.
This state-of-the-art river ship is unique with a distinctive chocolate and cream livery that brings to mind a Pullman train. Indeed, the inspiration behind the ship's public areas was the Rene Lalique 1929 Pullman car 'Cote d'Azur' operated by the Compagnie Internationale des Wagons-Lits. Amazingly, the vessel's creator was able to acquire exquisite glass panels with classical figures and original (there are 33 in fact) Cote d'Azur Pullman Express armchairs in the lounge/restaurant which have been lovingly restored.
A Celebration of Lisbon and the Douro
The Douro
10 days from
£2,449 per person