Interested in any of our holidays? - Contact Us Here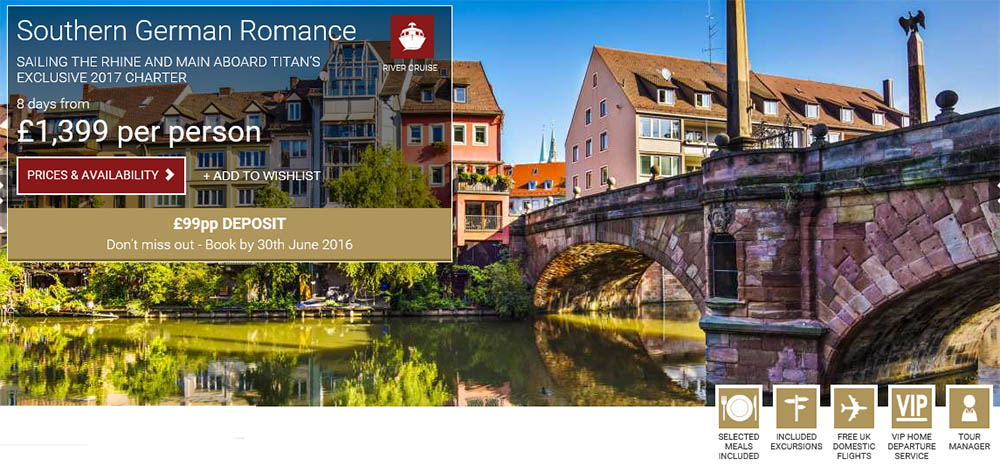 Southern German Romance
River Cruise
Offer: Save Up To £100
Book early and save up to £100pp on selected departures
Discover the historic cities of Bavaria and the Rhineland on this wonderful cruise, travelling through the beautiful region of Franconia, stopping to visit UNESCO World Heritage Sites in Bamberg and Würzburg and the picturesque medieval town of Miltenberg. You will also visit Mainz, the vibrant capital of Rhineland-Palatinate and there will be a chance to explore the enchanting university city of Heidelberg. Sailing southwards, you'll cross the border to Alsace, visiting the seat of the European Parliament, Strasbourg, before your cruise reaches its conclusion in the Swiss city of Basel.
Including...
7 nights cruise on MS Serenade 1
20 meals: 7 breakfasts (days 2-8) 6 lunches (days 2-7) 7 dinners (days 1-7)
Local wine, beer and soft drinks with lunch & dinner
Welcome buffet, cocktail and evening gala dinner
Captain's farewell gala dinner
Quietvox portable audio headset system on cruise excursions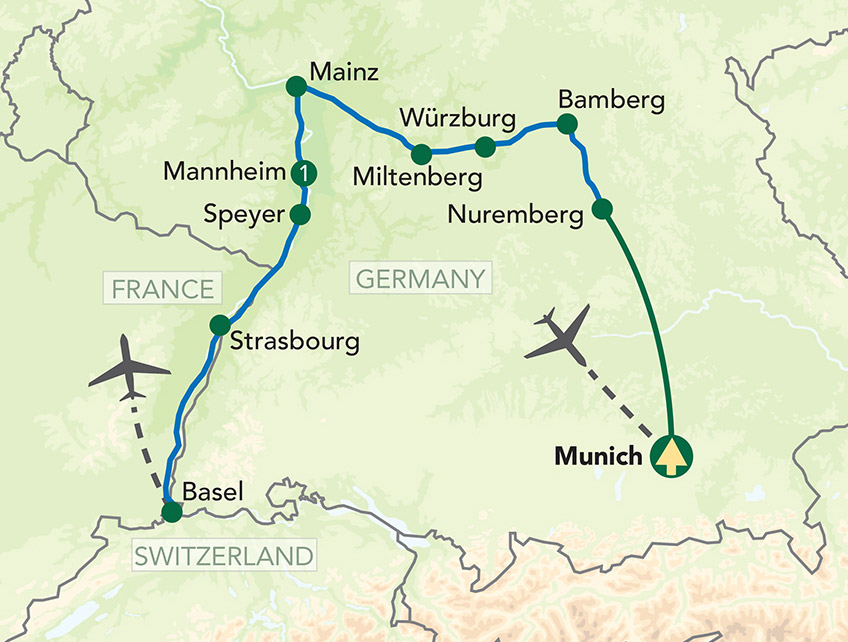 8 Day Itinerary:
Day 1 London - Munich - Nuremberg
Titan's VIP Home Departure Service® collects you from your home, for your journey to London Heathrow Airport and a direct, scheduled British Airways flight to Munich. On arrival, transfer to Nuremberg to embark MS Serenade 1 (4T). A buffet is available on arrival, with time to settle in before a welcome cocktail and Captain's gala dinner this evening.
Day 2 Bamberg
Late this morning we arrive in the picturesque Bavarian town of Bamberg and after lunch we enjoy a guided tour of the historic centre, a UNESCO World Heritage Site, taking in sights such as the Romanesque cathedral, dating from the 11th century, the medieval Old Town Hall with its wonderful frescoes and the New Residence palace, once the magnificent home of Bamberg's prince-bishops.
Day 3 Würzburg
We reach the town of Würzburg around noon today, where we visit the 18th century Würzburg Residence, a palatial home built for the local prince-bishop, noted for its spectacular staircase and frescoes by Tiepolo. We will also take a walking tour of the old town before we return to our ship this evening.
Day 4 Miltenberg
Today we are in the medieval town of Miltenberg, on the River Main. Take a stroll around the old town, where you'll find pretty timber-framed houses and one of the oldest inns in Germany, Zum Riesen, which has been in operation here since at least 1411. There will also be an optional visit to a brewery to sample the local beers. We depart late this afternoon.
Day 5 Mainz - Mannheim
The city of Mainz was founded as a Roman fortress more than 2,000 years ago, and this morning we have an optional walking tour to discover the highlights of this historic city including St Martin's Cathedral, founded in the 10th century, the Electoral Palace and the ruins of the medieval St Christoph's Church, largely destroyed by wartime bombing and now serving as a war memorial. Also of interest is the Gutenberg Museum, dedicated to the inventor of the printing press, who was born in Mainz, and the baroque Deutschhaus, home of the state parliament. We arrive in Mannheim early this evening, where we dock overnight.
Day 6 Mannheim - Speyer
We depart Mannheim this morning and sail to Speyer, one of Germany's oldest cities. You are free to explore at leisure, perhaps taking the time to visit the impressive, UNESCO-listed Romanesque cathedral, which dates back to the 11th century. Alternatively, join our optional excursion to Heidelberg, home to one of Germany's most prestigious universities and watched over by the ruins of a magnificent Renaissance castle.
Day 7 Strasbourg
We wake up in France this morning, and join an included guided tour of Strasbourg, home to the European Parliament, a magnificent Gothic cathedral and a UNESCO-listed Old Town, known as Petite France, filled with pretty half-timbered houses. We will also enjoy a cruise along the city's canals before we depart this evening. Tonight, enjoy the Captain's farewell gala dinner on board.
Day 8 Basel - London
Disembark in Basel and transfer to the airport for a direct, scheduled British Airways flight to London Heathrow. On arrival you will be met and guided to your Titan vehicle, for the journey home.
Southern German Romance
8 days from
£1399 per person
Prices & offers subject to availability & change