Swim Up Rooms Holidays 2022/2023

If you're looking to add a luxurious touch to your holiday, booking a swim-up room is a great option. 

These types of rooms are ideal for both couples and families, providing lots of great benefits. If the kids get tired, you can let them have a nap while you relax in the pool. For couples, these rooms enable you to spend romantic evenings in the water as you gaze up at the stars. 

A swim-up room gives you direct access to the pool. Rooms on the ground floor of the hotel are connected to the pool via a terrace, so you can step straight into the water. And swim-up suites on the first or second floors are connected to the pool by a short set of stairs. Either way, you can go from bed to pool in seconds and don't, technically, need to leave your room for a swim and sunbathing session.

So, what are the best swim-up room options available right now?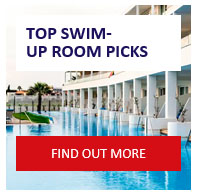 Swim Up Rooms Holidays 2022/2023
For most of us, holidays are all about the pool. Securing the best sunbed, sipping cocktails while trailing your toes in the water and floating along on your favourite inflatable. But what if you could have all that, just a few footsteps away from your bed? That's what swim-up rooms are all about. Water laps at the edge of your terrace in these luxury rooms, so you can step straight in. They come in all shapes and sizes, too – from paddle-friendly options for little ones, to adults-only swim-up suites. To help you decide, here's our pick of the best…
Swim Up Rooms Holidays