TUI Blue Family Holidays 2022/2023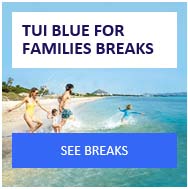 Family-friendly holiday with food for everyone and day-to-night entertainment? Sorted.
WHAT IS TUI BLUE FOR FAMILIES?
FAMILY-FRIENDLY HOLIDAYS
Formerly known as TUI FAMILY LIFE, these hotels are designed with families in mind and line up kids' clubs, child-friendly food, spacious rooms – plus much more.
FOOD FOR EVERYONE
Expect high-quality, healthy dining at these family resorts. Sharing dishes are served up, along with children's menus and allergy-friendly fare.
KIDS' CLUBS
There are free kids' clubs, which are split into age groups and line up lots of fun activities. Teens get their own space, too.
DAY-TO-NIGHT ENTERTAINMENT
Activities span volleyball games, fitness classes and creative activities for kids. Come evening, there are games for little ones, followed by a family show.
BABYCLUB
At our BabyClubs, fully trained staff are on hand to look after children aged up to 3. They're open six days a week, plus some evenings, and cost a bit extra.
BABY LOUNGE
Our air-conditioned lounges are open all day, every day, in a central spot. They come with microwaves, changing tables, bottle warmers and toys.
PARENT & BABY SESSIONS
These fun, interactive sessions are designed for both parents and little ones. They're made up of music, games and storytelling.
KIDS' CLUBS
Bamse Club organises fun-filled adventures for 3 to 5-year-olds, while 6 to 11-year-olds can get stuck in with challenges and water games at @611.
EVENING CLUBS
These payable clubs take place at least three times a week, giving parents a night off. They usually have a theme, like chocolate.
THE HANGOUT
In this teens' area, 12 to 15-year-olds can meet friends, relax and use the free Wi-Fi. There are activities and evening events, too.
PEACE OF MIND
You can relax knowing the staff who run our kids' clubs are fully trained. What's more, all our childcare teams undergo DBS checks.
WELLBEING SESSIONS
There are parent and baby wellbeing sessions for under 3s, as well as family wellbeing sessions for all ages. They focus on relaxation and mindfulness.
DAYTIME
The daytime agenda's packed with things to do for all the family. You can expect a wide range of games, activities and sports seven days a week.
EVENING
There's something different every day of the week, from musical numbers and magic shows to pirate-themed theatre productions.
FAMILY ENTERTAINMENT
Dedicated team members organise jogs, classic games and volleyball tournaments, along with excursions and fun activities before the evening shows.
KID-FRIENDLY CHARACTERS
Captain T, Bamse and Coco and Charley make daytime appearances and kick-start the evening entertainment.
POOLS
The pool areas are designed for all family members, lining up quiet pools for parents and fun pools for children. Some hotels even offer splash parks or swimming lessons.
KIDS' COOKING CLASSES
From summer 2020, your little ones can learn how to make pizza and fruit salad with Captain T at our fun cooking classes.
BIG BUFFETS
Dishes balance local, international and family favourites. Children get their own section, and there's an area for preparing baby food.
MADE FOR SHARING
As well as the buffets with big sharing plates, each hotel has a restaurant where everyone can dig in to locally inspired tapas or meze dishes.
HEALTHY EATING & ALLERGIES
Children are encouraged to try new things. Our chefs are clued up on allergies, so they can cook you something special and dishes are labelled.
COFFEE SHOPS
Every single one of our hotels has a coffee shop where you can buy a cappuccino or grab a freshly squeezed fruit juice.
PLENTY OF SPACE
You can spread out in a family suite with its own living area, or an apartment with separate bedrooms, a living area and a kitchenette.
EXTRAS, AS STANDARD
Air-con, fridges and blackout curtains come as standard, no matter which type of room you opt for.
SWIM-UP
Upgrade to a swim-up and you can hop straight into a pool that's just for guests who've booked this room type.
PRIVATE POOL
Upgrade to one of these and you'll have your very own pool, right outside your door.

TUI Blue Family Holidays