Calabria Holidays 2020/2021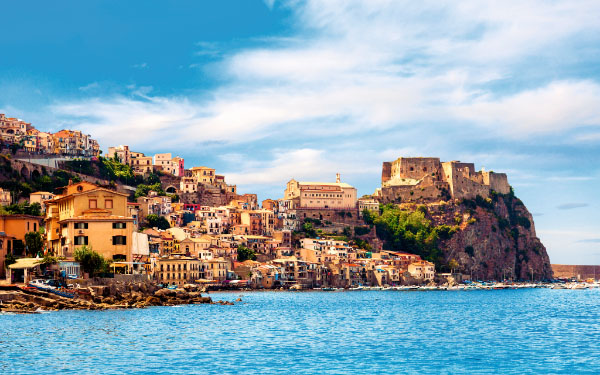 Introducing....Calabria!
Calabria is a relatively unknown part of Italy but it offers something for everyone, whether that is a relaxing break along the spectacular coastline (rumour has it that the resort of Capo Vaticano is home to one of the 100 most beautiful beaches in the world!) or something more adventurous such as wind surfing or cycling through the hilly landscape.

The destination is famous for its beautiful beaches, coastline and generally unspoilt landscape. All of this allows customers to enjoy the destination by partaking in a host of activities, including scuba diving, wind surfing and exploring the national parks.

5 reasons to visit Calabria
1.Food Haven - this location is renowned for its cuisine, it's all traditional and made with authentic charm. Famous for Cipolla di rossa (sweet red onions), which are used in making onion soup, topped up with Italian brandy. Also famed are the Ndjua spiced sausage (so soft it can be spread like pate), Pepperoncino peppers (spicy and has a festival in its honour!) and Tartufo - a 'grown up' ice cream involving syrup, fruit, gelato and chocolate sauce.

2.Culture/Authenticity - the curtain has only really just come up on tourism in Calabria, meaning the area is unspoilt and maintains it's traditional, rustic Italian charm. As you walk through its towns and villages, you almost feel like you are stepping back in time.

3.Beaches - the region is surrounded on three sides by sea, amounting to 500 miles of coastline.
4.National Parks - Sila National Park is renowned and just a 40 minute drive from Simeri Mare. The park is full of lakes, woodpeckers and walking trails throughout the 74,000 hectare park.

5.Weather - located in Southern Italy, the area is closer to the Equator than the rest of our more traditional Italian gateways, meaning you'll bask in even better temperatures.
How to get there and what do?
Flights:
1 x weekly TOM flight from LGW to SUF
1 x weekly TOM flight from MAN to SUF
Things to do:
- Scuba Diving
- Wind Surfing
- Nature reserves
- Explore the rustic towns
- Relax on the beautiful beaches
- Cycling
- Hiking
Calabria Holiday Accommodation
Calabria Holidays Online