Maldives Holidays 2021/2022

The Maldives is where colour comes to life – it's better than the pictures. Plunge into a warm lagoon and see if you can spot a manta ray or school of yellow butterflyfish swim past your snorkel mask; or sign up for a sandbank picnic on a deserted beach, where the water is fluorescent-blue and the sand is pure white. We can tell you all this because we've been travelling around these paradise islands for over 30 years.
There are luxury island holidays, and then there's the Maldives. Think waterfont bungalows and world-class diving sites.
Sometimes a holiday is all about switching off, catching up on those books you've been longing to read and tucking into great food. The Maldives is the ultimate choice for a luxurious all-inclusive stay – it has some of the most generous packages in the world. As well as world-class dining, some resorts offer fantastic extras like a sunset cruise, free watersports and spa treatments. Here are a few of our favourites...
Maldives Holiday Resorts
Maldives - 4T
The Meeru Island Resort & Spa lines up classic offerings like waterside restaurants, watersports* and beaches – and then throws in one-off extras like a golf centre* and whale bone museum.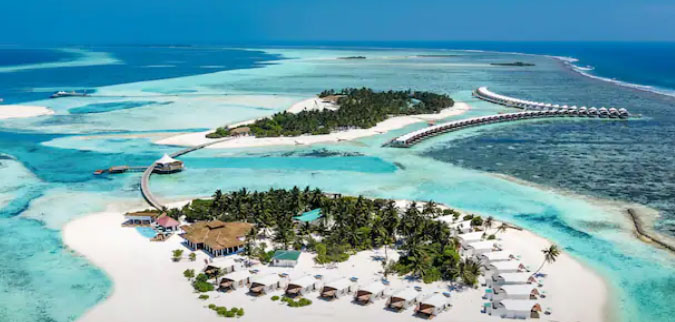 Cinnamon Hakuraa Huraa Maldives

Maldives - 4T
The Cinnamon Hakuraa Huraa Maldives is every inch the island idyll, with a cloud-white beach, over-the-ocean bungalows and a lagoon filled with rays and dolphins.
Maldives - 5T
Everything's designed around sound at the Hard Rock Hotel Maldives – from the free guitar hire and music-themed restaurant to the pool with underwater speakers. It wouldn't be the Maldives without overwater villas, and this place is no exception. Some even come with their own private pool. What's more, you can order Fender® guitars, headphones and yoga mats to your room for free.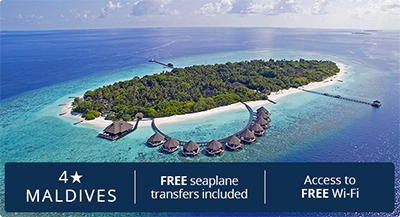 ★★★★
The picture-perfect resort of Adaaran Select Meedhupparu is a 43-acre oval shaped coral island, covered with thick vegetation and surrounded by a ring of white sand. It has a lagoon ideal for watersports and is close to excellent diving areas. It's the perfect location for a holiday in paradise.
★★★★★
Life under the palms at the Sun Island Resort and Spa moves at a different pace. Here, the important things are the sea and the sand, the food, the company and the relaxation. With such a spectacular location, wonderful restaurants and great service, it is supremely easy to relax here.
★★★★
Just 45 minutes from the airport, set on an island in over 12 acres of palm trees and vegetation, is the picturesque Adaaran Club Rannalhi four-star resort. Located south of the capital of Male, this unique location is the stuff of dreams. Pristine beaches, azure blue water and cloudless skies. Welcome to paradise in the Maldives.
Maldives Holidays Online