Maldives Holidays 2019/2020

The Maldives is where colour comes to life – it's better than the pictures. Plunge into a warm lagoon and see if you can spot a manta ray or school of yellow butterflyfish swim past your snorkel mask; or sign up for a sandbank picnic on a deserted beach, where the water is fluorescent-blue and the sand is pure white. We can tell you all this because we've been travelling around these paradise islands for over 30 years.
There are luxury island holidays, and then there's the Maldives. Think waterfont bungalows and world-class diving sites.
Sometimes a holiday is all about switching off, catching up on those books you've been longing to read and tucking into great food. The Maldives is the ultimate choice for a luxurious all-inclusive stay – it has some of the most generous packages in the world. As well as world-class dining, some resorts offer fantastic extras like a sunset cruise, free watersports and spa treatments. Here are a few of our favourites...
Maldives Holiday Offers
The original 5* Maldives resort
Stroll to a secluded sandbank with a picnic and a good book, or hire a free kayak and head out on the water.
Seven nights, including breakfast FROM £1399pp

Top experiences in the Maldives
Weekly excursions at this 4* retreat include island hopping trips, submarine sightseeing and sunset cruises.
Seven nights, full board FROM £1579pp

One of the best 5* Maldives hotels
Watch a classic film at the beach cinema, snorkel along the coral garden, or relax at the stunning overwater spa.
Seven nights, all inclusive FROM £3049pp
Wow-factor stay in the Maldives
At this stylish 5* retreat we've included a free upgrade to a split-level Deluxe Villa, just a few metres from the water.
Seven nights, including breakfast FROM £1479pp

Our most popular Maldives island
Exclusive to Kuoni guests in the UK, this 4* resort has a stunning sandbank and two oceanfront infinity pools.
Seven nights, full board FROM £1749pp

Remote 5* escape in the Maldives
We've added free room and meal upgrades here, so you can enjoy superb dining and a bungalow right on the beach.
Seven nights, half board FROM £1949pp
4* Maldives: exclusive island
Take a walk along the island's dramatic mile-long sandbank for striking sunset views over the lagoon.
Seven nights, full board FROM £1399pp


Maldives Holiday Accommodation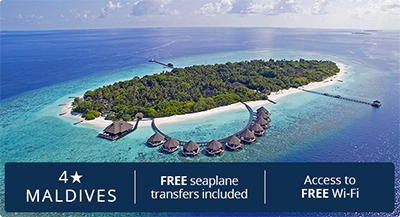 ★★★★
The picture-perfect resort of Adaaran Select Meedhupparu is a 43-acre oval shaped coral island, covered with thick vegetation and surrounded by a ring of white sand. It has a lagoon ideal for watersports and is close to excellent diving areas. It's the perfect location for a holiday in paradise.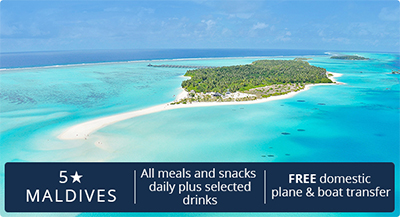 Sun Island Resort & Spa
★★★★★
Life under the palms at the Sun Island Resort and Spa moves at a different pace. Here, the important things are the sea and the sand, the food, the company and the relaxation. With such a spectacular location, wonderful restaurants and great service, it is supremely easy to relax here.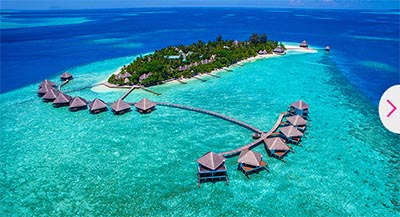 Adaaran Club Rannalhi
★★★★
Just 45 minutes from the airport, set on an island in over 12 acres of palm trees and vegetation, is the picturesque Adaaran Club Rannalhi four-star resort. Located south of the capital of Male, this unique location is the stuff of dreams. Pristine beaches, azure blue water and cloudless skies. Welcome to paradise in the Maldives.
Maldives Holidays Online