Menorca Holidays 2021/2022

Menorca's a great destination for the last days of summer, with the sun shining down on the island's sandy beaches and rocky coves for a good few weeks yet. It's not just about coastal walks and relaxing by the sea, either; head into historic Ciutadella or cosmopolitan Mahon too.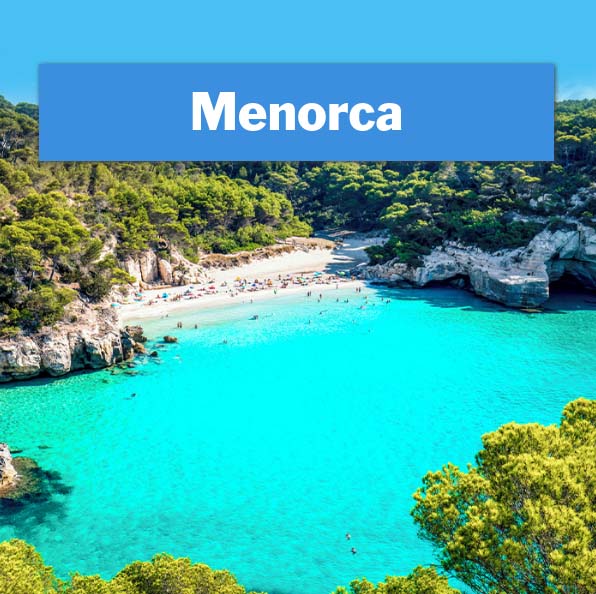 Menorca Holiday Hotels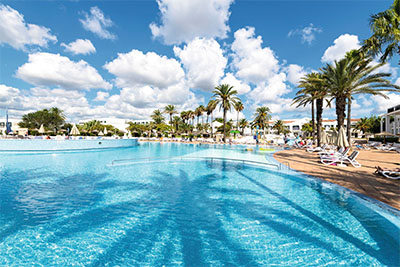 TUI FAMILY LIFE Mar de Menorca
Cala Canutells, Menorca, Spain - 4T
There are plenty of reasons the Family Life Mar de Menorca is a hit with customers – a great pool scene and packed activities line-up are just a couple of them. The Family Life Mar de Menorca is well suited to families, thanks to its lively pool scene and kid-friendly buffet restaurant. The studios and apartments all come with the bonus of a balcony or terrace, too.

Globales Almirante Farragut Hotel
Cala'n Forcat, Menorca, Spain - 4T
This cliff-top hotel has a huge pool and a brilliant location, just a three-minute walk from the beach.
On a cliff edge overlooking Ciutadella Bay, this hotel is a real suntrap. It's got a large pool and a buffet restaurant that serves fresh, Mediterranean food.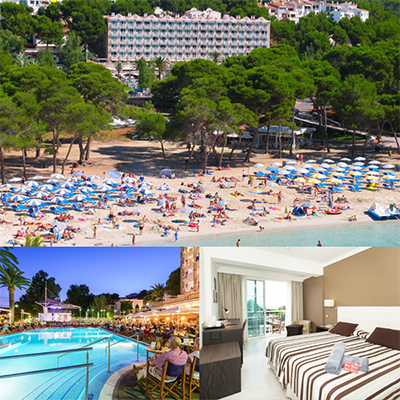 Hotel Cala Galdana and Villas d'Aljandar
Cala Galdana, Menorca
★★★★
With good quality accommodation, a friendly atmosphere and an excellent location opposite one of the most picturesque bays in Menorca, it's no wonder Hotel Cala Galdana and Villas dAljandar is a favourite with repeat visitors. Spend your days soaking up the sun's rays on the stunning white sandy beach, or relax by the hotel's large inviting pool.
Son Bou, Menorca, Spain - 4T
Valentin Son Bou is located a five-minute, free-shuttle-ride away from a sandy beach. And, the hotel has a huge swimming pool. This family-friendly hotel boasts a secluded, hillside location that is still only a five-minute, free-shuttle-ride away from the sandy beach.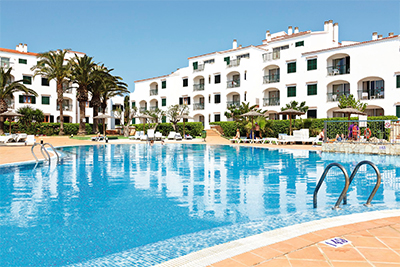 Cala'n Blanes, Menorca, Spain - 3T
With a sandy cove and Ciutadella port on your doorstep, the Vista Blanes Apartments are in a great spot for getting out and about. The Vista Blanes Apartments are just a minute's walk from Cala'n Blanes beach. They look the part, too, thanks to their bright white walls and terracotta-tiled roofs.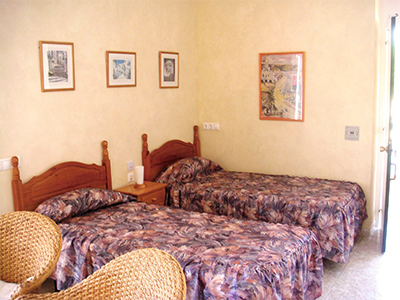 Santo Tomas, Menorca, Spain - 3T Plus
With a beachfront setting, sea-view apartments and a panoramic pool, this place definitely lives up to its name. It's no surprise that the Vistamar Estudios come with king-of-the-castle views. They're right on a small beach, so you're only footsteps from the sand. Walk five minutes further, meanwhile, and you're on Santo Tomas' kilometre-long main beach.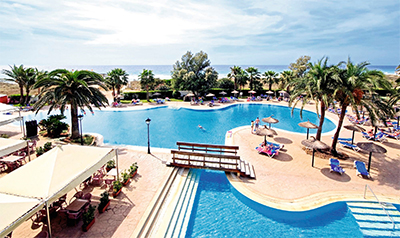 Son Bou, Menorca, Spain - 3T
The Sol Milanos Pinguinos pairs its sandy, seaside postcode with an action-packed list of activities. This hotel has a best-of-both-worlds location. It's nestled in between one of the longest beaches on Menorca and Son Bou's shop-filled centre.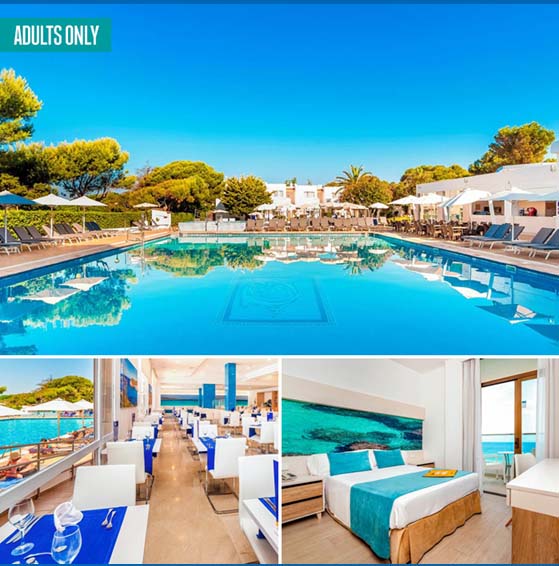 Santo Tomas, Menorca
★★★★ | Our Rating
Sitting pretty on the southern coast of Menorca, this Adults Only hotel is a quiet retreat where relaxation is your biggest concern. Spend the day lazing by the pool, take a stroll to the nearby Santo Tomas resort or visit the spa to really chill out.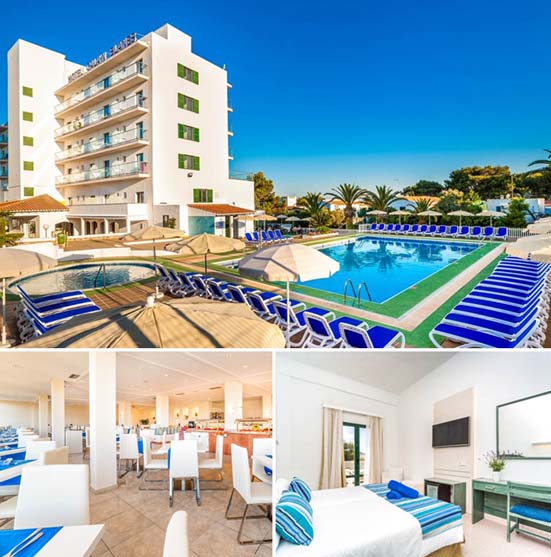 Cala'n Blanes, Menorca
★★★ | Our Rating
Globales Cala'n Blanes has a fantastic location close to the resort centre. Days can be spent relaxing and cooling off in the shallow crystal-clear waters or if you're feeling active there are plenty of activities for all ages back at the hotel. 
Menorca Holidays Online