Mexico Holidays 2022/2023

Holidays to Mexico call for tropical beaches and ancient Mayan ruins with purpose-built resorts and some of the best nightlife in Central America. Swimming with sea turtles or snorkelling in a cenote are just two examples of the adventures that lie ahead.
STROLL AROUND ANCIENT MARVELS IN MEXICO
Head to Mexico if discovering legendary Mayan ruins and relaxing on soft sands are up your street.
Mexico Holiday Hotels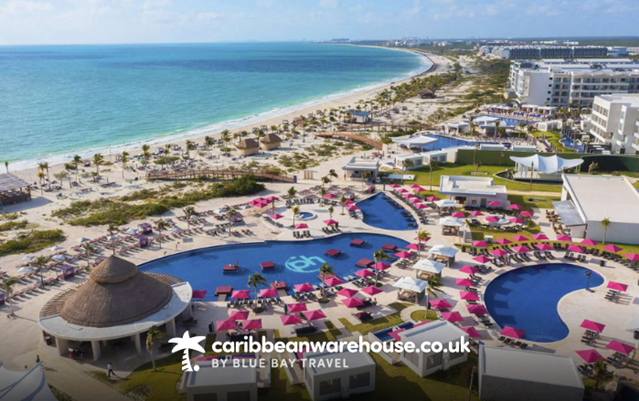 Planet Hollywood Beach Resort Cancun
You'll be holidaying like a star at Planet Hollywood Cancun, An Autograph Collection All-Inclusive Resort. The ultimate beachfront location means you'll have direct access to a beautiful Cancun beach while your hotel is decorated with a whole host of Hollywood memorabilia.
Grand Hyatt Playa del Carmen Resort

Offering white sandy beaches and turquoise blue waters, the beachfront location of the luxurious Grand Hyatt Playa del Carmen Resort is synonymous with all the Caribbean has to offer. Ideally located in the Riviera Maya this incredibly popular location encompasses all you could wish for from a Mexican escape.
Mexico Holidays Online
A destination that looks like paradise and is perfect for relaxing? It has to be Mexico. With a great choice of Caribbean resorts, top entertainment and the kind of sightseeing that feels like an adventure, it's going to be unforgettable. Think cocktails by the pool, live shows, and incredible pyramids in the jungle. Book your Mexican getaway today..
Mexico has a tempting mix of postcard-like beaches, melt-in-the-mouth food and unique culture – from an underwater museum to clifftop ruins. The AMResorts Collection has an amazing 5* Unlimited-Luxury® concept, offering quality inclusions from gourmet à la carte dining to cooking classes.
This glitzy slice of Mexico is a celebrity favourite. It flaunts swanky shops, a powder-soft coastline and top-notch golf courses.
Mexico's not just for chilli and guacamole! There's also relaxing beach life, fantastic nightlife, and some amazing ancient places to explore. Take a trip to Chichen Itza to see dramatic Mayan ruins, go snorkelling in the Caribbean Sea, or have a zip-line adventure at Xplor Park. Mexico's the perfect destination for long holidays in the sun.
Take a dip in the pool or paddle in the warm Caribbean Sea in the tropical paradise of Mexico. Spend quality family time together under lush palm trees and blue skies. Like to get out and about? There's so much history to explore, so swim in a cenote, head to the jungle and visit Chichen Itza, a wonder of the world.
Lay back on a stunning beach with a Margarita in hand and watch the sunset. It's the simple things that matter. So, what could be better than spending quality family time together in paradise? For the adventurers, get out and explore the jungle or the Mayan temples such as Chichen Itza, a wonder of the world. The possibilities are endless.
Tropical beaches, ancient Mayan ruins and cactus-strewn deserts are Mexico's forté. Scale volcanos or strap on a snorkel here.
Picture-perfect beaches, ancient sites and resorts that have it all – holidays to Mexico's Caribbean Coast go above and beyond the call of duty.
Where is it?
Stretching all the way from the USA in the north to Guatemala and Belize in the south, Mexico is the glue that links the North and South American continents together. The country's two million square kilometres pack in everything from mega cities and tiny pueblos to ancient jungle and Mayan relics. It has tropical forests, dry deserts, fertile valleys and snow-capped mountains. But, for holidaymakers at least, the coastal areas hold the main appeal.
Since Mexico's terrain is extremely varied, so is the weather. On the coast however, the climate is generally balmy year-round, but some months are rainy and others dry.

Why is it unique?
At 758,400 square miles, it's a bit less than three times the size of Texas. In that vast territory, stretching from the Caribbean and Gulf of Mexico to the Pacific, you have a wide variety of climates, cuisines, cultures, landscapes, and lifestyles.
Head to the white-sand beaches and warm aquamarine Caribbean waters of the Riviera Maya and you're likely to dine in beach restaurants on ceviche (seafood marinated in citrus) and fish tacos in the shade of a palapa (open-sided structure thatched with palm leaves). That's world's away from the narrow cobblestoned streets and restored colonial homes, grand cathedrals and churches, and immaculately manicured plazas of San Miguel de Allende's UNESCO World Heritage centro, where you can enjoy a café con leche (coffee with cream) in a courtyard built 300 years ago.

Why should I go?
Beyond the Caribbean Coast's lively tourist resorts and built-up towns, there's an untamed jungle waiting to be explored. A journey into the Yucatan Peninsula's outback can involve speed boating through mangrove swamps and hiking along rainforest paths, whereas holidays to Mexico's Pacific Coast shake up the traditional beach break by throwing in abseiling and zip-lining in the Sierra Madre Mountains amongst other adventurous activities. Trips run from all the main resorts in the area, so it's really easy to sign up.